Blue Ring
Show your commitment to the ocean with a blue ring! For better or worse, you can now digitally 'mery' the ocean with an annual pledge to ocean conservation and exploration.
Blue rings are made from supple blue silicone, are non-toxic, and built for an active lifestyle. Adults can join the blue ring community by Merying the ocean for $25 per year, or rings can be purchased as a gift.
Each blue ring comes with a digital meriage certificate, and an invitation to a live ceremony on World Ocean Day next year (06/08/18) to mery the ocean officiated by Dr. Sylvia Earle.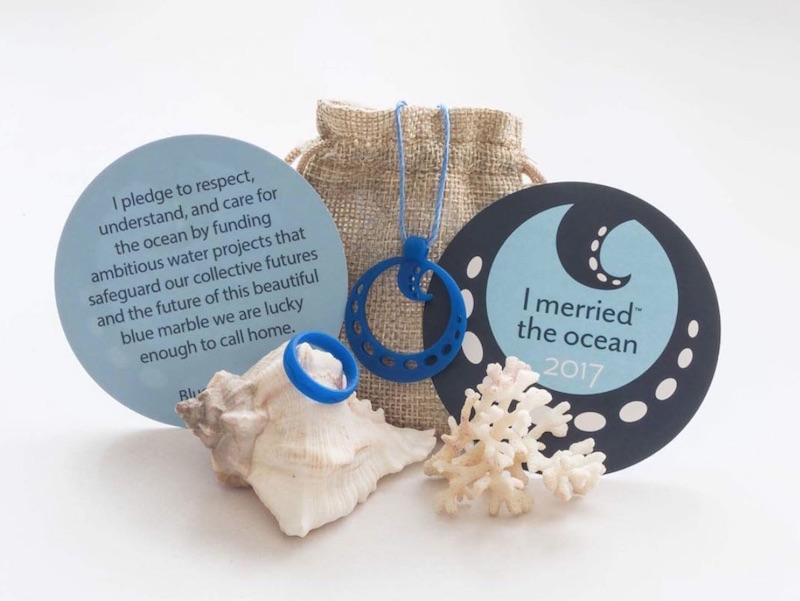 Junior ocean lovers 18 years or younger can also participate and become children of the sea. Children of the sea will receive a silicone pendant with an octopus tentacle esque wave for the same annual membership of $25 per year.
Join The Movement
We spotted blue ring at DEMA 2017 and had a minute to chat with creator Alex Rose. She told us she came up with the idea for blue ring after creating a facebook profile named "The Ocean". She wanted to start a relationship with the ocean and for fun marry the profile so she would be recognized as marrying the ocean.


When Facebook wouldn't allow the mermaid matrimony, she decided to start the blue ring project as a way to give back. She told us the idea behind blue ring is the power of small purchases that by joining the movement to mery the ocean one person's small contribution can fund globally exploration initiatives.
The goal is to raise $5 million dollars by selling 200,000 rings. The money will be used to fund ocean exploration in the way of two 1000-meter deep-diving submarines.
The blue ring is soft to the touch and comfortable to wear, it comes in four sizes 6-10 and is available online. Blue ring would be the perfect gift for any ocean lovers on your list with this annual pledge of love for the ocean.
Show your commitment to the ocean with an annual blue ring membership. You can buy the blue ring or blue ring pendant at www.bluering.blue.