The Leo3 Smart is a universal housing by EasyDive which should be the last dive case you'll ever need for your smartphone. This sturdy metal enclosure has ample room inside for a wide variety of smartphones and it comes with a suite of brackets to keep your Samsung, Apple and many other pocket computers firmly in place.
Once 'installed' the camera controls of your smartphone are 'enhanced' with the Leo3 App, and accessed using physical buttons on the right side grip which communicate over bluetooth. Since having your phone on during the whole dive, and using additional power for the wireless connection, can rapidly drain smartphone batteries, the Leo3 Smart also includes a 9000mAh battery bank to plug your phone into.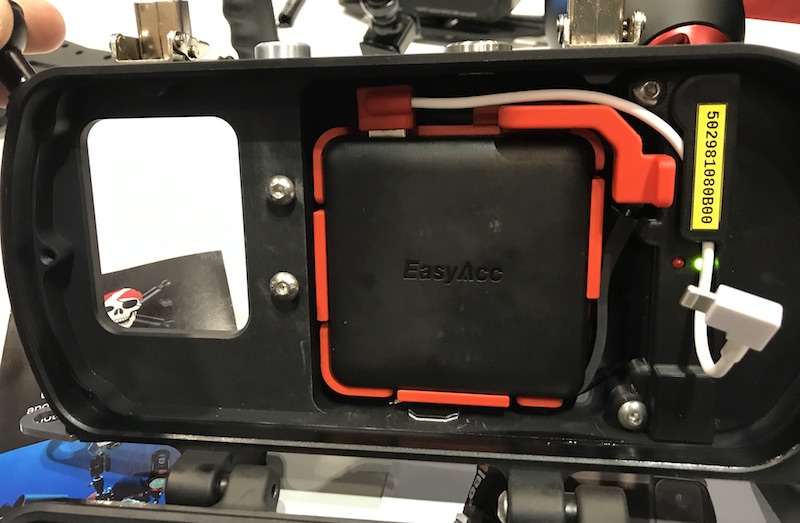 The aforementioned bracket is also used to accept either of the included fisheye and wideangle lenses, while sturdy ball mounts on both sides of the housing accept a wide variety of lighting accessories. With a suggested retail price of €990 or around $1168 the Leo3 Smart takes after many other dive housings which cost more than the camera they contain.


But there's a very good reason for this premium price tag – impeccable build quality, quality materials, an exquisite feature set but most importantly, it should be able to house any current or future smartphone you should ever want to own. I have three dive housings for multiple generations of iPhones, which combined cost more than the Leo3 Smart, but none of which are usable with current generation iPhones or their cameras. So if you're committed to filming and shooting with the latest and greatest smartphone then the Leo3 Housing is a very solid investment. [EasyDive]