Now that we are in the middle of Fall and at least for us in the East and Midwest it has finally gotten cool again, at least for me it marks the time of year when I get serious about my tanks. To be honest, I am serious about my tanks all year long, but when it gets cold and I am no longer golfing or doing yard work and not enjoying the outdoors I tend to spend this newly found increased free time trying to perfect this hobby and get back into my reefkeeping routine. Also this is the time of year when I have lots of friends and family over to celebrate the holidays with, so it is also the time when I try to show off my tanks a bit.
As a result, I and probably many of us, do more maintenance on our tanks, more tweaking and more experimenting and trying some of the new things that have come into the hobby. Now some of these things, especially the experimenting may not always be conducive to having my tank look its best, but this is what happens at this time of the year and has happened for as long as I can remember.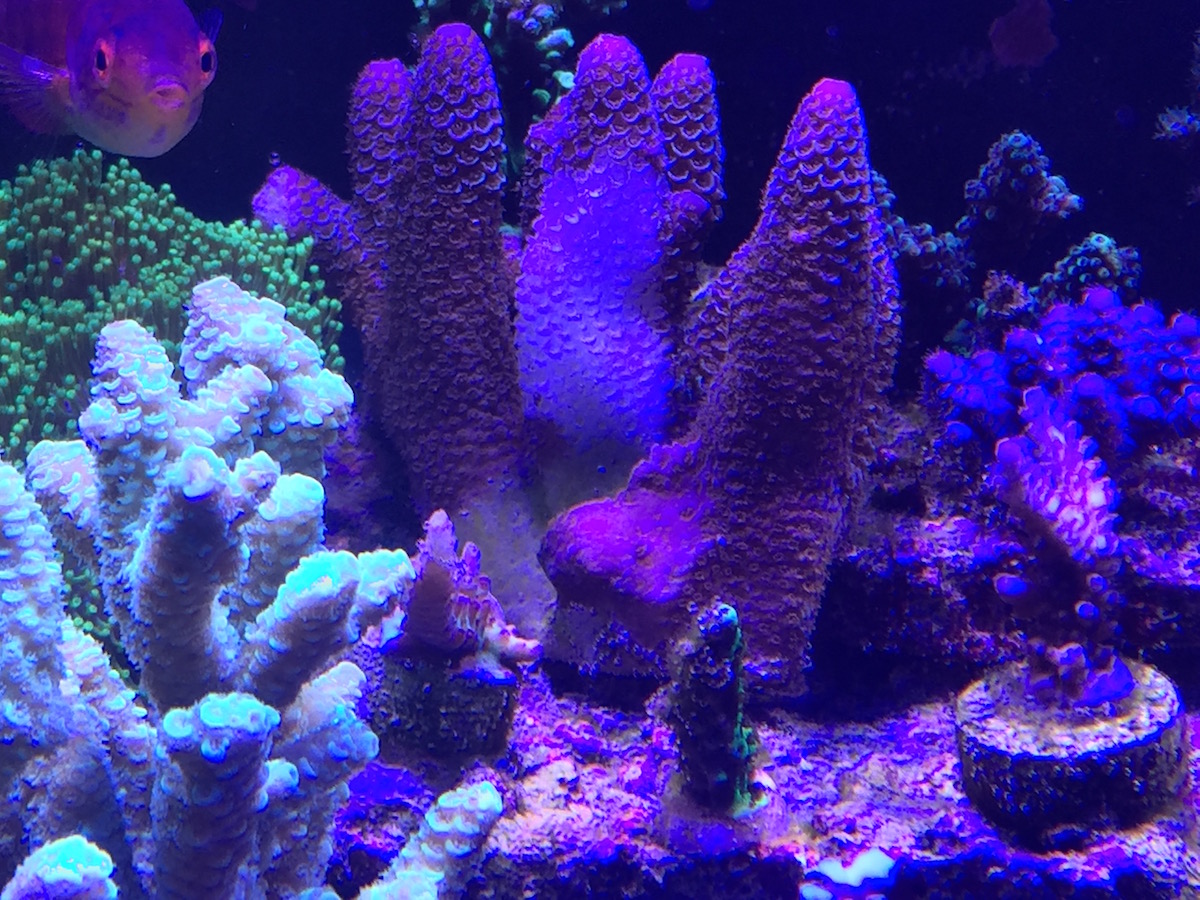 So while I have been doing these things I have realized that there some things that I tend to neglect during the lazy days of Summer and early Fall that should be done more conscientiously all year as well as what I have found in some of my experiments. Not everything always goes according to plan, so I will admit when I am doing something as an experiment and if you decide to try it I would love to hear what your experience is as well.
After doing this pretty much all of my adult life I would love to say that I have perfected the method that works perfectly and that everyone should use, but at least to me, my tanks and this hobby is always a work in progress so I continue to experiment and tweak things, but there are some things I have found, and most of them are rather simple, that have had a profound impact on the success of my tanks. So I will discuss them here.
Skimmer
During the past few months I have played with what would be the impact of cleaning the neck and scum cup of the skimmer on my main tank at different intervals. Since for the most part the tank is stable I wondered if cleaning it more or less often would make a difference. This came about after I thought about adding a self-cleaning head to the skimmer to make my life easier, and quickly realized that due to how stupidly I designed the sump with no space, that I probably was negligent in how often I cleaned it.
For two months I cleaned the neck and emptied the scum cup every two weeks, for two months this was done every week and for two months it was done daily. I must admit that doing this last chore for two months was not a lot of fun, but it was interesting when I compared the nutrient levels over this time. I should also note that prior to doing this the neck and scum cup were cleaned weekly, and the conditions of the tank were good.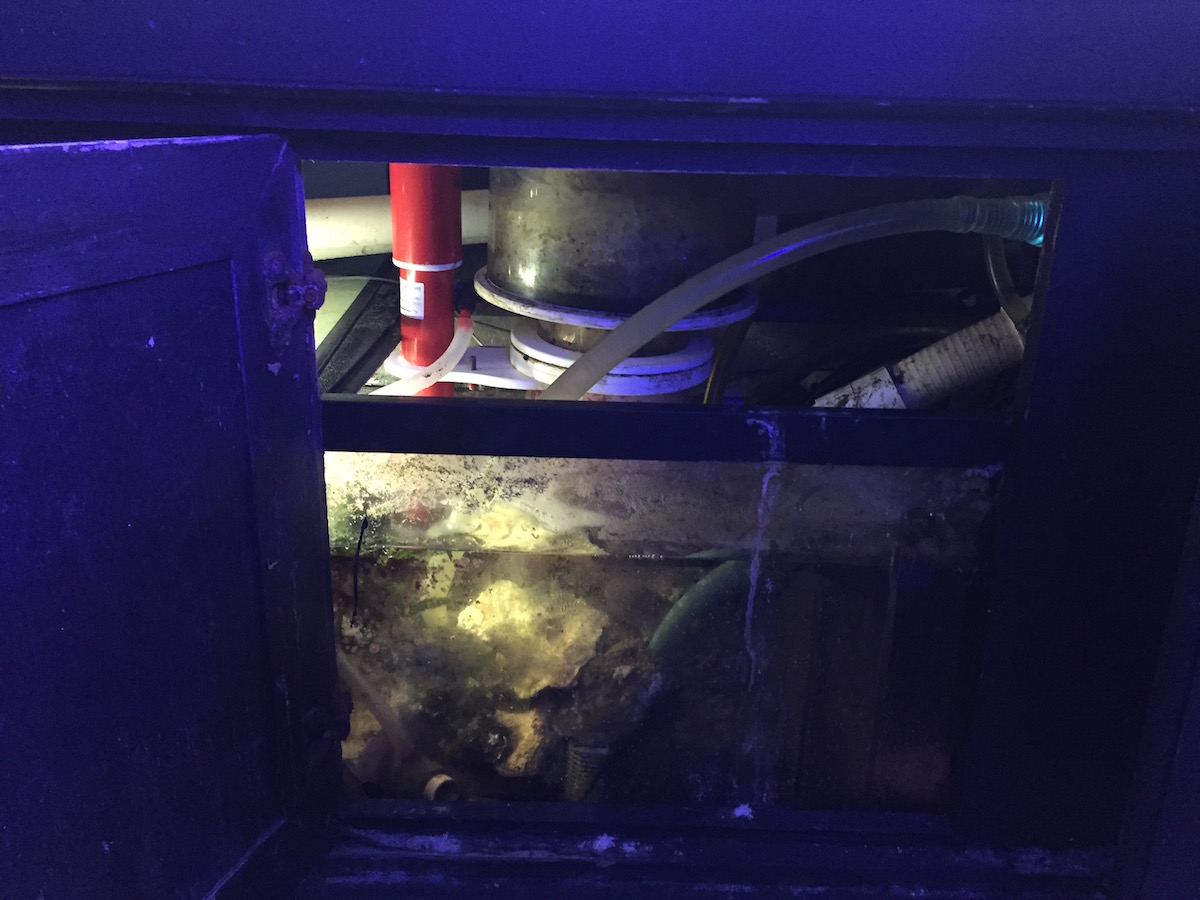 After switching to the twice a month schedule the nitrate level ranged between 30-40 and the phosphate level ranged between .08-.12. When the schedule went back to what was used previously, the levels dropped a bit with nitrate down to 20-30 and phosphate .05-.09.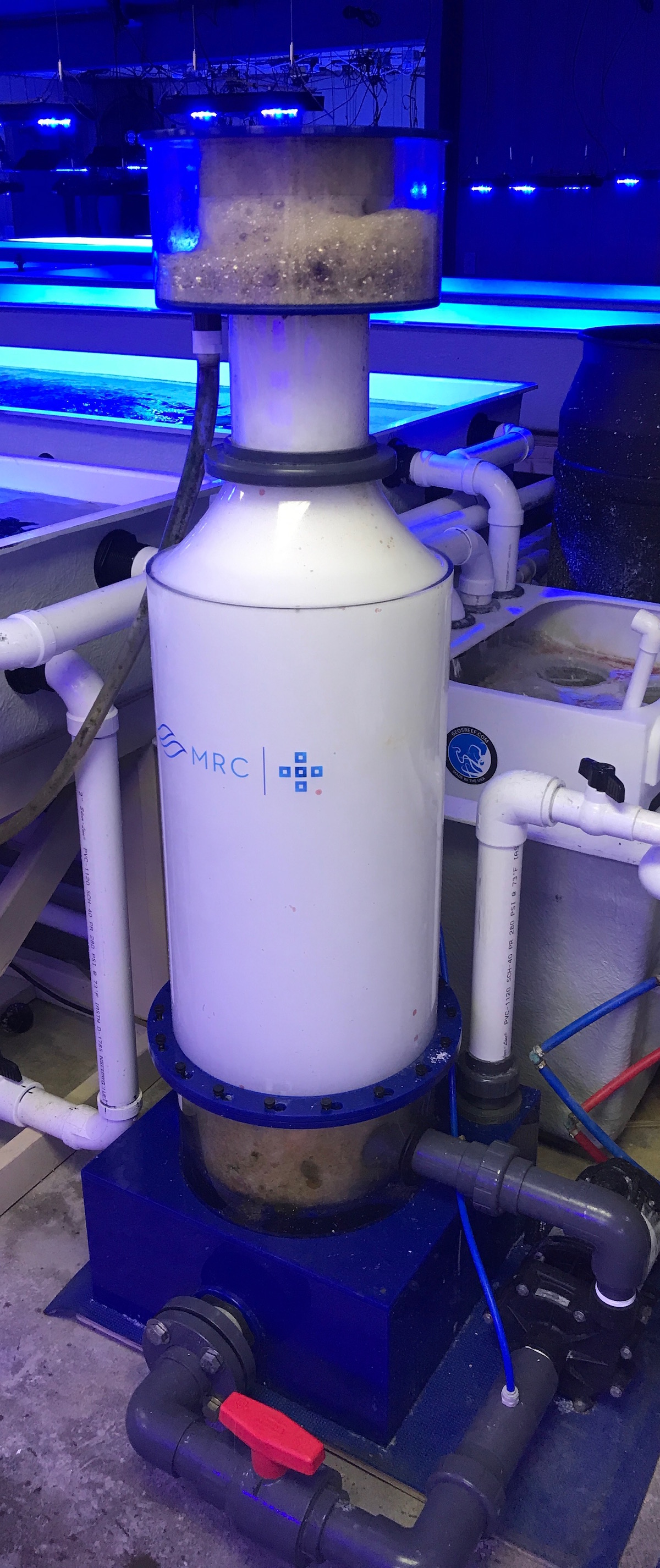 There was no real visible difference in the tank or the corals as far as I could see, but when I looked at some of the pictures of the tank the corals did look a bit brighter with the slightly lower nutrient levels, but this may have been a function of the lighting being a bit better with the slightly cleaner water. More on that in a bit. When cleaning was increased further to once a day the nutrients came down more to under 10 for nitrate and phosphate to .01-.03. It should be noted that this tank is completely packed with corals and fish and is fed heavily daily for the fish and at least 3 times per week the corals are fed.
I am also sure it is no surprise that cleaning the skimmer neck of all the brown slimy waste that sticks on it made it more efficient. In terms of better light producing more vibrant corals, I believe this was the case as one of the things that became apparent quickly is that when the skimmer was cleaned less frequently it resulted in the front glass of the tank needing to be cleaned almost daily in order to see into the tank. When cleaning of the skimmer was done more frequently it took longer for the glass to be covered. While this is subjective, at least to me, it was a good indication of what having skimmer operate at a less than optimal level left in the water. So because of what I found, until I make some changes, the skimmer is now cleaned twice a week, a kind of compromise, which I suggest would be good for most of us to follow as well. I hope that others will try this experiment and see if they see similar results and report them.
Powerheads
The next task that I suggest everyone do more regularly due to what I have seen, is to clean and evaluate their powerheads and other sources for flow in their tanks on a regular basis. During the past couple of weeks every powerhead and pump in my tank was taken offline and cleaned and evaluated.
For evaluation each unit was placed in a bucket and tested to see what the flow was like. It had been since early summer since they were cleaned and checked. Then they were soaked in acid and bleach, scrubbed and rinsed and then placed back in the bucket to be evaluated again. I should note that on the Ecotech powerheads that I use, the mesh screen is changed weekly, and just doing this increases the flow, so now these are being switched out more often.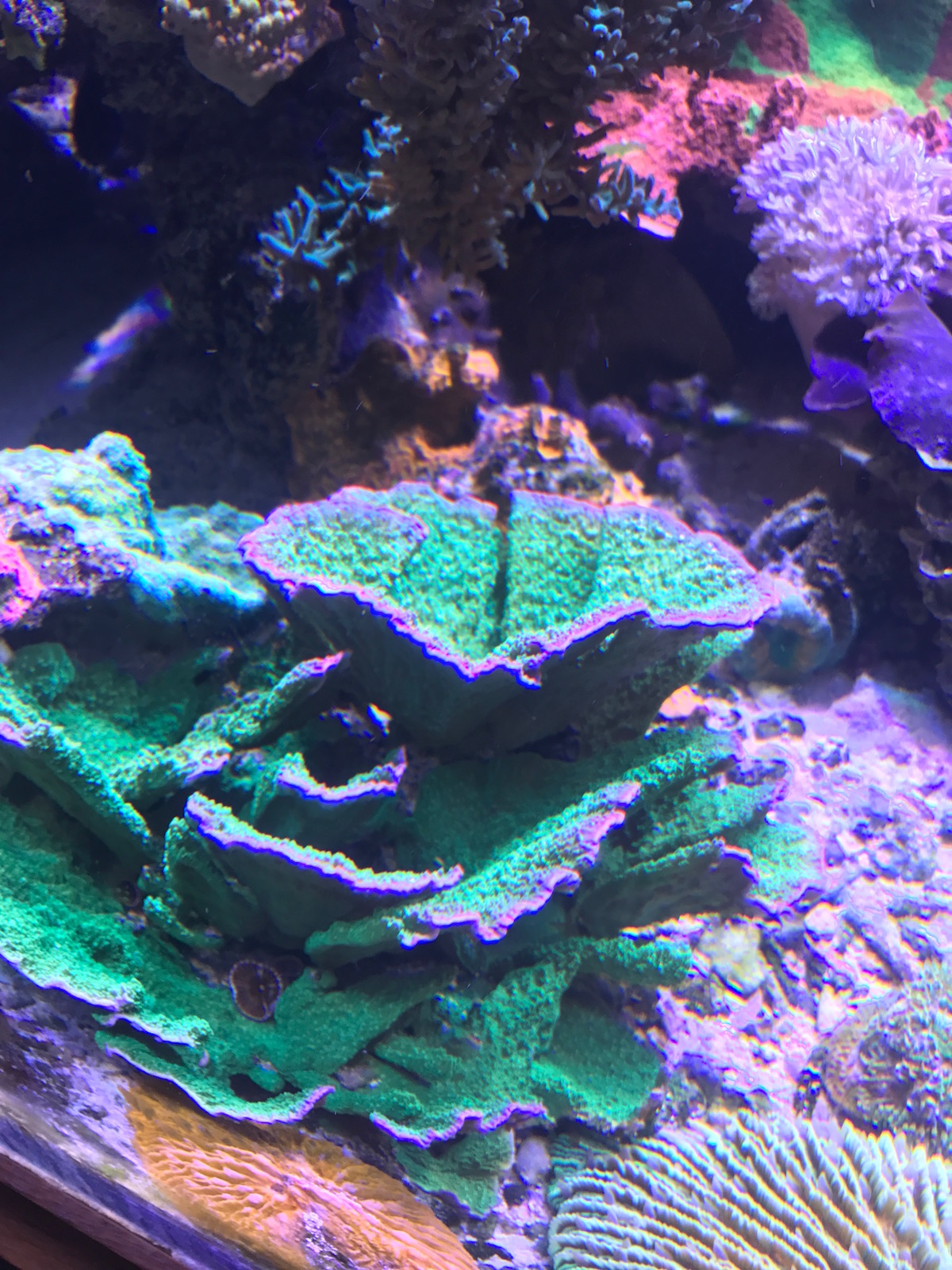 And despite doing this, these powerheads as well as the others all produced significantly more flow after this thorough cleaning. In fact, while a couple of powerheads produced what I thought was good flow when they were initially placed in the bucket, after the thorough cleaning I realized how much it had diminished as they then shot water out of the bucket. As a result, the new pump and powerhead cleaning schedule is now quarterly instead of just twice a year.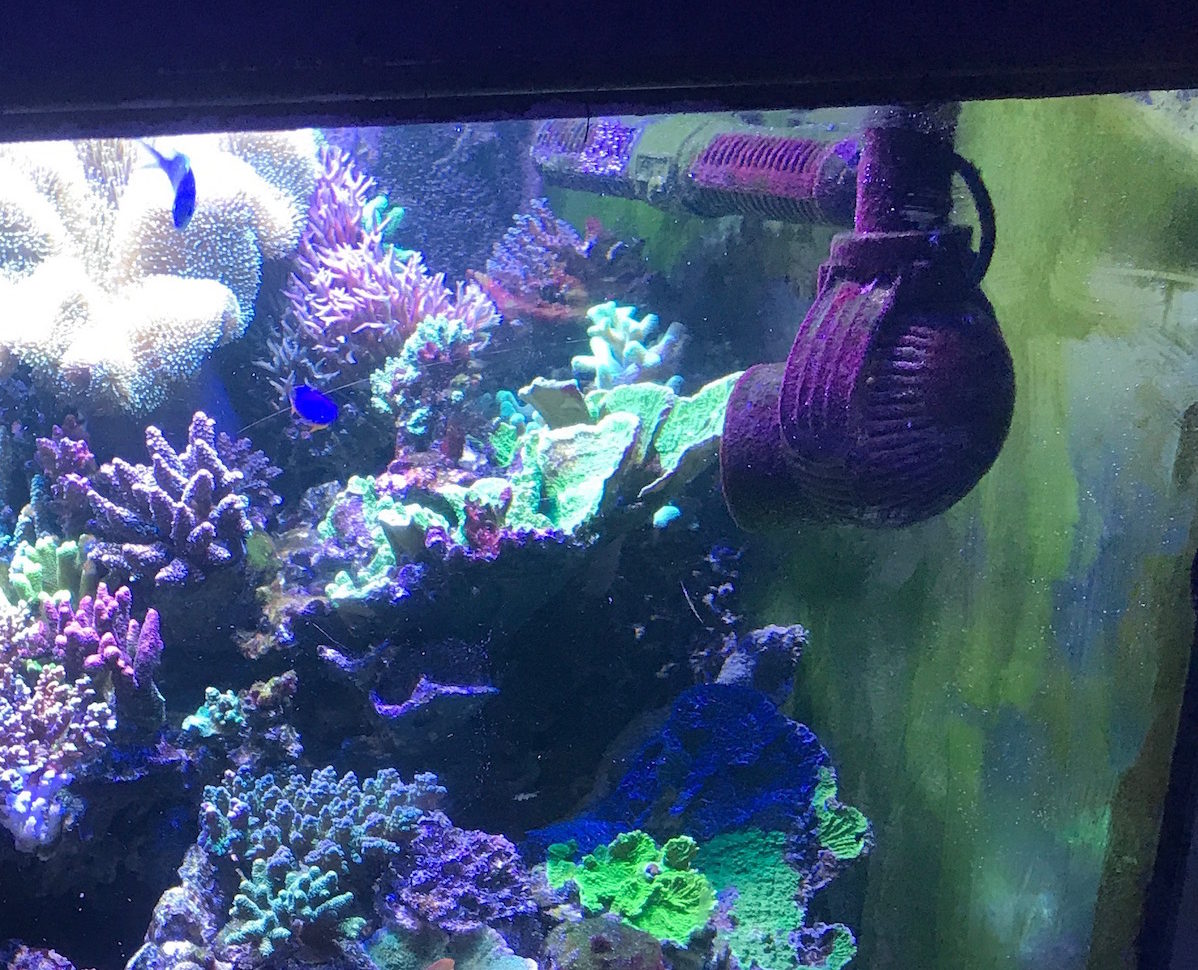 I should also note that one part of our tanks that at least for me had had minimal cleaning or maintenance done to it were the pipes running from the overflows to the sumps as well as the pipe from the pump to the tank. And to be honest I would never have even looked at doing anything with them had I not had to remove one to get to another piece of equipment. When I did so I was shocked by not only how much calcification had occurred within it in 5 years, but also how many animals were living in it including an elbow that was partially blocked with living and dead bristle worms.
After I saw this all of the pipes on this tank were removed and cleaned and in the tank I am planning to set up in the near future all of the pipes will be attached with unions so that they can all be removed easily for regular maintenance. Finding this "stuff" made me appreciate the finding that just about every niche possible on a reef is occupied by something. But I did not realize how much it could negatively impact a tank had I not cleaned the pipes out and improved the water movement without doing much more.
Another maintenance task that I had gotten lazy with, was cleaning or replacing the mechanical filters as often as should have, as well as siphoning out some unexpected dead areas.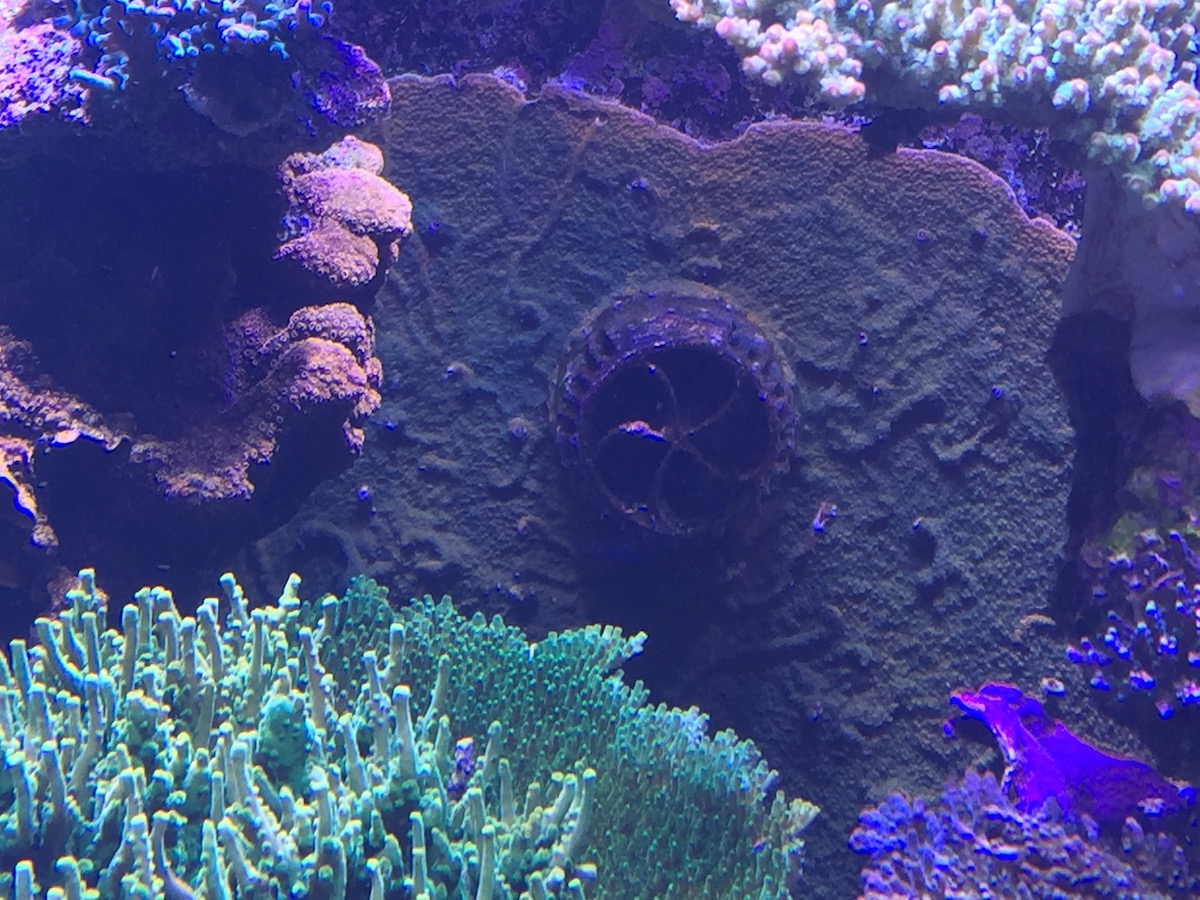 Overflow Boxes
What I mean by unexpected dead areas are the bottoms of the overflow boxes, the first and last chambers of the sump and the freshwater reservoir for make up water. Generally, it is fairly obvious when mechanical filters need changed or cleaned so I at least tend to wait until they are fully plugged or dirty before changing them. However, my thoughts about this changed after reading a medical paper which stressed the need to clean any type of filter as often as possible, otherwise once it is dirty, the fluid passing through it is dissolving the material that is trapped and washing it back into remaining fluid.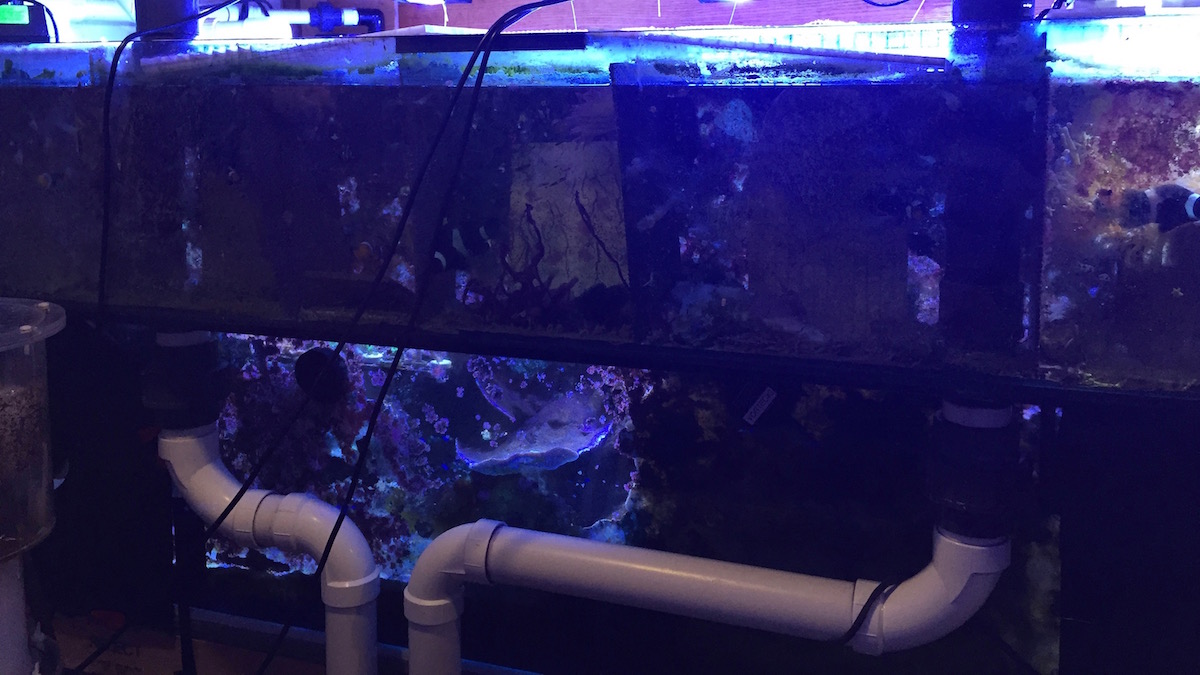 After having some tanks that always seemed to have higher than desired nutrient levels, despite using good skimmers, water changes and mechanical filters on them I was at my wits end as to why. After reading this article, the mechanical filters on these tanks were changed more often, and things improved. I must admit that the reason they were not changed often is that the filters were constructed in such a way that it was not easy to change them. This is why I am always of the opinion to make this easy to do as then it is more likely to be done. When things are difficult to do we tend not to want to do the so we do them less often. So now the mechanical filtration used is easier to change so it is being changed more often.
Similarly, my laziness in siphoning out the overflow chambers was due to the difficulty in doing it as was the case for the reservoir, and the chambers in the sump. It may not be laziness as much as it is the result of my poor planning. This poor planning is shown by these tanks resting on the floor rather than if I was smart, being above the floor. As a result, creating a siphon and having it continue so that they can be cleaned is difficult. So as with the mechanical filters when something is difficult to do I am less inclined to do it. In my future tank these chambers will be above the floor and the overflow will be such that it will be easy to clean. In the mean time I have devised a device to make cleaning them a bit easier.
A powerhead has been modified with tubing on both the intake and outflow so that once it is immersed the tube on the intake can be moved within the chambers to siphon out the accumulated detritus. This has made it far easier to do this task. I would also like to note that once a month during the weekly water change a powerhead is placed in the tank and is used to blow out the accumulated detritus that has settled in the live rock and between the corals. Just doing these two tasks on a more regular basis has reduced algae growth and and further helped in keeping the nutrient levels in check.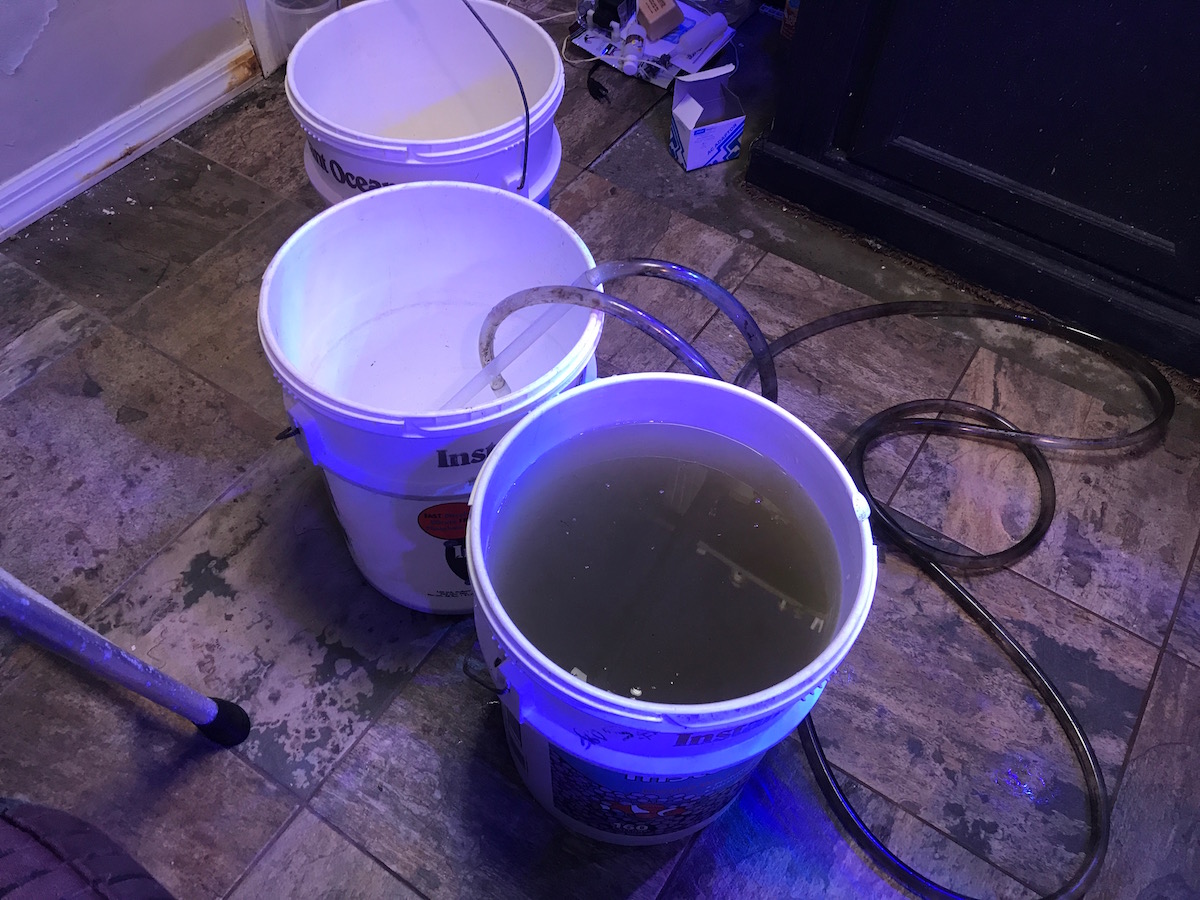 RO/Di Units
Obviously cleaning is a continuing theme of this article with cleaning things we don't think of a big part of it. So another piece of equipment that needs to be cleaned regularly that we may neglect are the prefilters in our RO/DI units. Up until the past year these were replaced on my unit on a all or none rule. That is, when I replaced the media in the DI section of the unit the carbon and sediment filters were also replaced. After talking about this with a friend with a doctorate in "water chemistry" I did not even know such a degree existed, he told me it would be wiser to change these out two or three times between replacing the DI material.
He said by doing so this would not only save that material, which is more expensive, and save the RO membrane, but that he felt it would remove more of the material that is bad for our tanks, since he felt that carbon removed the most things that were harmful to our tanks. As a result of my conversation I now change these out once every two months while the DI material is replaced every six months. Before doing this it needed to be replaced every four.
Lights
The last maintenance task that is now performed more frequently in my tanks is cleaning the lights. I do this more frequently now as a result of something I did not realize until I set up a tank with an open top near where I frequently sit. What I did not realize until then was how much fish splash. As a result of how often I got splashed I realized that not only was I getting splashed but so too were the lights hanging above the tank. Because of these fish constantly splashing the lights above all of my tanks and now cleaned at least once a week.
To clean them I came up with a solution that works well for cleaning the salt creep and other residue that accumulates on them, does not leave any residue and if I drop a towel with it on it in the tank it has not caused any harm. This "cleaner" is 10 parts RO/DI water, 4 parts white vinegar and 2 parts rubbing alcohol. You can increase either of these last two if you have something nasty to clean, but for the most this cleaner is what I use for all of the lights as well as to clean the front outside glass, which also gets cleaned weekly. By doing this frequent cleaning instead of waiting until the lights are well-blocked they are more consistent in terms of lighting easier to clean and take less time than is the case if the salt is allowed to build up.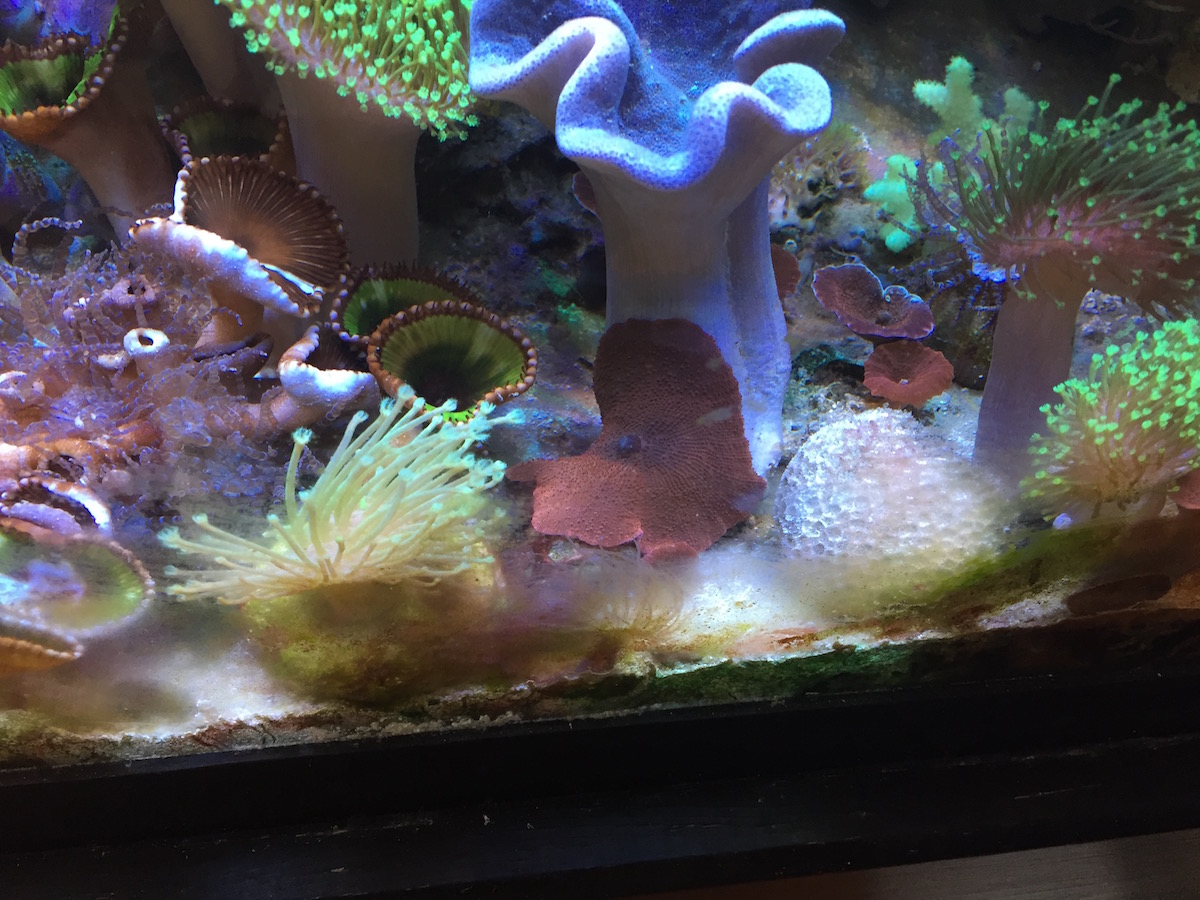 Doing maintenance on our tanks is not fun and takes a fair amount of time. I now try to do it more routinely and on a more regular basis as a result of some of the surprising things I have found. I wish I could say that I always do it exactly as often as I have described, but life often get in the way. However, because it is now done so regularly if it is missed for a week, the effect is not nearly as negative as is the case when it has been let go for long periods of time and it is easy to catch up.
As I noted I have experimented with a few things and feel I have gotten some good results. I would be interested to hear if any of you have had or found similar things or if you were doing any kind of similar experiments. I'm also sure I have missed some things so I would also love to hear from you about what things you are doing regularly that I missed that you feel are making a difference. This hobby is all about learning, and I still enjoy learning as much as I can, even if it is as mundane as cleaning out pipes.