Oceanic Alpha 10
If you're looking for an affordable regulator to spoil a scuba lover on your list, check out the redesigned Alpha 10 by Oceanic.  The Alpha 10 is built tough, has a compact design, and comes with a balanced second stage for a smooth effortless dive.
Oceanic has just announced an update to their popular Alpha 10 regulator model. The compact design offers scuba diver a great value, with first and second stage regulator combo starting at US $299.95.
The Alpha 10 comes with either a din and yoke fitting for the first stage. And, you can choose between a piston or diaphragm valve depending on your performance needs or budget.The piston valve is simple and affordable and great for warm weather diving. If you are diving in cold water, make sure to look at the diaphragm option.
The second stage (the part you breathe from) has a pneumatically balanced design. This feature helps reduce any resistance to star the flow of air, making it easier to breathe from the regulator.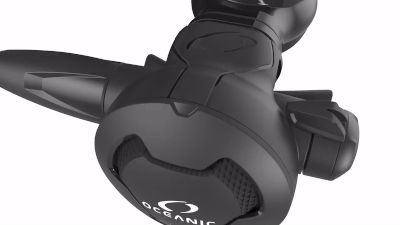 There is also a pre-dive switch on the side which can prevent free-flow regulator while on the boat or when you are jumping in the water. When you slide the knob to the pre-dive setting, a lever inside the regulator disrupts airflow preventing free-flowing air from escaping the mouthpiece, this is called the venturi effect.
Once you're in the water turning the knob to the on position makes it easier to breathe. But don't worry, even in the off position the regulator still functions properlly so you will never be without air.

ALPHA 10 FEATURES:
Pneumatically balanced second stage valve system for effortless breathing
Choice of sPX piston or environmentally sealed cDX diaphragm first stage
Pre-dive switch to prevent free flow
Compact, tough and easy to use
Orthodontic mouthpiece with bite tabs for comfort
Optional universal swivel adapter
The Alpha 10 has been thoughtfully designed to be tough, easy to use, easy to service, and is covered by Oceanic's lifetime warranty and free parts for life guarantee.
The Alpha 10 is now shipping and available at your local retailer.