The Royal Exclusiv Double Cone protein skimmer is the archetype for cone shaped protein skimmers in the aquarium world. For years the internal in-sump version of this skimmer has maxxed out with the Double Cone 250 but now it looks like we'll soon be seeing an even bigger model.
The Royal Exclusiv Double Cone 250 is already one hell of a foam fractionator with an air draw of up to 2,000 liters of air per hour using the 'original' controllable DC needle wheel pump, the RD3 Speedy. At present we've only got images of the body of this new in-sump Double Cone skimmer but judging from its immense base this will be the biggest internal protein skimmer that Royal Exclusiv has ever made.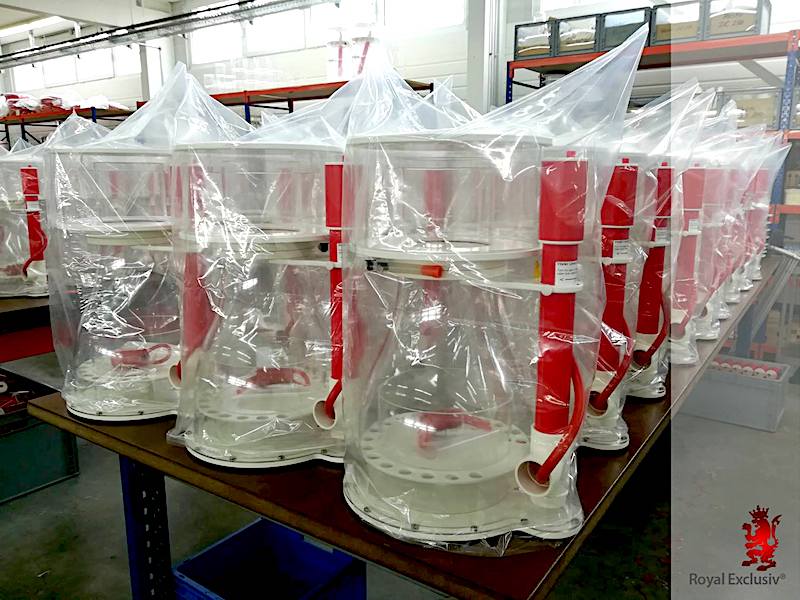 To be clear, Royal Exclusiv makes plenty of larger internal skimmers in the DeLuxe line but these machined acrylic skimmers are much pricier than their molded Double Cone counterparts. While the Double Cone 250 is priced at around $1,500 with an RD3 Speedy 50 watt pump, we expect this new larger Double Cone skimmer will probably use the RD3 Speedy 60 watt pump.
This beefier version of the Red Dragon 3 pump is capable of producing 2,500 liters of air per hour, and we expect that with this new larger Double Cone body will likely cost in the neighborhood of $2,000. No official word yet from Royal Exclusiv but we should find out for certain all the new addition to Royal Exclusiv's product catalog by InterZoo 2018 in early May.