The Swalesi basslet, Liopropoma swalesi, is a very attractive fish which is hardy and a perfect, calm-mannered citizen of reef aquariums. Although it's a beautiful fish, the swalesi basslet has been mostly overshadowed by more exotic species of basslets, most notably, the 'true' candy basslet.
The candy basslet is an illustrious fish that has rightfully inspired us to write about it aplenty. Its pattern of yellow and blue-purple lines is striking no matter how many times you've seen it and coupled with its preference for deeper waters, this fish often costs between $800 to $1000 for a single specimen.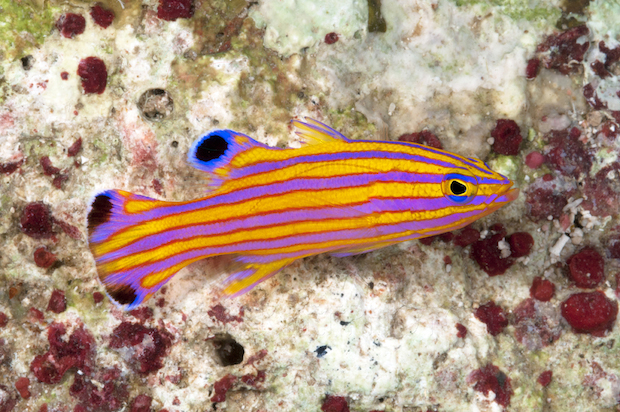 For most people this price could be the total budget for corals and fish combined but the swalesi basslet usually comes in at at closer to $80 or less making a much more affordable alternative to its holy grail cousin. While L. swalesi might not sport the same dramatic coloration when it is first acquired, over time this fish can really develop into a stunning fish of its own.
I recently had the chance to acquire a very nice example of a swalesi basslet that had lived at the local fish store for a whole year before I brought it home. In the several months since this fish has been full of personality, frequently darting between the numerous caves and holes in anticipation of food.
Very fish could hold a candle to the high contrasting blue and yellow lines of the real candy basslet, but this mature swalesi basslet comes pretty close with bright orange lines and blueish grey background. The entire genus of Liopropoma basslets is filled with beautiful and interesting species but being the most common and affordable, the swalesi basslet is a very worthy ambassador which could be representing at your local fish store as you read this.