Bayside Corals
The Canadian province of Saskatchewan is located about as far from the ocean as they come, and we didn't expect much when we started an online search for reefers and reef shops in the city of Saskatoon. To my excitement, we came across Bayside Corals, which ticked all the boxes when it comes to a modern reef aquarium shop.
We reached out to Bayside and set up a tour of a few local tanks to learn more about the reef scene in Saskatchewan. We met up with Colby and Mindy at Bayside to check out the shop.
Bayside corals have been around for more than a decade in Saskatoon and show no signs of slowing down. It would be hard not to fall in love with the idea of reefkeeping after a trip to this shop. The staff were all very knowledgeable and I'm sure anyone who gets involved with the hobby through Bayside has a great chance for success.
Bayside definitely had some drool-worthy corals, including an extra large bounce shroom, some puffy Cynarinas, a few large elegance corals, and a healthy collection of plate corals in a small show tank.
The prices were slightly higher then you would find in an American reef shop, but when you take into consideration the exchange rate, and health of the corals, any reefer would do well to have this shop in their neighborhood.
There were a handful of show tanks, mostly nano's, as they explained most people coming in the shop are looking to start small before the addiction sets in and they're ready to order a full-blown reef tank! If Bayside feels confident selling nano's and making sure their customers succeed, I would say their reefing skills are on point and are sure to offer the best advice and guidance to their local customers.
Scott's Project Mayham 270
The first tank we went to see was Scott's Project Mayham 270. This killer reef tank has been set up since 2014 and Scott has done an excellent job of not only growing stunning corals, but also documenting his process from the moment he started building his tank.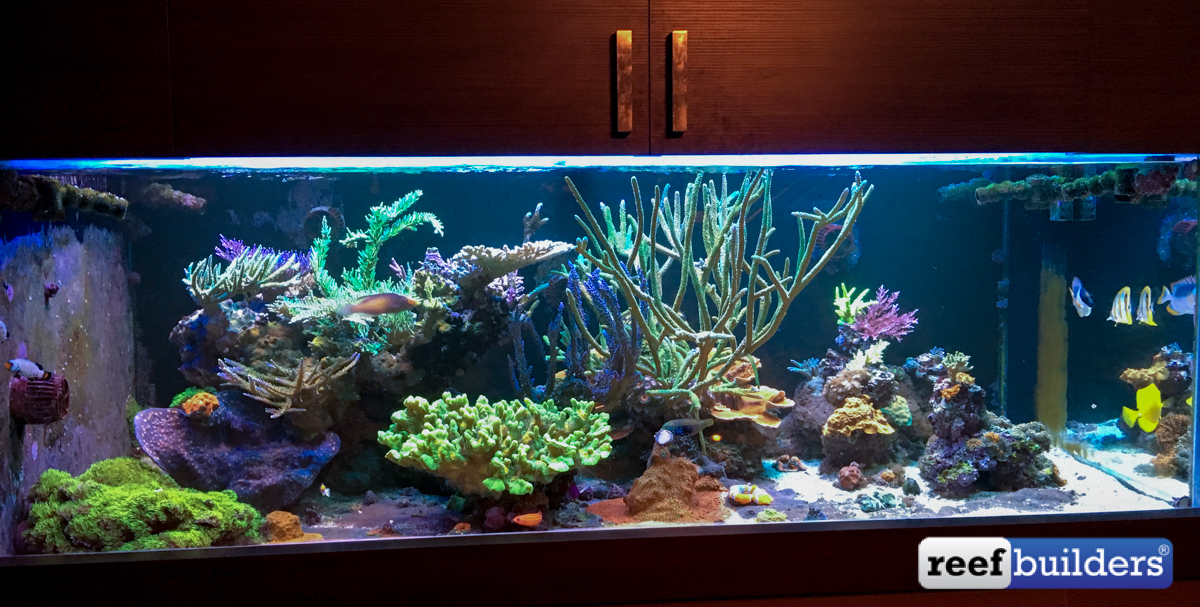 We're not sure what's in the water out there in Saskatoon but it sure does help grow some nice corals! Scott's tank is full of Canadian coral legends, and we continued to see a handful of the same corals is everyones tanks.
The prime example was an exquisite colony of Lime in the Sky Acorpora, which had recently been trimmed. The fast-growing thin branches add dimension and habitat to the tank without blocking the light. Around the base of the coral was a colorful bunch of zoanthids, mushrooms and encrusting monti's. There wasn't much free space in this tank as the slow was between corals was in full effect.
Another beautiful colony was the green Acropora suharsonoi. The branches of this coral have started fusing together forming a small table. Scott's tank has a long list of named Acropora, Chalices, and Monties, all documented on his extensive tank build thread.
Between these two corals is an even nicer Space Invader Pectinia which has been growing in Scott tank from just a wee little frag. It's awesome when people document their coral growth especially when they end up growing monster colonies like this one.
Shaughnessy Appliance Reef
Now, this is the office I wanna work at! The Shaughnessy Reef was the second stop in our tank tour of Saskatoon. The 225 gallon LPS dominant reef has 3 Ecotech Radions for a superbly lit display which is set up in the front entrance of Shaughnessy Appliances.
Ken the owner of Shaughnessy and Colby have been keeping reef tank in Saskatoon for nearly twenty years, and this experience shows in such a young tank. The Shaughnessy Reef was set up in just shy of one year.
Corals are always the main attraction for me, and the Shaughnessy reef didn't disappoint. This neon birds nest coral was started as a frag when the tank was set up and has quickly claimed his position front row and center. There was also a happy af Acanthophyllia just chilling on the sand. There were even some tiny baby gold toches strewn about the tank, as an older colonies last ditch attemp at survival.
But it was the little sand sifting Bella Goby and goofy parrotfish that stole my heart. The Bella goby Valenciennea bella is a gorgeous species and relatively new to the aquarium hobby. The Bella Goby is commonly found in the waters of Japan living in pairs.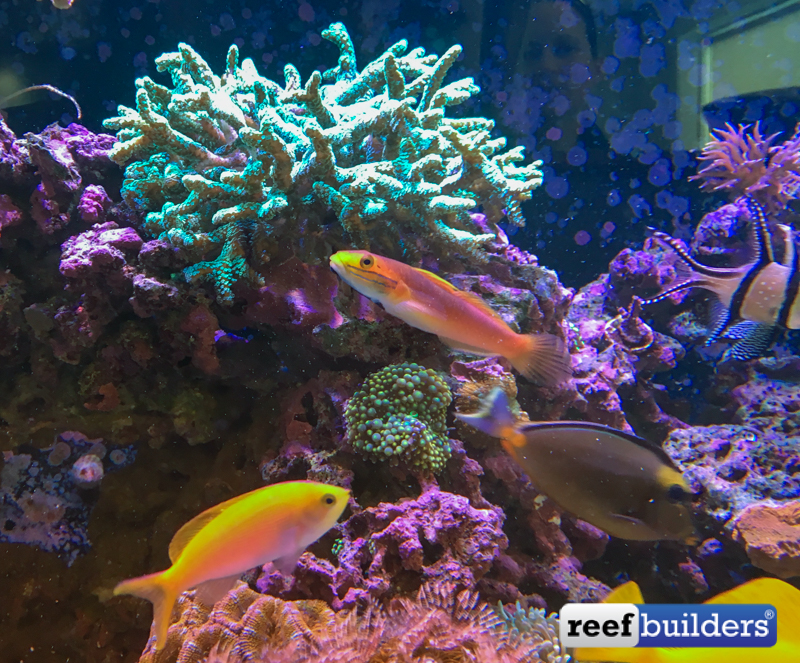 In this tank, we found a frag of Scotts Pectinia coral, a frag of the lime in the sky Acropora, and a healthy green leather coral in the back of the tank, which Mindy told me is a local aquarium classic you could surely find in most Saskatchewan reef tanks.
It's interesting to see the selection of fast-growing corals which are being propagated and distributed locally in this small, yet connected community of reef keepers.
The Diving Center Reef Tank
The last stop of the day was a true meeting of two worlds. Long time readers of my articles will know I spend must of my time exploring reef in the while documenting corals while scuba diving. Part of this is also educating divers about coral diveristy, something that aquarist are already experts at doing.
This is one of the only full-blown reef tanks we've ever come across in a dive shop, and what a fantastic way to start a conversation about corals and the ocean right outside the scuba classroom door.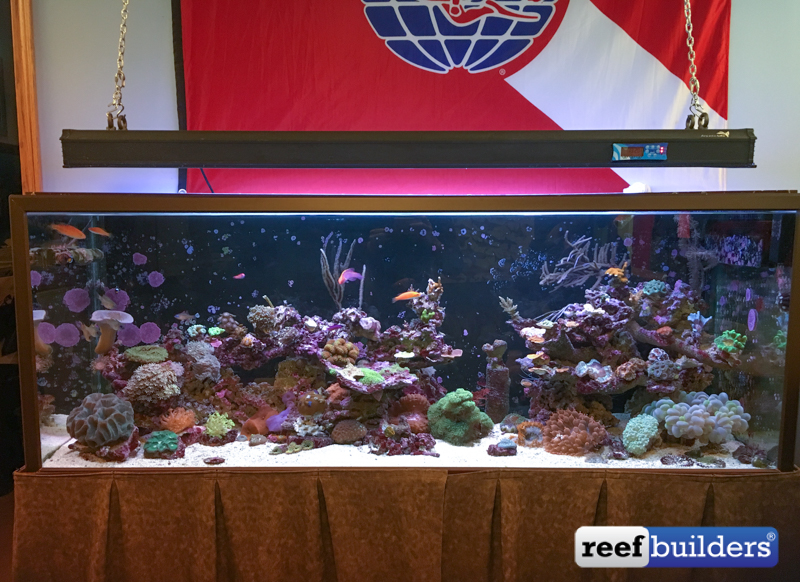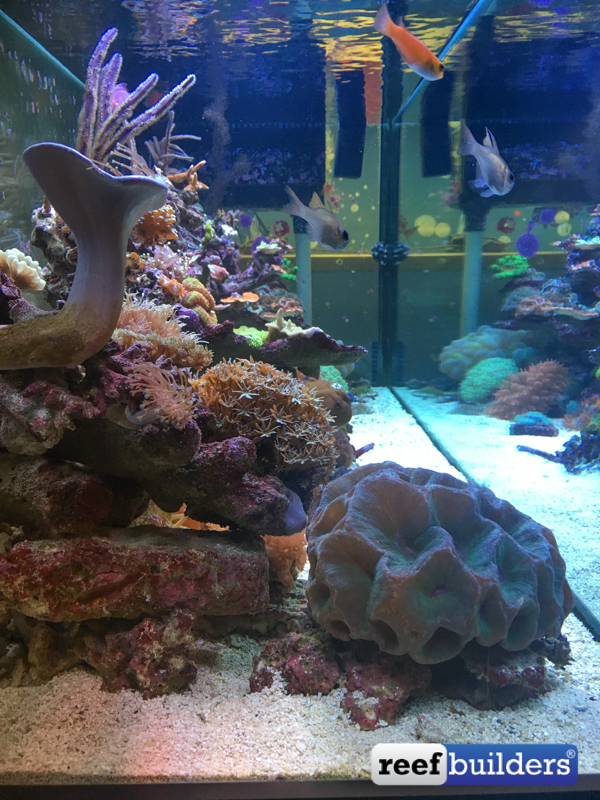 Geroge the owner of the Diving Center is an old school reefer and has been keeping aquariums nearly his entire life. While this tank had nothing crazy going on, it is the perfect example of a simple yet beautify reef.
He was surprised I was so enthusiastic about his reef, but I explained it's not always about the fancily named corals or the biggest brightest lights, we're coral lovers and anyone keeping a happy healthy reef is equally as beautiful in our eyes.
We love the Moseleya coral in the far left of the tank, one big jucy colony and a smaller bright green frag. This is a coral that has always caught my attention, because of it's relative rarity in the hobby and its distinct deep irregular shaped corallites.
As we checked out the different nooks and crannies of this reef we found there were lots of little coral clusters. A Micromussa corner, couple goni frags, some simple but classic discosoma mushrooms, a beautiful bubble tip anemone with a tiny porcelain crab, and a pretty rad green and beige bubble coral.
We could have spent more time checking out this reef, but time was ticking by and we had a drive ahead of us.
Ricks 300 Reef
Rick 300g was the perfect tank to round off the Saskatchewan reefing article! Rick tank is about two hours north of Saskatoon.
This custom tank is was only set up six months ago, and right now it's all about the gear powering this soon to be coral growing monster. Rick has a hobby for fixing cars, which has translated into his techie tank setup.
At first glance you this might seem a bit overkill, however aside from being a gearhead, Rick explained that since he lives so far out of town, he has to be prepared for anything to break, so he keeps a backup of everything on hand.
The weather in Northern Saskatchewan is pretty rough… It's normal for snow to cover the ground around Halloween and stay put until spring. This included extremely cold winters with days below -40C…
It can already take days or weeks to get specialty reef gear up in Canada, now imagine getting a part rush delivered in a blizzard! I can see why Rick gear room looks like a mini reef shop. This new tank is replacing one he had for many years which failed after a power outage, leading to his extra cautious approach.
Some of the gear room highlights include the Royal Exclusive Dreambox 3.0 sump with fleece roller. A giant Deltec skimmer and Abyzz pumps powering the system. Dastaco calcium reactor inline with a PaxBellum cheato reactor means this bad boy will soon become a be hard coral growing machine.
Ricks 300 also has an automatic water change system cycling 8g of water per hour. All the tank runout goes into two smaller tanks next to his water holding cisterns, and everything is plumped in with a second, fish only tank, in his upstair living room.
The tank is lit by Ecotech Radions and some and Giesemann metal halide fixture, with two Panta Rhei Hydrowizard, pumps and four Apex WavePumps giving it a sweet undulating wave. This tank is geared up to be a lean mean Acro growing machine and we can't wait for the opportunity to check it out again in a few years and see if it's living up to its full potential!
Currently, the tank is stocked with a dozen or so fish including Goldenback trigger, Xanthichthys caeruleolineatus. There triggerfish are quite rare to find in aquariums because they inhabit very deep reefs.
Rick also has a copperband butterfly which they have nursed back to health. His wife noticed the fish liked to pick at food but was often to slow and shy around his tank mates. So she came up with the idea to use a fish trap with a feeding tube. The butterfly soon found this protected spot to nip and pick at food at his own pace.
All in all, I was pleasantly surprised to find a community of reefer where I least expected it. I learned it takes a bit more dedication to reef in Canada, and it's imporant to be ready for the unexpected.
Having a local reef store can really impact the community and inspire new reefers to start in the hobby, and having knowledgeable people like Colby running the shop ensured reefers succeed and continue into reef tank glory. This is a good reminder to support your local reef shop especially if you're living in small towns arond the globe.
Thanks to everyone in Saskatachewan for showing me around your reefs!