Los Mogotes Dive Site
If I had to pick a favorite dive site in Cuba's Gardens of the Queen, Los Mogotes would definitely make it into the top three. As I edit my way through my Cuban photo collection, Los Mogotes wall stood out with exceptionally colorful Scolymia corals, cryptic Madrasis, and a few choice St. Thomas mushrooms just to sweeten the deal.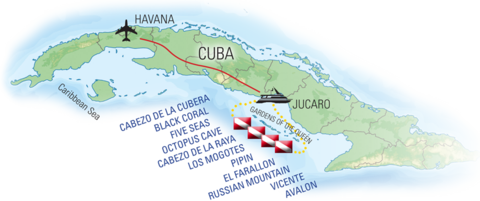 The reef wall at Mogotes is between 14 and 18m deep. Below the wall was a shallow ledge, and, as with most walls in the area, you find dozens of schooling tarpon and circling reefs sharks. But it was only on the Mogotes dive site where I also spotted a large adult rainbow parrotfish, one of the many highlights of this dive.
This was no ordinary fish, the rainbow parrotfish (Scarus guacamaia) is the largest herbivorous fish in the Atlantic! Adult males of the species can reach 1.2 meters in length and we have no doubt this individual was a full grown adult. Sightings like this highlight the importance of the Gardens of the Queen long-term commitment to marine conservation

I spent most of the dive photographing the prehistoric-looking tarpon and mesmerized by the sharks. However, near the last half of the dive I started venturing towards the wall to check out the coral diversity.
Los Mogotoes wall turned out to be a coral spotting paradise, and I was quickly running out of air!! This site reminded me of the importance of sharing this message of coral awareness. It's more than likely most divers would be transfixed by the megafauna circling below without giving the reef wall more then a passing glance.
This wall provides a habitat niche breeding a unique variety of large fleshy polyps.
Scolymia
corals grow between pink coralline and green Halimeda algae and looking back I find these photos resemble a living wall, only an alien living wall surviving in an alternate underwater universe.
At night these solitary coral polyps open up and extend sticky tentacles to catch food. The reef wall provides a perch in the current for catching a meal, and keep them out of the direct sunlight. The 
Scolymia cubensis
 were particularly abundant in this habitat.
Along the wall I also spotted a few species of
Madrasis
, a cryptic encrusting coral I have yet to fully tease apart. These small colonies blend perfectly into the reef, and telling the species apart requires an almost microscopic look at the number of septa present in each corallite. These coral don't look like much in photos yet still a rare and intriguing coral in my search to photograph all species of 
Caribbean Coral.
I also found some beautiful St. Thomas rhodactis mushrooms. Although not a reef-building coral they are still closely related. St. Thomas mushrooms are a type of coralimorph and have a mouth just like a coral polyp. The only difference is they do not build a hard skeleton.
Even though the sharks and big fish are exciting to watch it's imporant not to forget about corals. Tucked along shallow reef walls I found a paradise waiting to be discovered, and I was rewarded with some of my favorite photos from the trip.
Planning a dive trip to Gardens of the Queen, Cuba? Make sure to check out Los Mogotes dive site and search the reef walls for these single polyp Scolymia corals. We went diving with Avalon Liveabord.