When launched the Maxspect Gyre was one of the most disruptive water flow pumps in the reef aquarium hobby. With the announcement of the new 300 Series of Maxspect Gyres we're excited to discover a true next generation successor to the original turbine style water mover.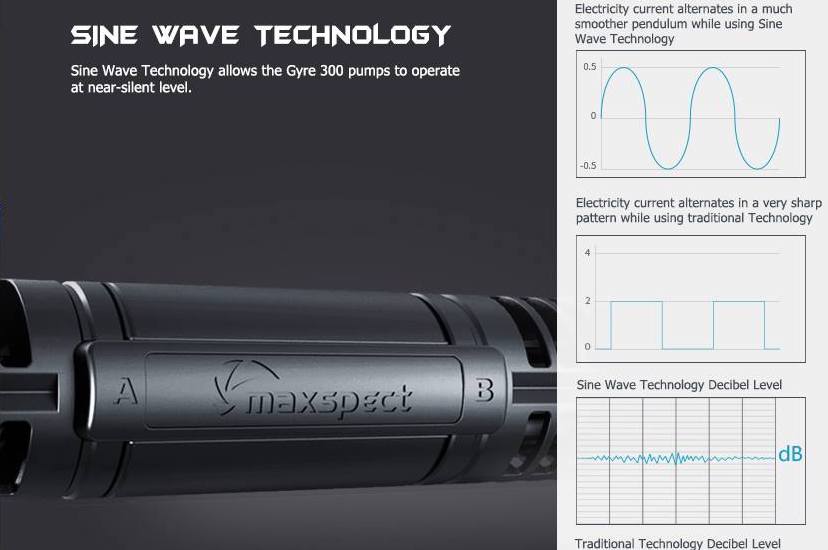 Right off the bat the biggest change to the new Maxspect Gyre 300 is not something you can see, but it'll definitely be something you can hear. The motors for the Gyre 300 are driven by Sine Wave technology, the same technique which has been used in a variety of DC pumps for virtually silent operation, even at high rpms.
But one difference that you can see in the Gyre 300s is the new flow director which is also dual purpose. The directors look somewhat like like a vane and it used primarily to more accurately direct water exiting the outflow – making it more apparent for users too – but it also shields the internals from light, preventing algae growth and biofouling inside and reducing maintenance. The new flow director also enables the Gyre 300 pumps to be mounted closer to the water surface without creating vortices that would draw in a spout of air.
Maxspect will be offering the Gyre 300 series in two models, the Gyre XF330 and the XF350. The Maxspect gyre XF330 is roughly ten inches long and pushes up to 2,400 gallons per hour while using 35 watts and can magnetically mount to glass up to 15mm thick. Meanwhile the larger Maxspect Gyre XF350 is two inches longer at nearly 13 inches and pushed more than double the XF330 at ~5,300 gallons per hour at a maximum of 52 watts and can mount on glass up to 20mm thick, or 0.75 inch.
Inventory of the two new Gyre 300 pumps is already shipping around the world and should see a global release in the coming weeks. The suggested retail price for the Gyre XF330 & 350 will be roughly the same as the XF230 & 250 around the world. However, due to the recent import tariffs on Chinese-made products including motors the two new Gyre 300 pumps are expected to see a noticeable price increase in the U.S. market.