During our stay in Australia, and touring up Ultra Coral Australia shed, we came across plenty of amazing coral. But one particular piece, stood far above the crowd. We were very lucky enough to steal a shot of the whole colony before it got chopped and fragged into little pieces the price of a car . . . a used car but still!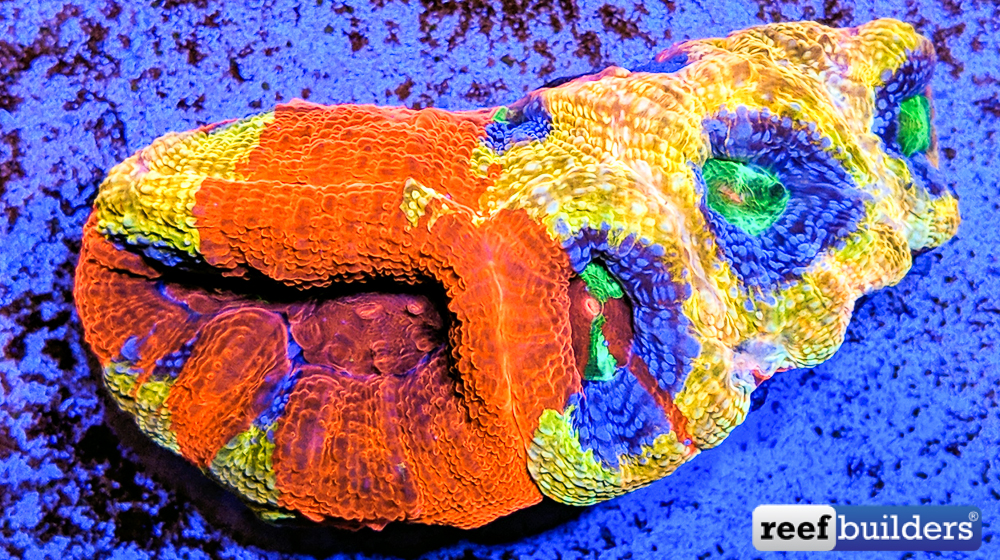 As most insane LPS nowadays, it was collected in the inshore reefs of Mackay by Nic Dos Santos from Ultra Coral Australia. One more time, the inshore reefs, are very dirty, with very turbid water, and this particular piece was collected among the dirtiest of these reefs. And by looking at the very fast and unstoppable feeding response on these corals, we can expect that it gets most of its energy from feeding.
It was collected in only 8 metres of water, but even though it was shallow, keep in mind that these rocky reefs are polluted by sugar cane plantations run off, so they are covered most of the year with a thick layer of Sargassum algae. Collectors need to dive into this thick layer of moving algae to find the corals underneath.
This absolutely insane piece has all the possible colours available in the Homophyllia genus. A gold, red, green, blue and purple winner combo! A never seen before colour combination and another amazing feature of this coral, is the gold rainbow mouth patterns.
This piece is a proper unique piece, that is going in full production mode. UCA will be proposing frags of it in the near future. They are working hard to speed up the growth. It's fed heavily and growing quite fast. The funny thing is so voracious that it can feed, and be fed again just a couple of hours later, opening just in matter of seconds.