Bali's Oldest Living Artificial Reef
In a climate where coral reef habitats continue to decline, the Ocean Gardener Bali's, artificial reef continues to thrive. With more than fifteen years of continuous growth, the Ocean Gardener Reef in Candidasa is Bali's oldest living artificial reef.
The Ocean Gardener coral farm was first established in 2001, growing shallow water small polyp stony corals, mostly Acropora. To the best of our knowledge, this is the oldest 'living' artificial reef in Bali, as it has survived all bleaching events since 2004.
The Ocean Gardener reef starting around the same time as other reef projects in Bali, however, with fifteen years continuous growth it holds the title of the oldest living artificial reef.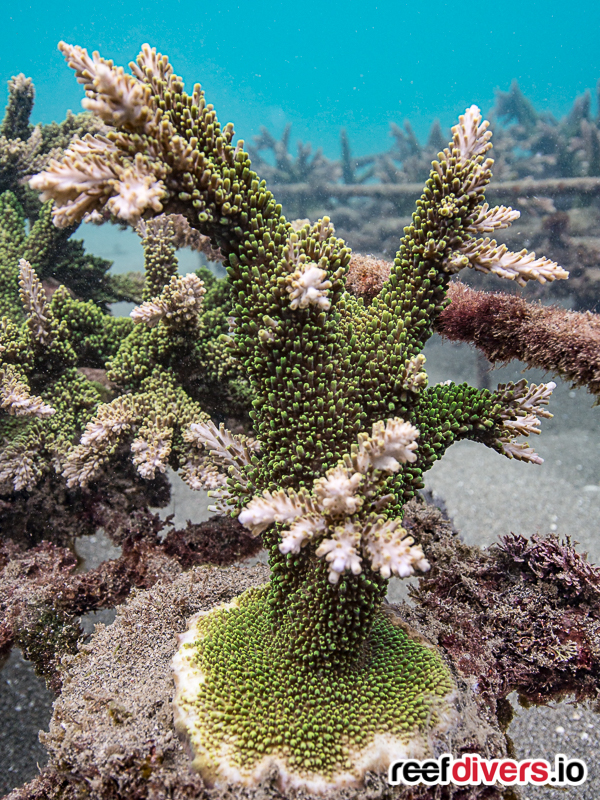 The farm started with a few broodstock coral colonies and coral fragments grown in shallow nurseries. You can still visit the original mother colonies on the natural reef, where new corals have been planted to expand the original colonies reach.
How Fragmentation Works to Grow Reefs
All corals grow faster when they are smaller and slow down when they are more mature. By continuing to fragment broodstock colonies, more and more colonies are created some growing so quickly they started forming their own reef.
Left on their own, mature colonies would slow down once they've reached adult size. By cutting branches, the corals desire to grow kicks in, building a strong base and creating new branches.

Ocean Gardener Reef Candidasa
As a way to ensure the local reefs continued to thrive 10% of their coral production was planted back on the reef. Over the years some broodstock colonies started growing so quickly they started forming their own mini-ecosystems. This is how the Ocean Gardener artificial reef started to take shape.
Scatted about the shallow Candidasa bay are several sunken racks which are now overflowing with coral. The artificial reef also attracts fish, and one is even home to an anemone garden complete with clownfish.
It's safe to say that since this project started in 2001 they have replanted more coral than their initial broodstock collection. And with the many lessons learned on this commercial coral farm, they have been able to grow corals in a dozen more locations around Indonesia.

This initiative provides alternative livelihoods for coastal communities, employing local fishermen since its inception. Over the years this project has had a positive impact on the surrounding environment and since 2017 new effort has been placed on restoring corals in the area.
The Ocean Gardener farm is open to the public and you can organize a tour by contacting Ocean Gardener