See if this scenario sounds familiar – you get a new protein skimmer and it works great, body is full of foam and it pulls lots of gunk. Over time you find yourself raising the water level in the body, and little by little you see much less air in the body and much less brown juice in the skimmer cup.
Protein skimmers are one of the most vital pieces of equipment on a reef tank but you need to clean much more than just the cup of waste it produces. Like everything we own with any kind of moving parts, you really should cleaning and servicing certain key parts to keep things in peak working order.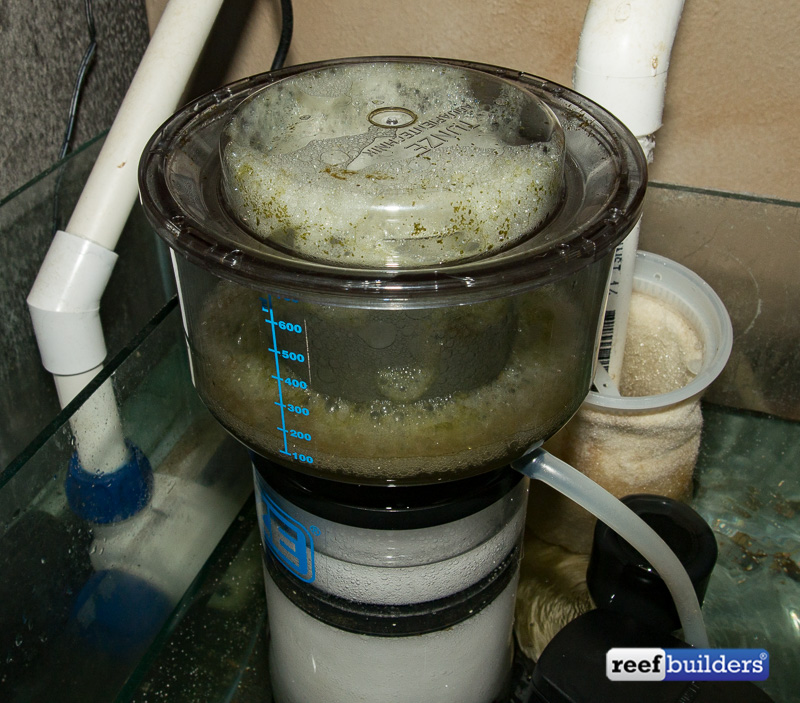 For a protein skimmer the most important part to keep clean and free of obstructions is the air-injecting pump, also known as a needle wheel pump in most home reef aquariums. There are two main components that need regular attention, the aspirator valve – often erroneously called a venturi – and the pump's impeller and needle wheel itself.
Seriously though, keeping the air intake clean is the easiest thing to do on a biweekly basis, give or take a couple weeks depending on the local relative humidity. Dried salt aka salt creep tends to build up inside the airline where the air is drawn in and mixes with the water, and all you have to do is submerge the intake line, either into the aquarium itself, or preferably with warm freshwater for as little as 10 seconds to clear the obstruction.
The pump itself needs to be cleaned every few months, at least twice a year to both remove film and residue from the impeller assembly so it can freely spin inside the motor body. But more importantly you should get a good look at that needle wheel as all those closely spaced teeth are almost tailor made to catch debris – little shells and biofouling both reduce the ability of the impeller to mix air & water, resulting in less air and smaller bubbles, and it also creates an unbalanced impeller leading to noise and eventually wear and tear on both the impeller and magnet.
This post was inspired by recent measurements made by Danilo Ronchi on his UltraReef skimmer before and after servicing the pump. Even on a high performance protein skimmer like the UKS 180, his air draw had dropped by almost 50% at around 400ml/hr and after cleaning it was back up to a more desirable 800ml/hr. Cleaning a protein skimmer and watching it spring back to life is easy, effective, and most of all very beneficial to the well being of your reef tank.