RK2's new flexible tank adapters are a welcome new refinement of one of our favorite plumbing accessories ever. If you've never heard of Uniseals, you're sorely missing out on one of the greatest hacks of aquarium and aquaculture plumbing.
Most of you will be familiar with the typical multipart bulkheads that help to deliver or drain water from our aquariums and overflows without leaks. A bulkhead consists of a threaded nut that mates with a flanged fitting, and a gasket in between them provides a watertight seal. 'Flexible Tank Adapters' were first made by a company called Uniseal so they are often colloquially called 'uniseals', and they work in a different manner.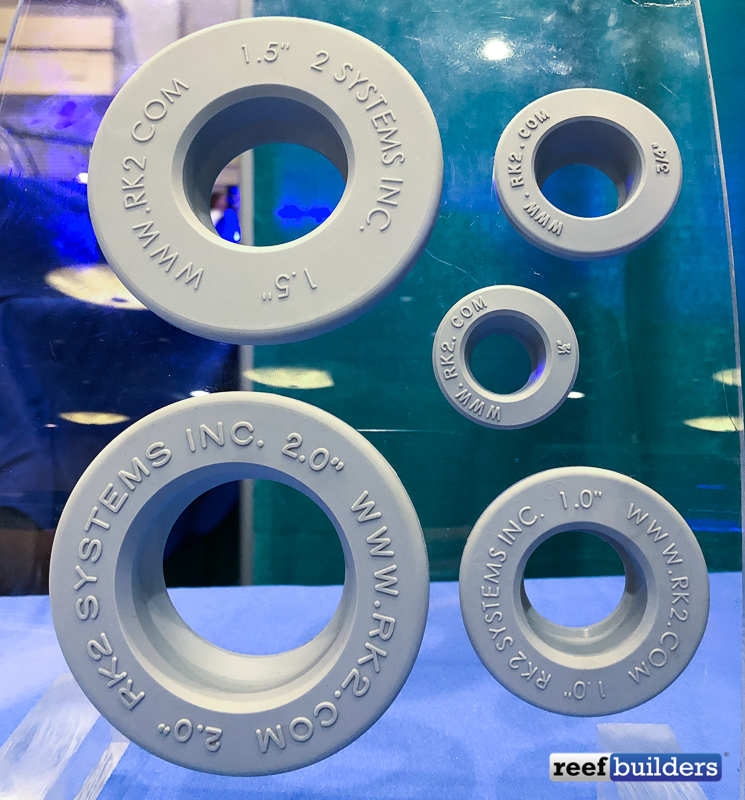 Uniseals fit very flush to the hole they are intended to seal up but by inserting a tight fitting pipe, the uniseal expands to fill any gap between the tank and pipe. Using flexible tank adapters or uniseals is just about the only practical way to add a drain or hose or tubing to a curved surface such as skimmer cups, the sides of barrels and other cylindrical liquid containers – you can even use uniseals to mate a small pipe to a larger pipe!
RK2 Systems is on a roll with yet another entry in the pages of Reef Builders by introducing the first upgrade to the trusty flexible tank adapter by making their own version out of silicone. Classic uniseals are made of a tough and durable rubber but in outdoor environments, or with prolonged exposure to ultraviolet light it can get stiff, brittle and begin to crack like all rubber.
RK2's modern upgrade to the venerable flexible tank adapter is virtually identical in every way to uniseals except that they are made of a modern silicone compound which doesn't fall prey to the longevity issues of rubber; they will not get brittle or harden over time, and being made of silicone might be a touch easier to 'install' than the rubber ones. RK2 Flexible Tank Adapters are available in 0.5, 9.75, 1, 1.5 and 2 inch diameters and where a typical rubber uniseal might cost between $2 and $5, the modern material RK2 versions are between $5 and $8.