Bulk Reef Supply's heaters and thermostats are a spanking new option to give demanding aquarists a comprehensive solution to both heating their aquarium water, and controlling it with precision and certainty. The Bulk Reef Supply Titanium heater and aquarium heater controller were made in collaboration with some of the best companies in their respective fields and we're particularly excited about this new combination to manage temperature of aquarium water.
Temperature is such a crucial parameter of ANY aquarium yet it is one of the most overlooked, under-appreciated, and neglected aspects of the aquarium environment. This is especially true in saltwater aquariums since tropical marine life lives in a relatively narrower range of temperatures, but there's a huge difference in the well-being of a fish or coral whether it's living at 72ºF, or 82ºF.
There's a lot more attention paid to the severe and immediate problems that can occur when a reef tank gets too hot, which is why reefers are diligent in keeping the water cool, and don't mind paying a thousand dollars for a cooling device like a chiller. But the inverse is much less true as most saltwater aquarists balk at paying more than $50 for a typical heater in a small tank, or more than $200 for a real 'temperature control system' when it comes to keeping the water warm.
One look at Bulk Reef Supply's new kits for heating aquarium water and it's clear that the company has both been working on this for a long time, and gave serious consideration to what's truly needed to increase the reliability of aquarium heaters in general. To accomplish a 'holistic' heating kit for saltwater aquariums, the Bulk Reef Supply Aquarium Heater System pieces together several pieces of equipment that come together for a comprehensive solution.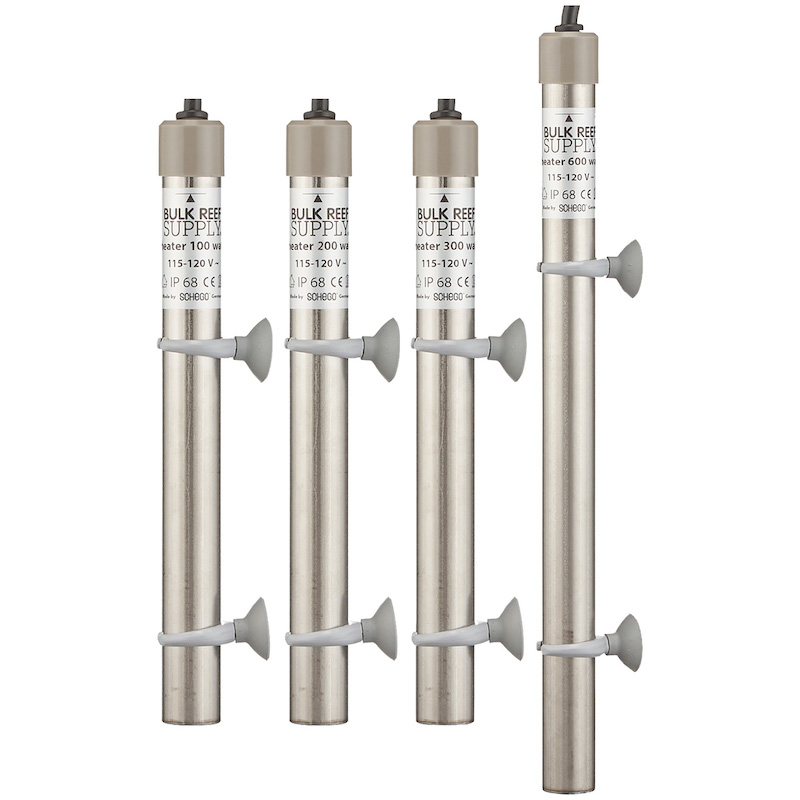 The Bulk Reef Supply aquarium heater system is remarkable both for its high end features as well as its very reasonable price. The two major components of the aquarium heater system from Bulk Reef Supply are the heating element, and a thermostat with a remote temperature sensor or probe. For their kit BRS specced out one of the most reliable possible titanium heaters in collaboration with arguably the best German heater company, Schego.
These titanium heaters have a proven track record with German attention to every detail, beside the unbreakable main titanium body, the ends of the heating element are welded for extended durability. Bulk Reef Supply is offering the titanium heaters in 100, 200, 300 and 600 watt sizes and they are so confident in them that they offer a three year warranty on them, longer than any other heater we know of.
But a heating element is only as good as the thermostat that's controlling it, something that 'general aquarium controllers' have historically really sucked at. With a purpose-built aquarium heater controller, you can be confident that all the parts have been selected to work optimally in an aquarium setting, and can tolerate the high power draw of aquarium heaters, instead of generic off-the-shelf components that 'kind of work' in most aquarium controllers.
The Bulk Reef Supply thermostat is equally impressive for having some uncommon features that we didn't even know we wanted. We love that the Bulk Reef Supply Aquarium Heater Controller has two outlets so you have the option of plugging in multiple heaters to reach the target power, so you can use your own existing heaters for added redundancy, or split your heating power needs to fit in tighter sumps or simply to spread out the heating.
The thermostat part of Bulk Reef Supply's Aquarium Heater Controller reacts to a deviation of just 0.3ºF for added temperature stability instead of the usual 1 degree. One unique touch is the incorporation of a replaceable temperature sensor so that, should the BRS aquarium heater controller start to drift in any way, a simple replacement of the temperature sensing probe can get the entire unit back on the target temperature.
What's most surprising about Bulk Reef Supply's new aquarium heating devices is just how affordable they are; the 3-yr warranty, German heaters are all $45 to $65 and the aquarium temperature controller is a paltry $49. Best of all if you want to go all in with Bulk Reef Supply's titanium aquarium heater system there are complete kits that include a magnetic heater holder from Zen Reef for just $125 for the 100 watt system, and barely breaks $200 for the 600 watt heater & thermostat combo.
Bulk Reef Supply just started offering their titanium heaters, aquarium spec thermostats and complete titanium aquarium heater system today and from what we can see, this is the best aquarium heating option available for fresh and saltwater aquariums today. [BRS]