We can't believe ReefStock 2020 is just around the corner! In just over two month we will be welcoming vendors and attendees from around the country to attend our annual reefing event in Denver Colorado.
Take note, ReefStock 2020 has moved to a brand new venue. Yes you heard it right, ReefStock 2020 is going to be our biggest year yet with over 17,500 sq feet of vendor space more than double our previous year.
Check out our current floorplan and start planning to see your favorite vendors and catch up with friends. First time to ReefStock? Everyone is welcome to join our annual event and even if you don't know any of the companies, it's also fun just to wonder the aisles admiring the corals and learning about new products.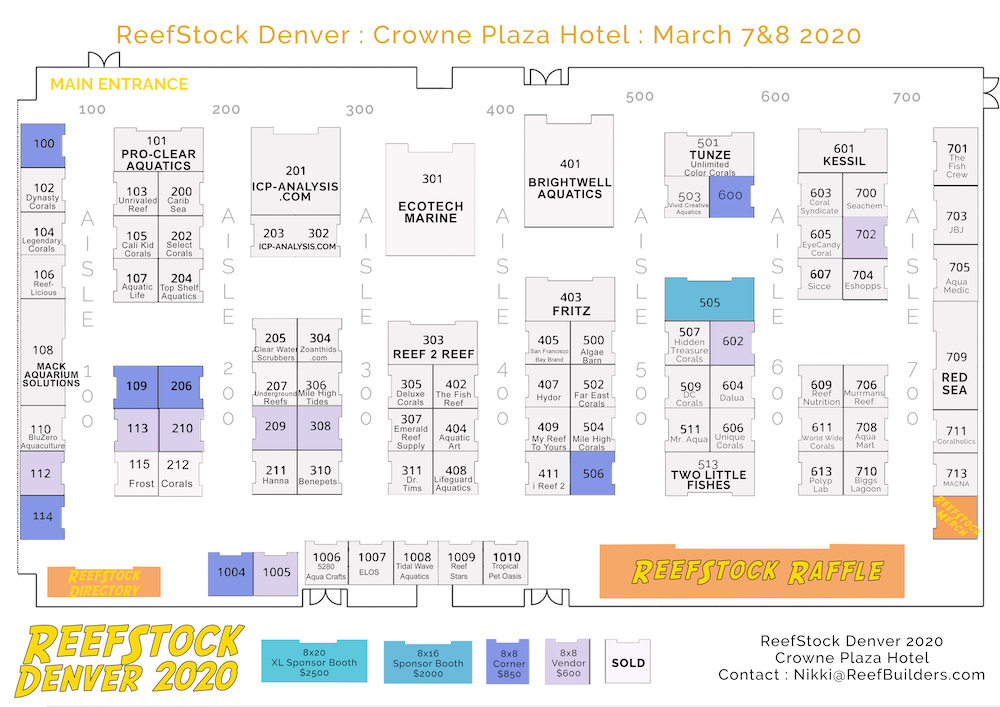 Pack your bags and stay overnight to enjoy the show over two days. This year for ReefStock we have a show rate of $125 per night at the Crowne Plaza Hotel Denver Airport. Use this link to book your room.
If you're looking for more details about the event, check out our dedicated website for all things ReefStock by visiting www.reefstock.show. You can also RSVP to our official event page or follow our dedicated ReefStock Denver Facebook page to learn more about our vendors. Also as we get closer to the show date we will be posting about some of the amazing raffle prizes which will be available to win at the show.
The countdown is on!!
---
ReefStock 2020 will take place March 7&8 at the Crowne Plaza Denver Airport Convention Center. Doors open at 10am Saturday March 7th. Come to ReefStock to buy coral frags, new reef gear, listen to educational speakers, and enter to win various raffle prizes. See you all soon in Denver.
Book your room at the Crowne Plaza Hotel Denver Airport for $125 per night.