Plectranthias cruentus is a very unexpected new species of perchlet discovered in the remote waters of Australia's Lord Howe Island region. The sole photo of a freshly preserved specimen collected off Ball's Pyramid shows a fish that looks quite a lot like our beloved Plectranthias pelicieri except with a lot more red color overall.
This red-orange coloration of Plectranthias cruentus is how it has been bestowed with the common name of bloody perchlet. The head and body of the bloody perchlet are bright orange with some indistinct red stripes below the eyes, with notable yellow markings in the pelvic and anal fins, complimented by slight yellow bars around the belly.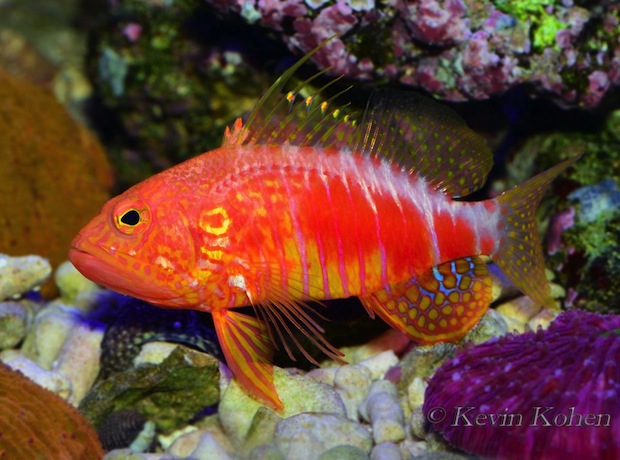 Although the fish may look red overall we know from our experience with the similar looking Pelicier's perchlet that there's a whole world of interesting details and color that are hard to accurately describe. From the elongated spines of the first dorsal fin, african cichlid style 'eggpots' in the anal fin, and the intricate network of yellow, red, and white markings all over, we're pretty confident in assuming that Plectranthias cruentus probably has an interesting and colorful appearance in real life.
Alas, not only was the bloody perchlet collected in fairly deep water of 285 feet deep, the holotype was from Ball's Pyramid, a hallowed region of the sea which is the only known place that recreational divers can expect to see the mythical Ballina angelfish. Thankfully with captive breeding of marine fish getting better every year, hopefully we'll one day see cultured P. pelicieri at which time it might make sense to make a special broodstock collecting trip for some of the angelfish and basslets of this super special subtropical ecoregion. [ZooTaxa]