Fill Your Tank Quickly
Does your tank look like a barren rock garden, peppered with bite-sized frags? Patience is the key to keeping a successful reef aquarium but waiting around for tiny frags to grow isn't very rewarding especially for new hobbyists.
Once your tank is properly cycled and ready for its first inhabitants, there are a few hardy fast-growing corals you can add to quickly fill our your tank. These corals will bring life and movement to your aquarium, and they won't break the bank.
Before you add any corals make sure your parameters are stable, and you've let your aquarium cycle with live rock for at least 4-6 weeks. Then you can add a cleanup crew and let it sit another couple weeks before you start adding fish or corals.
Hardy Inexpensive Corals
New hobbyist can get discouraged by their slowly evolving rock gardens and might rush to add fish or corals and end up with a crash. But there are a variety of hardy inexpensive corals you can add which fill up empty space, and transform your empty box into a living reef display you will be proud to show your friends.
Leather Corals
Soft corals like Cabbage leather, Toadstool leather, and Finger leather add bulk and movement to a reef tank and you can often pick up these inexpensive corals at your local fish store. If you can't find these corals, just ask. Most fish stores should be able to order them in for you.
Ask if the shop also has service accounts, and ask them to set aside any bigger colonies which are overgrowing tanks. If you're lucky you can find a large colony which someone has removed from their mature tank!
When looking for leathers, keep an eye out for leathers with extra long polyps. Look for cabbage leathers in a green or classic pink, and finger leather in a range of colors.

Mushrooms
Mushrooms like Ricordea, Rhodactis, and Discosoma are easy to keep and will live in just about any light or flow conditions. If you are keeping an aquarium and your mushroom are dying, something is very wrong with your tank. Don't be alarmed if your mushrooms move around in search of a suitable habitat.
In general Discosoma mushrooms are the fastest growing and most affordable shrooms. They have a thinner smooth disk, with less beading or vesicles found in record-breaking rhodactis specimens or shrooms with mind-bending colors. You can usually find rocks with a half dozen Discosoma polyps that won't set you back a fortune.
If you are looking for fast growing mushrooms look for rocks that are already covered. Ask your local fish store which mushrooms grow out of control! Place them on a large rock in your tank that is easy to remove if the shrooms situation gets out of hand.
Mushroom coral will also respond well to feeding, just be careful not to overfeed your corals as this could cause a spike in unwanted nutrients. Once your rock of mushrooms is growing you can treat yourself to a slower growing, colorful fancy shroom.
---
Polyps
Polyp type corals like Zoanthids, green star polyps, clove polyps, and pulsing Xenia, can add movement, and can quickly cover barren rocks. Like mushrooms, some polyps grow faster than others. And as a general rule of thumb if you're buying one polyp for more than $30, chances are they aren't the quickest growing corals.
Instead look for rocks covered in polyps. Green star polyps are one of my favorite rock cover corals. You can find all different shades of green and once it grows out it resembles a patch of flowing neon grass.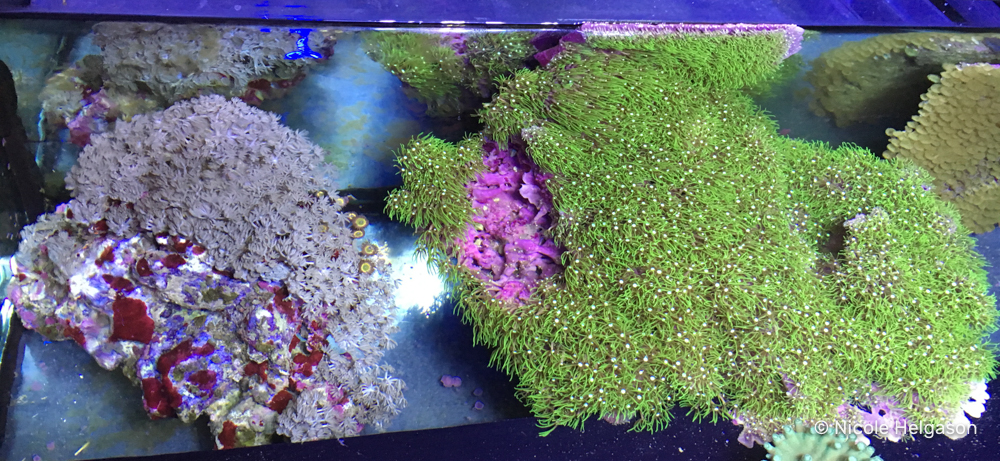 Depending on who you ask, Xenia is either a dreaded enemy or a welcome waving hand. Xenia can literally take over your tank in no time and it's recommended you keep it on its own rock so it can be easily managed and removed from a tank.
Personally, I love the look of this pulsing coral, and most new reefers would agree. Since Xenia is such a quick growing coral it is also really cheap and you can often pick up big rocks or healthy sized colonies at your local fish store.
Once you've filled out some empty space in your aquarium with fast growing mushrooms, large leather corals, xenia, and bright green star polyps, you can add a splash of color with some fancy Zoanthids.
Again, brown, green, red zoanthids that are purchased on a big rock are fast growing, but you can also get frags of 2-5 polyps which might be more expensive but they are hardy and practically indestructible. Adding a few strategic frags of fancy colored polyps to your tank in between fast-growing monotone corals will be sure to impress your friends.
---
Patience Pays Off
If you're just starting out and your tank is ready for new corals, take a closer look at leather corals. Keep your eyes out for brighter varieties or long flowing polyps, and don't be shy to ask for these corals by name at your local fish store,
If you are looking to fill a hole in your tank look for rocks covered in mushrooms, zoanthids, or green star polyps. And if you are just looking to add a pop of color or invest in a designer variety of coral, look for single polyps of mushrooms or zoanthid.
And don't give up! Reef tanks take patience but once you've invested the time corals start to fill out, your parameters become easier to monitor, and within no time you'll have your own slice of paradise.