The Coral Lok system is a two-part design with a screw-shaped frag plug that fits into modular reef cells embedded with a female threaded Coral Lok receiver. The system is currently designed for coral restoration projects on the natural reef, however, aquarists could find a small scale design useful for larger home aquariums.
Coral Lok reduces the need for live rock to be chiseled and roughed up before transplanted coral can be attached. This will greatly reduce the amount of time it takes to outplant a large number of coral fragments on natural reefs.
To further speed up the out-planting, frags are grown in nurseries on Coral Lok egg crates with threaded Coral Lok receiver. The entire frag rack can be removed from a coral raceway and transported as is. The same rack can then be taken underwater with the corals still attached.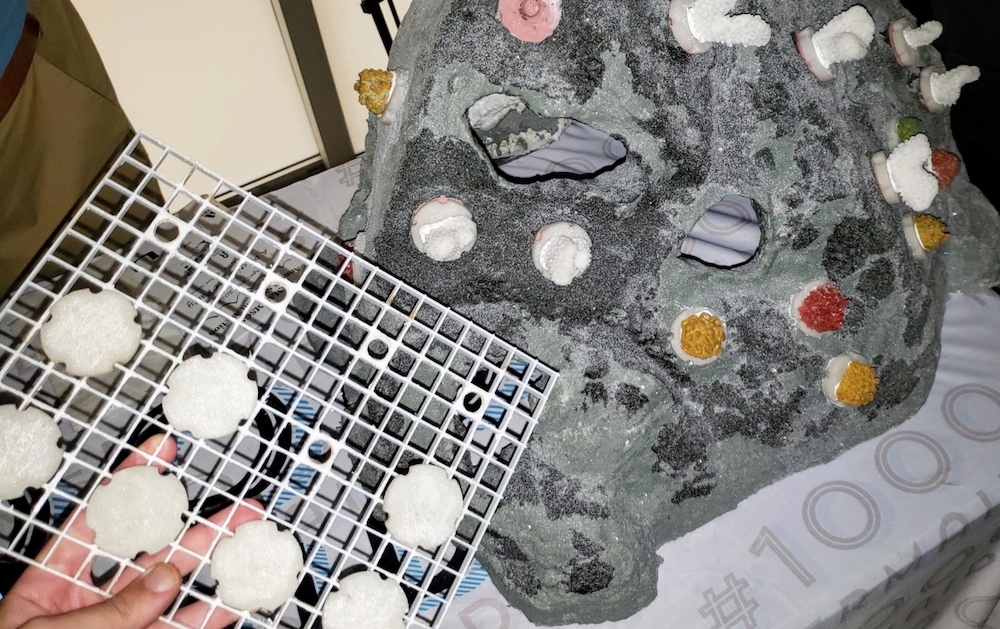 Screwing the corals into the rack ensured the frags do not fall off the rack during transport and reduce and damage to the small corals. This also allows for less stress to the corals as you can grip the frag plug and not have to handle the actual coral fragment.
The Coral Lok frag plugs are made from materials that will not harm the corals or the reef. They will not corrode, oxidize or breakdown from sunlight. They are composed of 90% calcium carbonate and are strong enough to support the living coral and hold it firmly in place while the coral encrusts naturally to the reef.
Each artificial reef module can be fabricated with hundreds of Coral Lok receivers. The ease of Coral Lok installation enables coral attachment to be accomplished by volunteers with minimum skill levels.
Coral Lok attaching devices are patent pending and available to coral reef research and restoration organizations worldwide. Contact Coral Lok for more information.