Stable water parameters are the key to aquarium success, which includes stable water temperature. If you start to notice your tank temperature consistently creeping above 78°F or 25.5°C during the summer months it's probably time you invest in a chiller.
The JBJ Artica titanium chiller is an affordable solution to effectively lower and regulate water temperature. Chillers work in circulation with your tank and remove heat from the water with the use of refrigerant, similar to a refrigerator.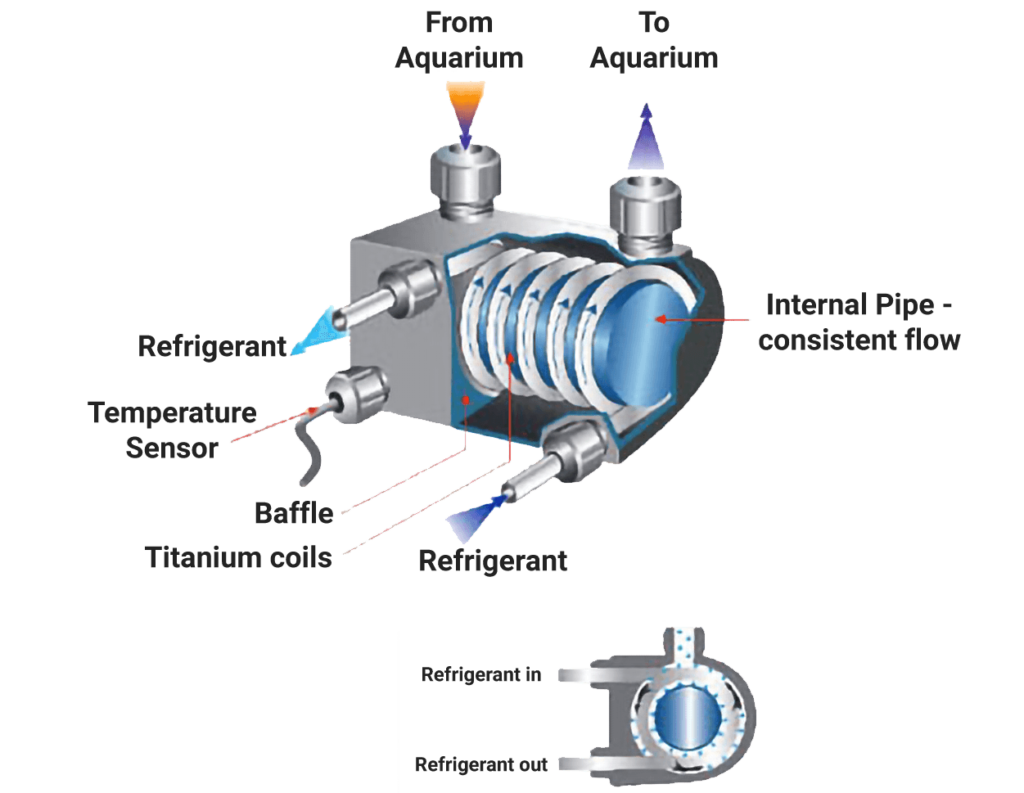 Lights, pumps, heaters, and ambient temperature all work to transfer heat into the aquarium water. Arctica Chillers incorporate state-of-the-art titanium heat exchangers found in larger systems to guarantee stable and consistent temperatures.
These units have been designed for maximum temperature pull down (BTU's) with the least amount of energy draw. They are energy efficient, easy to plumb, and very quiet for those low noise applications.
The Artica chiller comes in three sizes the smallest 1/10 HP DBA-075 is recommended up to 130 gallons with the largest model 1/3 HP DBA-250 for aquariums up to 340 gallons.
Features
Titanium Heat Exhanger: Unique titanium coil design allows for maximum contact exposure. The absolute best element for heat exchange on the market.
Condenser Layout: Condenser is located on the front side of the chiller. This design draws cool air from the front and exhausts the warm air out of the back. This new standard will also direct access to clean the condenser grill without any tools to take the chiller apart.
Energy Efficiency: Provide the best BTU (British Thermal Units) heat removal capacity with the lowest amperage draw. More electricity savings.
Full Auto Digital Temperature Control System: This built-in thermostat will automatically control your desired set temperature within +1/-1 Fahrenheit. Includes a bright light LCD that can actually be read day or night.
Lowest Noise and Vibration Level: You will be amazed at how quiet these units are for chillers. Definitely a big plus for hobbyist who have aquariums located in living rooms.
Small Footprint: Most of the models are no bigger that a standard desktop computer. This compact size allows placement without a large designated area.
Side Handles: ABS Molded handles allow for easy lifting and moving.
Refrigerant: Uses Ozone Friendly Refrigerant (R-134A)
1 Year Warranty: The best warranty in the industry.