The C-Vue 50 is a new all in one aquarium from Cobalt Aquatics loaded with features at a very compelling price. You pretty much can't release any new tank setup on the aquarium market without high clarity glass like the C-Vue 50 is built from, but one modern touch that we particularly appreciate is the use of mitered edges for the cleanest seams and a larger bonding surface for the silicone.
Cobalt Aquatics designed the C-Vue 50 with dimensions that can be used flexibly for a wide range of uses – most of the 48 x 18 x 14 inch volume is used for display while a narrow rear mounted portion serves as the built-in filtration. Due to its longer four foot footprint the C-Vue 50 filter basically has two loops, two separate paths for filtration so there's two overflow drains, two pumps and two return outlets.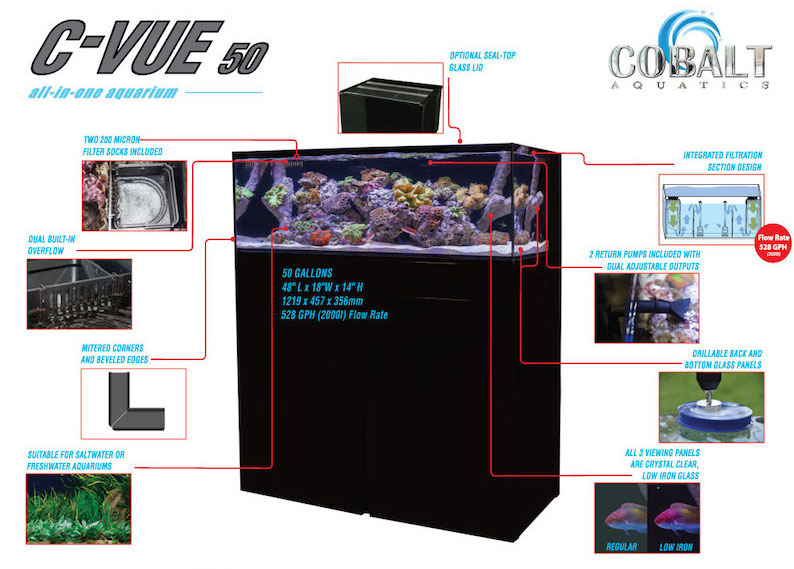 Most four foot long aquariums prioritize height and showiness over utility and practicality so we appreciate the large surface area of the C-Vue 50 which is great for African cichlids, livebearers, planted aquaria and especially frag tanks. We've always been partial to high quality glass with mitered edges and to the best of our knowledge this new 50 gallon AIO from Cobalt Aquatics is the largest of its size with this feature. The Cobalt Aquatics C-Vue 50 Gallon All In One Aquarium is priced at $569 with the stand and a set of lids sold separately.