Reef Delete is a creative new approach for the eradication of aquarium pests and parasites which doesn't use any chemicals or injection techniques to get the job done. Unlike consumable solutions of kalkwasser, lye, paste or any number of potions that reefers have concocted to try and kill unwanted reef aquarium pests, the Reef Delete is an innovative device which kills anything you point it at without affecting reef aquarium chemistry.
Designed and built by Seneye's hardware division ITC Reefculture, the Reef Delete is a radical approach to dealing with unwanted reef aquarium pests and there's a natural unease with using a device instead of a localized toxin to get rid of unwanted reef growth. There have been very pitiful attempts to try and kill Aiptasia or Majano anemones with powerful hand held lasers from outside the aquarium but these are both dangerous, lose a lot of power from passing through aquarium glass, and just don't actually work . Sure you could hold a powerful blue laser at a Majano until it boils but you'll overheat the device, use up the battery, and burn up the laser diode long before you make any significant headway through your unwanted pest problem.
The Reef Delete is neither a laser nor does it 'boil' anything but instead it is a powerful emitter of concentrated ultraviolet light that destroys unwanted pests down to the cellular and genetic level! The UV rays of the Reef Delete are not the sun-kissed flavor that our corals enjoy from some of the more premium reef aquarium light fixtures, no this is the germicidal UVC rays that are used to disinfect or denature all kinds of microbes, way more similar to the wavelengths found inside an aquarium ultraviolet sterilizer.
The Reef Delete uses extremely high-quality custom-made ultra narrow beam optics on its LED including a silica quartz outer lens – all UV-C grade for ultimate transmission. This has all been built within a dive-proof quality CNC machined aluminium enclosure and is rated IP68. The special optics are what helps Reef Delete punch the UV-C deep into the target organism.
The prospect of having a hand held UVC light sounds quite dangerous but ITC Reefculture has built in a number of safety features not the least of which is that the Reef Delete won't turn on unless it's submerged in water. Reef Delete cannot be activated out of water and shuts down if removed from being under water even if the power button is held down.
Reef Delete works on all pests inc. Aiptasia, Majano, invasive Xenia, Zoanthids, Cyanobacteria, Algaes, Flatworms etc to name a few and any other soft tissued organisms that can be annoying in the reef tank – not to mention bacteria and its ability to sterilize any surface in the aquarium. ITC Reefculture envisions the Reef Delete as the ultimate 'touch up pen' to get rid of a pest, coral disease, or to cleanse an area of nuisance algae or bacteria – the Reef Delete might really feed our obsessive compulsive disorder for flawless reef aquarium displays.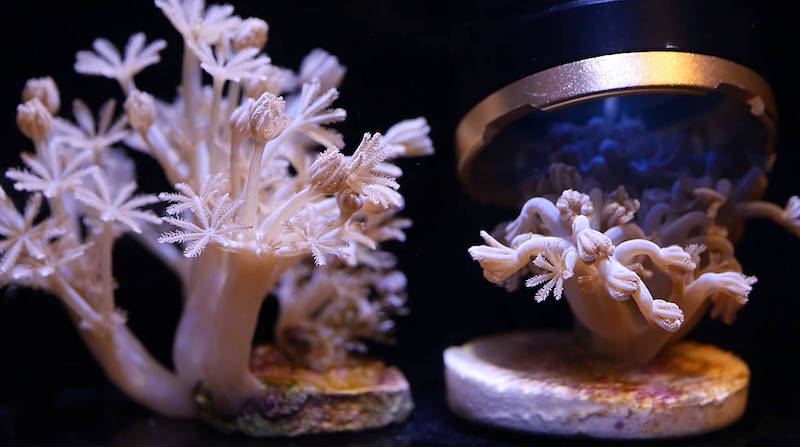 The Reef Delete is a very ambitious device from the company that brought us the world's first, and still the only ammonia monitoring device so we are pretty anxious to see how this waterproof UVC torch works in the field. Since we've never had anything like the Reef Delete, it's probably easy to dismiss a handheld disinfection tool until we see what it can do under real world conditions and applications. The first shipments of the Reef Delete will be arriving Winter 2021 – 2022 with an RRP of £299.99/$399.99 and will be distributed by by Aquatic Now in the UK and by Aqua Digital in North America.