If you needed any more convincing that Kessil is the dominant leader in the spotlight form factor for biological LED illumination, you needn't look any further than their new 'Landscape' offerings. Building on the powerful and capable A360X and A500X lights we've enjoyed on our fresh and saltwater aquariums, the W360 and W500 spotlights are not for outdoor landscape but instead are specially designed for casting light on vertical living wall installations.
This line of LED spotlights is purpose built for mounting high up on the ceiling and casting light across large, high walls of living plants in an indoor setting with some unique attributes to work well in this kind of application. The first thing you'll notice is that the W360 and W500 are primarily intended to be mounted in lighting tracks which supply both power and control signal, but there's also a clamp based version for special cases.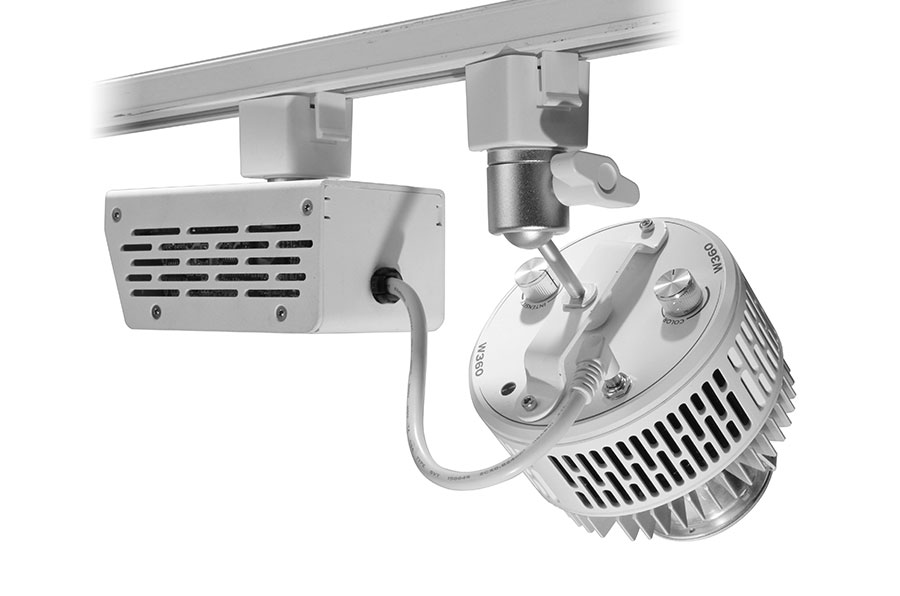 Each of the Kessil W360 and W500 comes natively attached to a ball joint for maximum flexibility in directing the light to the desired location but the more obvious difference is the curious built-in reflector with accompanying external cooling fins. The reason for the additional, external heatsink is that since these lights are mostly intended to be used in ceiling applications, the ambient air temperature tends to be a bit warmer in the higher part of the room where the heat builds up.
The 75 watt W360 and 175 watt W500 are available in both 55 and 35 degree reflector options and to our delight these seem to be primarily offered in a classy matte white color option. There's no word on price but with the included ball mount, track lighting customization and combination heatsink-reflector we do believe these will command a premium over their aquarium counterparts but judging from the types of live walls and buildings in which they are used, this is certainly a more premium approach to installing biological lighting. [Kessil]