The Aquatic Exclusive Duo Mixer is a new premium dosing container with the very simple yet welcome feature of keeping additives stirred and well mixed. For sure you can get by using some milk jugs or other used plastic bottle to hold your reserves of precious calcium, buffer and other additives, but if you're looking for something a little more swanky and perhaps a little more useful, the Aquatic Exclusive dosing containers are very nice.
The standard dosing containers hold 2 liters of solution each with a handy graduated scale incorporated into the face with a firmly closing top and a built in access hose that goes nearly all the way to the bottom. At SG$135 or around $100 it's actually not as much as we've seen these things go for but for SG$30 more you can really have some fun with a dedicated dual magnetic stirrer.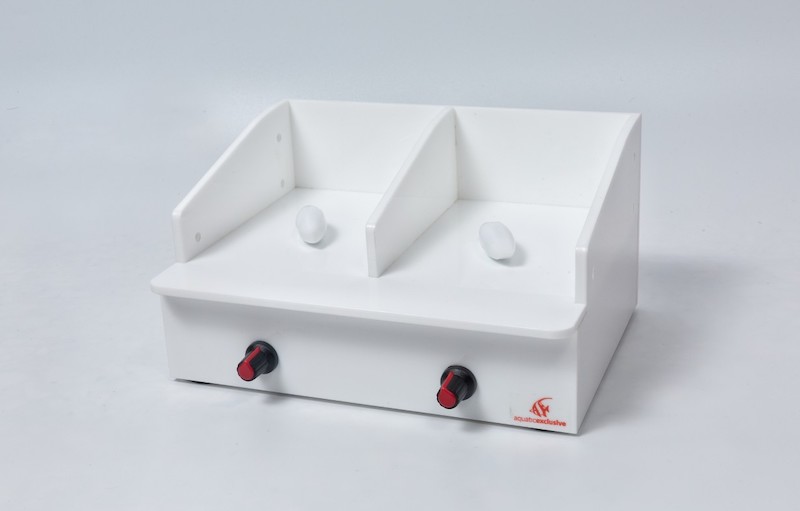 For sure if you buy your additives premixed and they are very homogenous in their consistency there is very little benefit to using a magnetic stirrer. However if you'd like to use the Aquatic Exclusive dosing containers with your own self-mixed additives or with any kind fo suspended particulate foods, the Duo Mixer is an easy add-on for a total price of SG$165 or just $122.
The AE Duo Mixer setup has a separate magnetic stirrer for each dosing container with a small built-in adjustment knob so you can keep things gently suspended and in solution or you can really whip up the fluid with higher speeds, and with the use of a timer you might even be able to shoehorn this device into a sort of nano kalk stirrer. The Aquatic Exclusive Duo Mixer is presently only available in Singapore and nighboring countries but we wouldn't mind seeing a boutique reef shop dabble in offering up this minor upgrade to how additives are dispensed and kept as evenly mixed as possible throughout the entire dosing period. [ReefMarketSG]