We've been admiring the Blastomussa genus of late, and especially the Large Polyp Blasto, Blastomussa vivida. Like its congeners, B.vivida can come with that classic cherry red rim with a bright green center, but then also solid cherry red to burnt orange, purple, and a plethora of other colors that make even a single polyp of the Large Polyp Blasto really stand out. But when we saw this unique example from Corals.com, our fingers stopped scrolling in their tracks.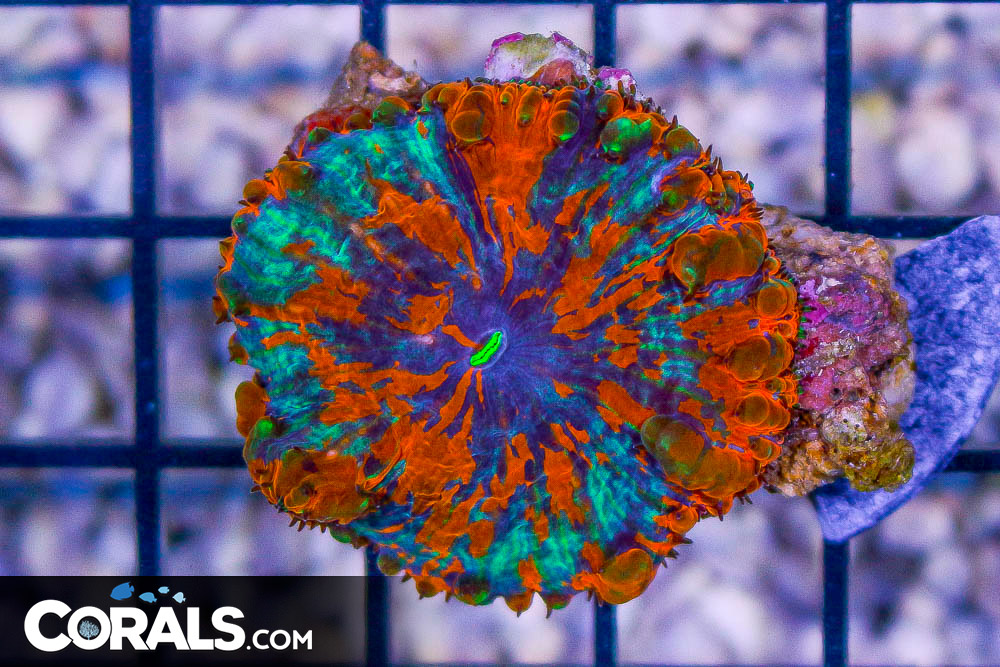 What we like about it
Under blue lighting, this as-yet-unnamed Master Blasto has traces of a Master Scoly about it, with Warpaint-like orange streaks running towards the mouth on the oral disc, accompanied by turquoise on the mantle vesicles which remind us of bioluminescence in the deep ocean.
Change to whiter, 12.5K lighting, however, and the 1.5" x 1.5" blasto polyp has a pattern and hues more reminiscent of a Rainbow Acanthophyllia, with a lime green mouth, but unlike the unrelated Homophyllia australis and Acanthophyllia deshayesiana this Blasto could and should reproduce rapidly, turning this little gem into a colony of identical polyps, the likes of which we could only dream of owning.
Corals.com obtained this one-off out of Indonesia and told us they've found that the species is best kept in very low/indirect lighting as well as lower flow. Alas, it was snapped up as soon as it was offered in November, and for a cool $399.99, but it will definitely have us examining Blastomussa vivida colonies more carefully, and under different lighting, in the future.