Aqua Illumination has taken a big leap with the launch of an all-new light fixture called Blade. A change in form factor from the well-known AI fan-cooled models, Blade is a slimline passively cooled LED striplight that can be used either on its own or in conjunction with existing AI Hydra modular lights and their mounting solutions.
The Blade will come in seven sizes and four color spectrums, all based on a 24-diode, 20-watt cluster group PCB. The lengths of the light bars are 12", 21", 30", 39", 48", 57", and 66" and they comprise from one up to seven of the linear cluster groups in a row, with corresponding power (on full power,) of 20-140 watts.
The four flavors are Blade Grow, Blade Glow, Blade Freshwater, and Blade Refugium. Grow is populated with 6 x Cool White, 12 x Royal Blue, and 6 x Blue diodes with a spectrum of 400-500nm and peaking at 460nm. It's tuned to encourage photosynthesis in corals and will be one of the two of most interest to reefkeepers.
Glow is then populated with 6 x 430nm, 12 x Royal Blue, 3 x 415nm, and 3 x 405nm and is blended to produce maximum fluorescence and visual pop. Both Grow and Glow can be used singly, one of each, or at an AI-recommended ratio of 2:1 if used in multiples. 
Freshwater is as the name suggests (only with a silver housing,) but Refugium will be available as a single 12", 20-watt unit designed to light macroalgae in sumps, and populated with 6 x 430nm, 6 x Royal Blue, 6 x Cool White and 6 x red diodes. All units have an IP66 waterproofing rating, come with a 9.8ft cable, and are programmable and dimmable via the MyAI and Mobius apps.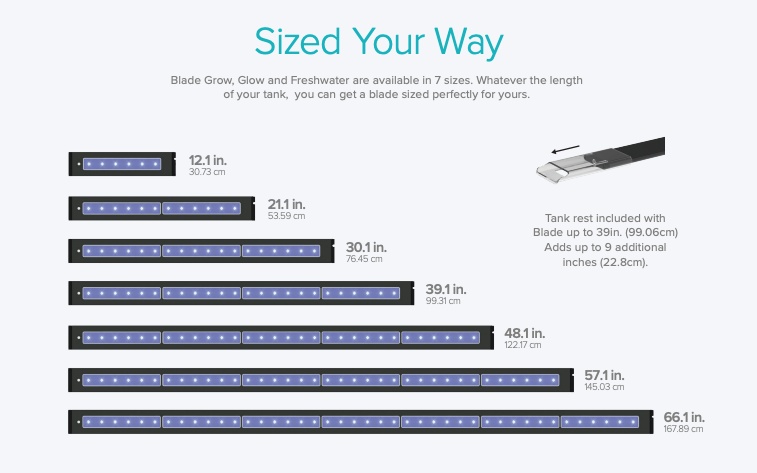 Fittings
These new light bars will be used to light everything from sumps to freshwater tanks, aquascapes, corals trays, and reef display tanks, so they will eventually utilize a huge range of flexible mounting solutions in order to accommodate that.
All models up to 39" will come supplied with a low profile, length adjustable tank rest to stretch over the full length and clamp onto the side edges of the aquarium. There will then be an Elevated Tank Rest, Hanging Kit, a Hybrid Mount to take an AI Hydra and a Blade front and back, and an HMS Adaptor to fit them onto existing AI mounting arms. Models over 39" will be supplied with Mounting Clips to fit the AI HMS Single Arm or the HMS Hanging Kit.
First Impressions
When we saw the first image on screen we worried that the Blade was lacking in diodes versus other light bars currently available. Unlike other popular brands, however, where they populate their bars with a long line of single diodes each with its own lens or reflector, AI has opted to cluster the Blade's diodes into groups of four, and then cover them with what they call Edgefield Optics, boasting 95-degree angle, spread, color blending as well as shimmer. Compare the power consumption of some other bars of the same length and the AI Blade is either more powerful, has more diodes per foot, or both.
We also love the angle adjustment and axis pivot available on some other bars, but with an M8 thread at either end of the Blade, it's not outside of its future capabilities.
A natural progression
We always hoped that EcoTech and AI would look into the emerging market of supplemental LED strips as lots of reefers were adding third-party bars onto their fixtures. With EcoTech taking the wide, many-diode route with Radion we always thought that a light bar would be the natural fit for the deep penetration of the AI Hydra.
For many Hydra owners, the impressive Hybrid Mount will be the go-to fixture, incorporating both the existing Hydra lighting fixtures and two new Blades. But for some, a single Blade, even on a freshwater tank, may now be their first foray into aquarium lighting, and that's just stretched the Aperture Pet & Life lighting appeal across a much, much wider market.
Aqua Illumination has just launched its own LED light strip, it's massive news, and that's going to make a lot of people very happy. Prices will start in the US from $139.99.