March must be Anampses month as we've seen lots of members of the genus turn up in fish stores lately including today's featured fish, the Feminine Wrasse. Fems are wrasse royalty and are so-called because the female's bicolored orange and blue patternation is even more desirable than that of the male.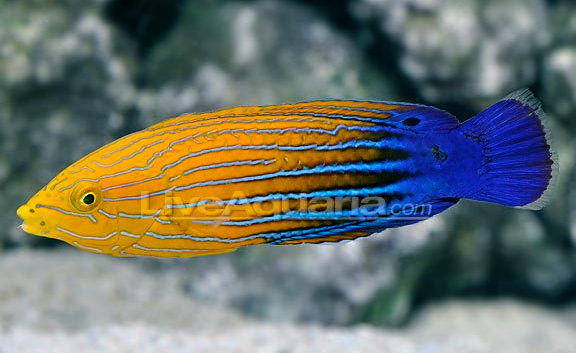 They hail from Eastern Australia, New Caledonia, and Easter Island where small, all-female groups swim over rocky reefs down to 20m deep. Males are far less abundant, solitary, and territorial. Females grow to about 5" in length and if they change to male, they can grow larger still.
As with all Anampses, femininus are hyperactive and require large tanks with wide footprints. Dealer's coral trays are ideal. They do need a sand layer however and new additions (like all Anampses,) will take to the sand and hide. Don't underdo the feeding either as these small-mouthed but voracious feeders will take the full gamete of zooplankton from copepods and fish eggs to artemia, mysis, and krill, several times per day.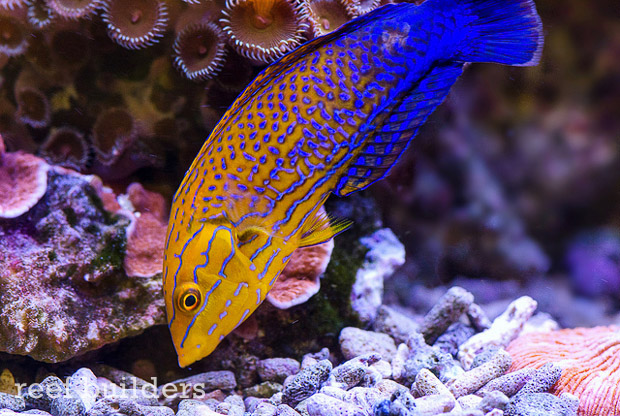 Up until about 10 years ago, we could count the number of Feminine wrasses we had seen on one hand, but since then they've been pretty steadily imported annually, and are now well-known enough but also available enough to be on the want list for many discerning reefers. A group foraging a huge SPS tank would be an absolute dream.