Over the years many of us have fawned over the amazing Twilight Zone fishes shared on Reef Builders, but few of us have seen most of these in person, let alone had the opportunity to purchase them. These animals are often offered to markets outside of the United States, so I was floored when Marine Collectors recently posted an update to their Collectors Chamber showing off some of the rarest fishes ever seen on US shores.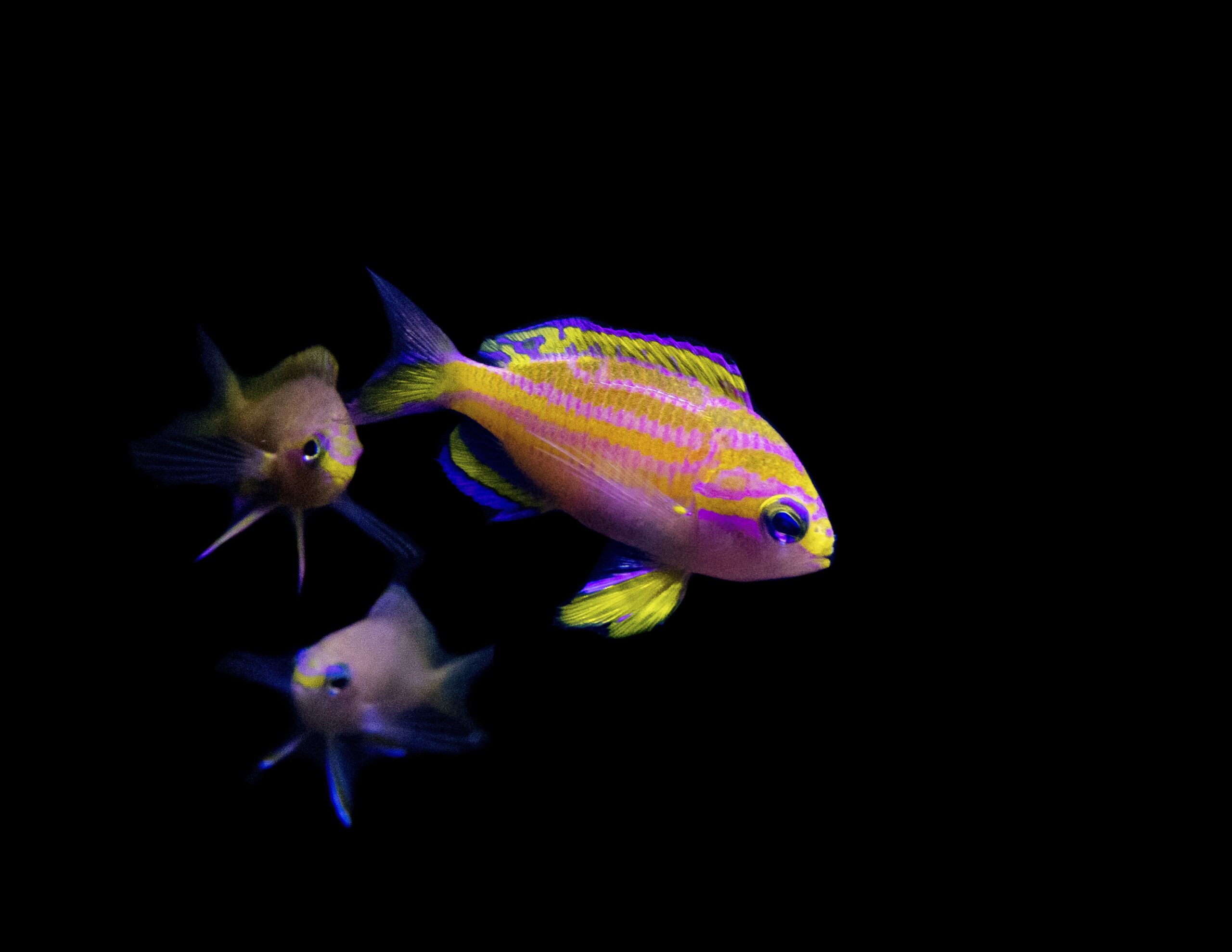 Working in the industry, I've personally worked with the crew at Marine Collectors and can attest to their quarantine and conditioning practices. Every animal we received was plump and happy, taking prepared foods readily and showing no signs of ailments. Although I get to work with them, my pockets are not deep enough to bring any of these home, but a guy can dream, can't he?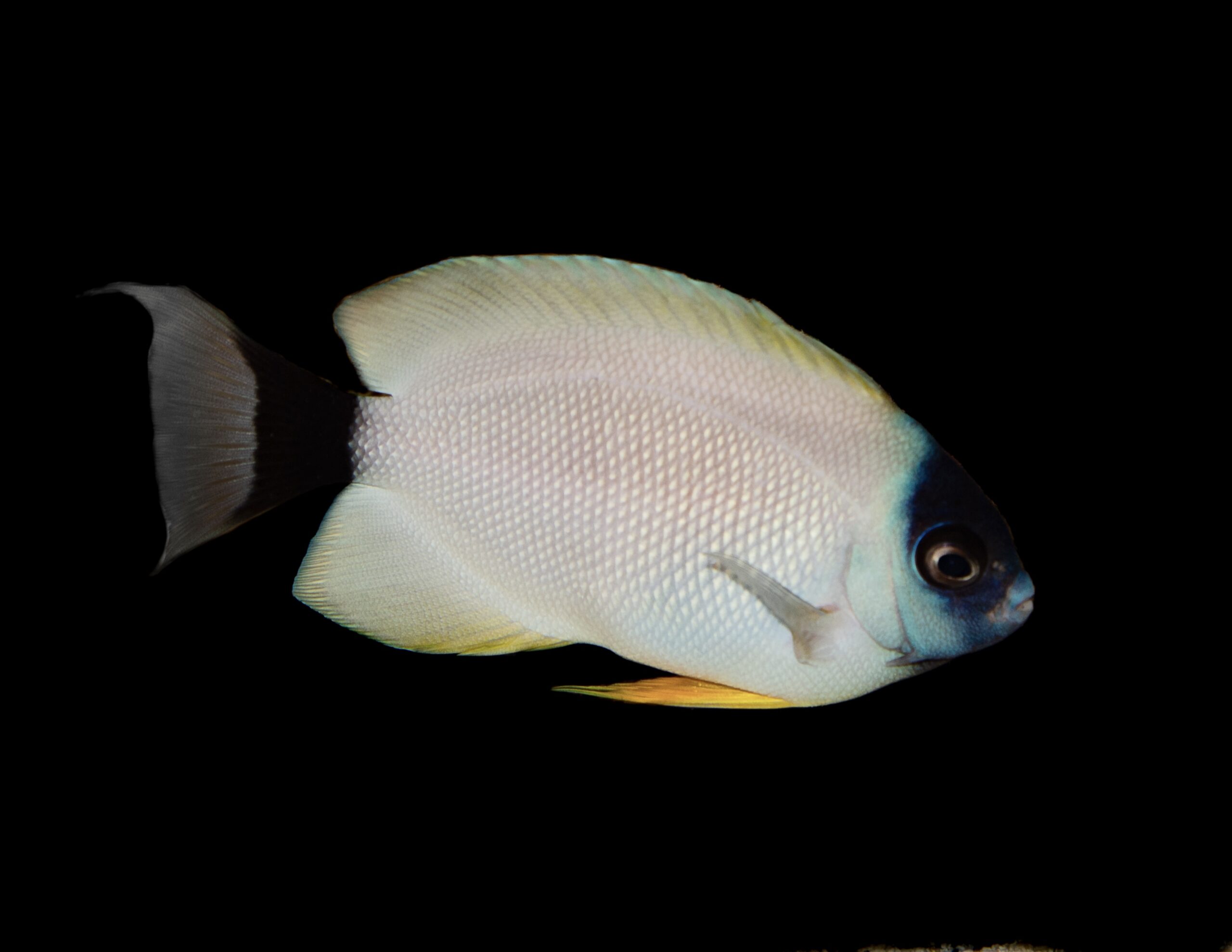 Genicanthus personatus
Lets start with this beautiful pair of Personatus angelfish, Genicanthus personatus. Looking at them, we can tell this pair has really settled in, and one of these two females (above) can be seen to have the orange beginning to fill in on the dorsal and anal fin indicating that the transition to male has begun. This pair has been conditioning for a while, with lots of growing up to do. These fish are a little over 3 years old now but have been known to live for decades. A pair of super rare angels for the fish collector!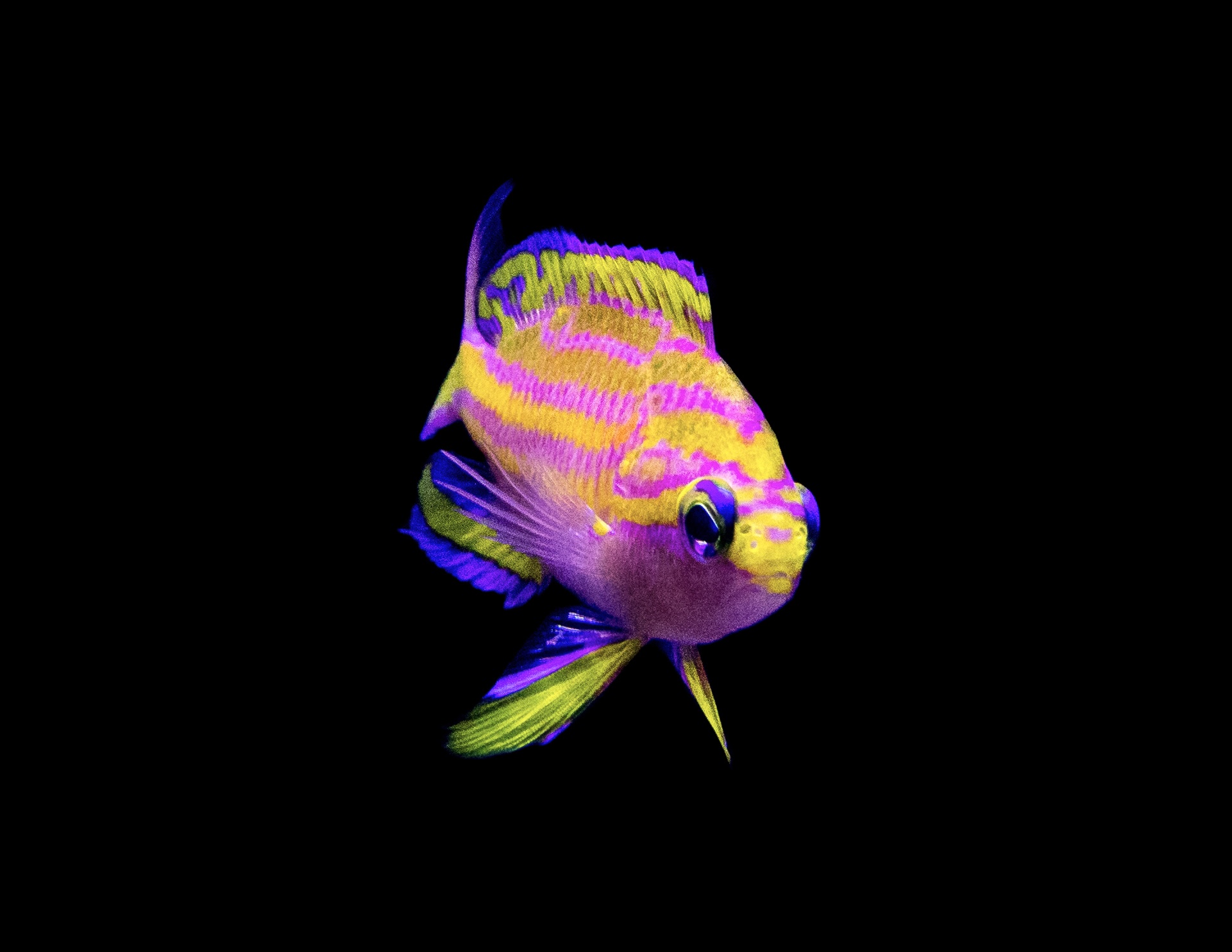 The next delicious addition comes in the form of not one, not two, not three, but a group of four Tosanoides flavofasciatus. I've drooled over this species since Jake wrote about possibly the first ever T. flavofasciatus offered in the US in 2009. Obtaining a single specimen would elate any collector, landing an established group of these fish would be a dream come true!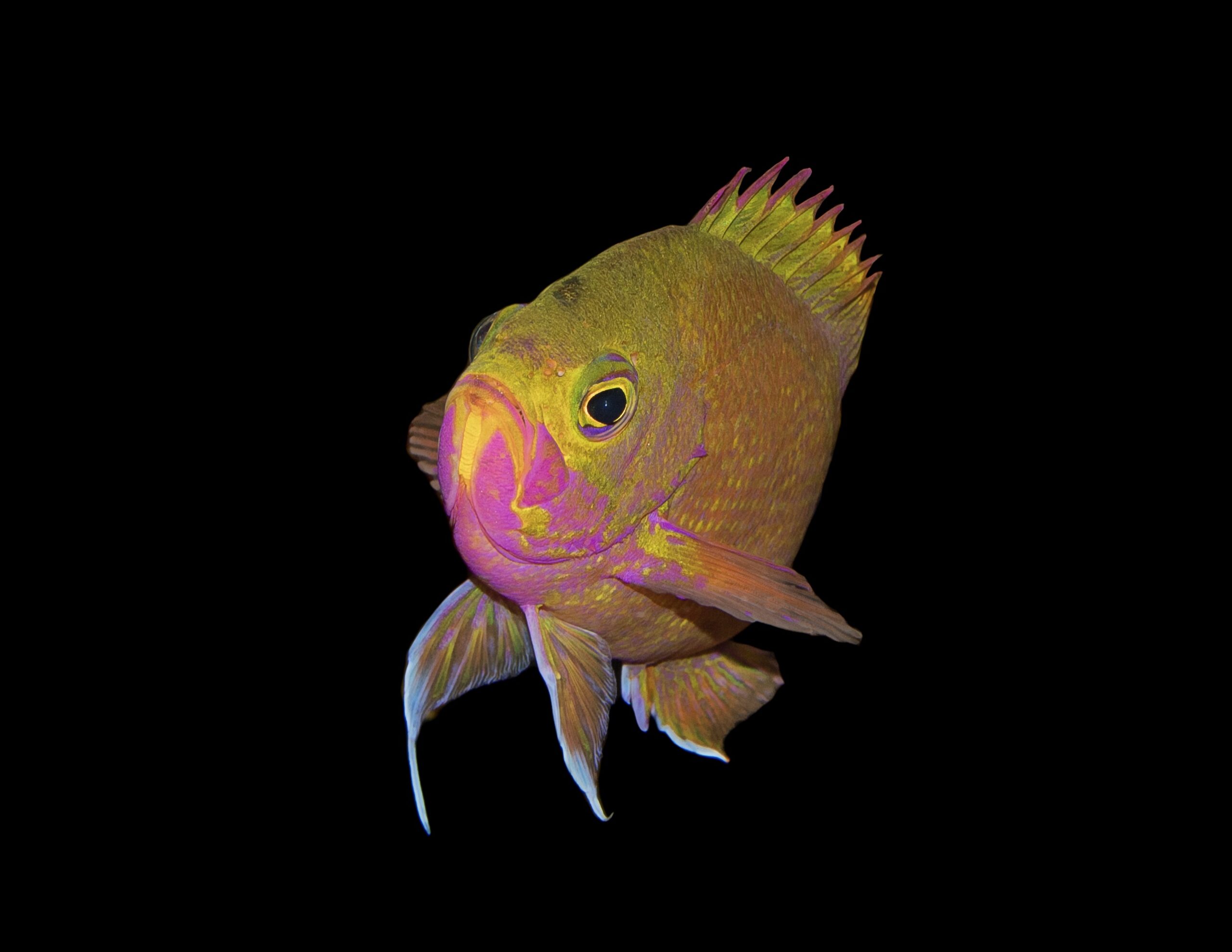 Finally, the elusive Odontanthias katayamai is up for grabs sporting stunning adult coloration, coming in at a whopping 6" long. This species takes the Odontanthias genus up another notch in my book, blowing the common O. borbonious out of the water when it comes to brightness. This fish will require careful care, but my experience with the genus has shown their fairly hardy fish given the appropriate water parameters. Cooler temperatures and lower light will keep this amazing animal happy for many years to come. This fish has been conditioned for over two years, so we know it's well-primed for its forever home. Mostly seen in markets overseas, and primarily Japan, we are lucky to see this individual in the States!!"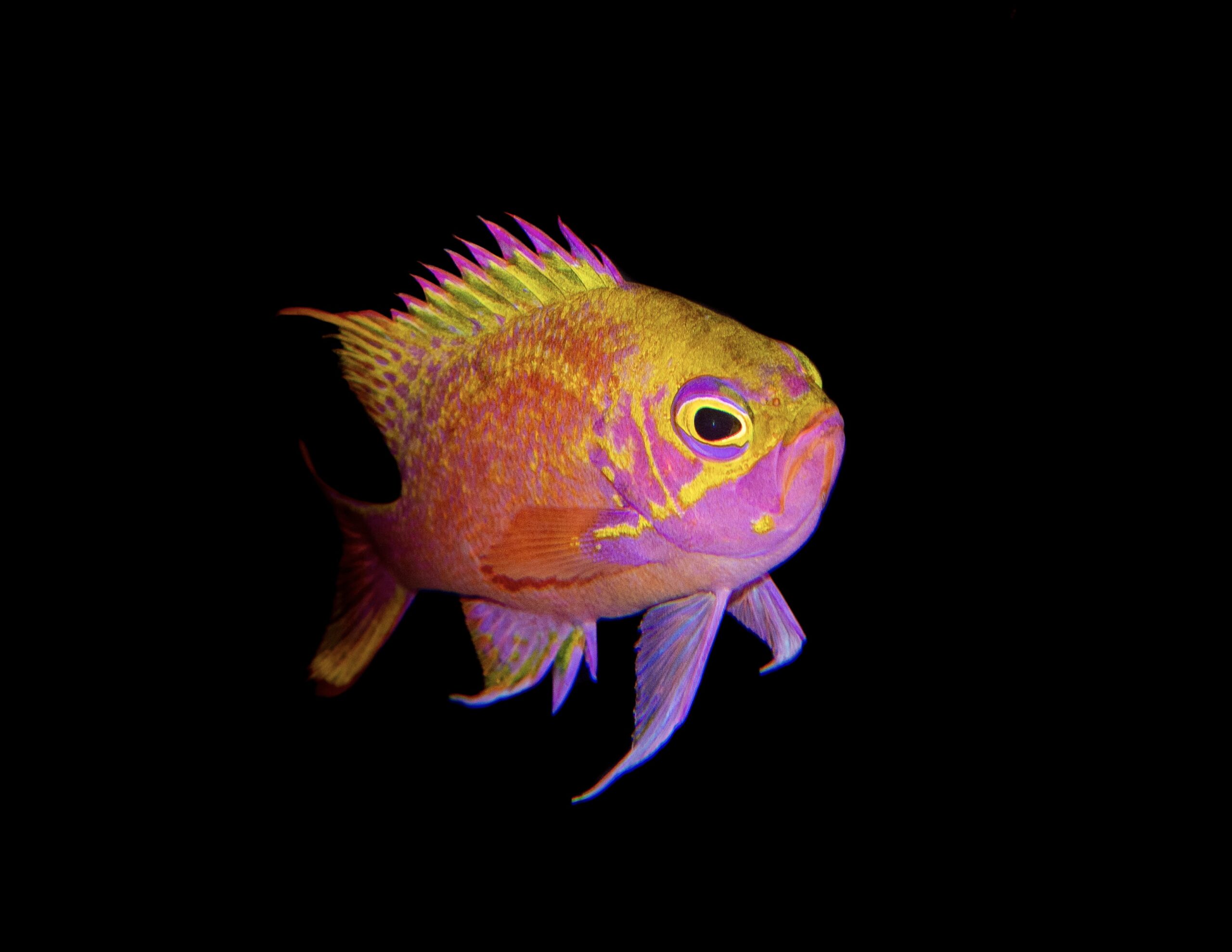 If you're looking for an amazing addition to your aquarium and have the means to land one of these animals, now's the time. In my twenty-one years in the industry, I've only seen these species offered a handful of times. I have space in a tank at the office for donations too if anyone is feeling extremely charitable at the moment!