Through the years I have seen marine aquarium filtration go from under gravel filters through canister filters and then trickle filters, all producing various levels of success. But the only filtration method that truly changed filtration was when the hobby shifted to using protein skimming. Although it has been around since the early 1970s, it was not until the late 1980s that it really caught on in North America. Prior to its introduction in what came to be known as the "Berlin method", trickle filters and their nitrate factory tendencies were all the rage. Part of this was due to up until then we were primarily keeping soft corals and they were less demanding of low nutrients than were sps corals so they were adequate. However, once the hobby shifted to keeping Acropora, Montipora, and other sps corals a better means of filtration needed to be found. Thus, protein skimming became the one piece of equipment that just about everyone in the hobby needed to have on their tank.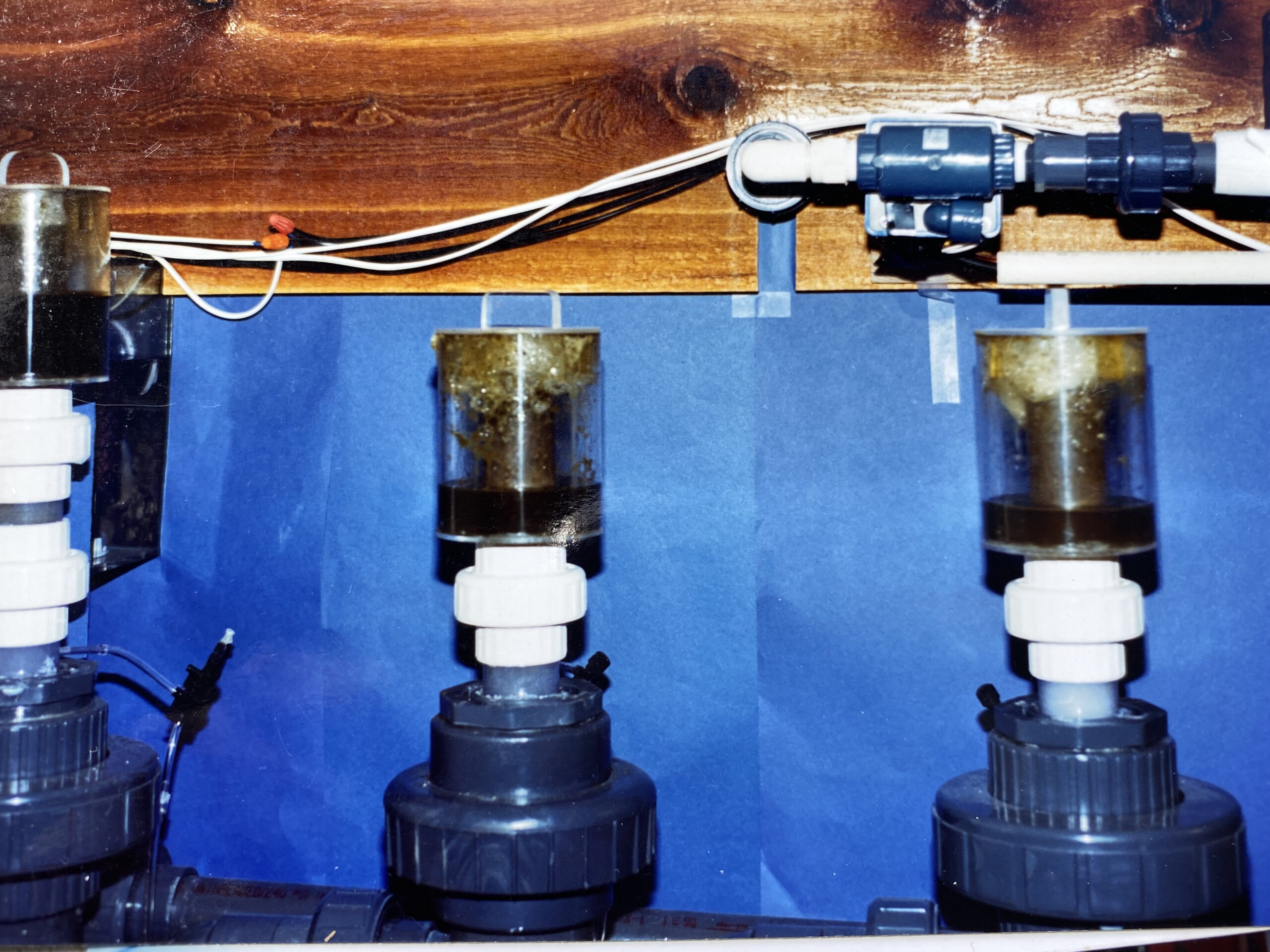 What is a protein skimmer?
For those of you coming from the freshwater side of the hobby, the protein skimmer is a new piece of equipment as it is not used in freshwater tanks and it does not do much in freshwater systems. So, what exactly is a protein skimmer, how does it work and why is it considered essential in a reef tank? As noted in Peter Wilkens' 1972 book "The Saltwater Aquarium for Tropical Marine Invertebrates" back in 1967 an ingenious aquarist named G. Huckstedt developed the simple concept of the protein skimmer after observing how scum formed in his tank after feeding where heavy aeration was taking place. Without understanding the physics or chemistry behind it, he developed the idea of adding a scum cup to a tube where controlled aeration occurred allowing for the brown sludge he had seen to be readily collected. Thus was born the first protein skimmer.
Electrostatic attraction
Saltwater has different properties than freshwater in that due to its salt composition it is electrically charged. Protein skimmers work by having dissolved substances, primarily proteins, attach to air bubbles via this electrostatic attraction. In a protein skimmer, or foam fractionator, that term is rarely used now, fine air bubbles are produced and run against the tank water in a column or chamber. During this exposure to the bubbles, substances adhere to the bubbles and float to the surface producing a "scum". As the proteins and other compounds continue to collect the scum gets thicker and eventually rises to the surface and eventually it flows over the top and into a scum collection cup. In a properly functioning skimmer, the scum in the cup will appear in two layers. The first layer will consist of rather large bubbles with minimal material adhering to it and will look wet. Above this will be a second thicker layer of scum that will be significantly darker and will contain more of the accumulated material to be skimmed off. This skimmed-off material changes markedly from the tank water once it is skimmed off in that not only does it contain higher levels of dissolved organics and proteins, but it also has a significantly lower pH.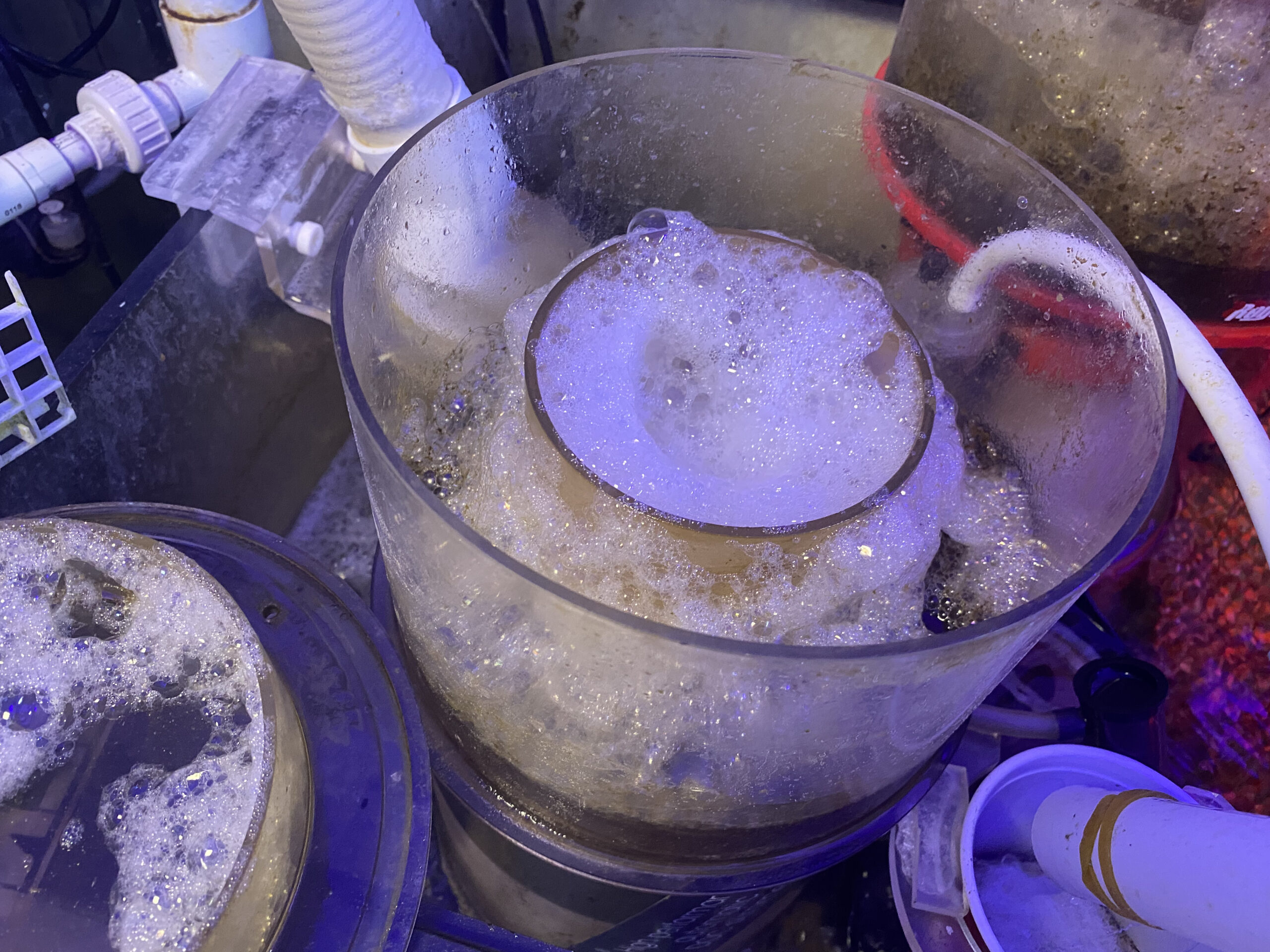 Compound removal
While a protein skimmer has earned its name by extracting dissolved proteins and amino acids from tank water, it also removes many other compounds which come to adhere or be dissolved in these proteins. These other compounds include algae spores, bacteria, phytoplankton, fats, carbohydrates fatty acids, phenols, detritus, and phosphate. The goal of using a protein skimmer is to have it remove these compounds before they break down and foul the aquarium. The breaking down of these compounds requires oxygen, so their removal by the skimmer also lessens the oxygen demand in the tank while it further adds dissolved oxygen through its bubbling action. In addition to the removal of these compounds, there is evidence that protein skimming also removes trace elements such as iodide, copper, iron, zinc, and some other metals all of which can be complexed with proteins. So when a skimmer is functioning properly the levels of these trace elements should be tested for. 
Protein skimmer efficiency
There are a number of factors that can affect the efficiency of a skimmer. First and foremost is contact time. That is the longer the air bubbles are in contact with the water the more efficient the skimmer will be at extracting compound via their adherence to the bubbles. This is why in the early years of the hobby tall air-driven skimmers were the mainstay of the hobby. Only because these were unsightly, hard to clean and maintain, and required large and loud air pumps were they replaced with modern Venturi and needle wheel skimmers. The second is bubble size. The smaller the bubbles the more efficient the skimmer. This is due to smaller bubbles providing greater surface area and therefore a greater capacity to skim. Another factor that affects efficiency is turbulence. More efficient skimmers tend to produce less turbulence, that is the crashing of air and water against itself in the chamber, and thus more skimmate. After these major factors, there are a number of other variables that can also affect skimming. pH has the effect that the higher the pH the more efficient the skimming. This is because the higher the pH the greater the affinity the surface of the bubbles have for organic molecules owing to there being a greater electrostatic attraction than occurs when the pH is lower. The specific gravity also affects efficiency because the dissolved salts in seawater increase the stability of the tiny bubbles in a skimmer by increasing the viscosity. SG also affects the electrical charge of the bubbles as well as the surface tension of the water, both of which impact skimmer efficiency. Temperature also has an effect on skimmers in that as temperature increases surface tension decreases and thus so does skimmer efficiency. But since most of our tank's temperatures usually are kept between 75-80 the effects of temperature are very subtle. Lastly, air pressure can affect skimmers. When a strong low-pressure front moves through skimmers may suddenly overflow. With less pressure to fight against it is easier for the skimmate to escape the riser tube and overwhelm the scum cup. For this reason, always keep an eye on the weather.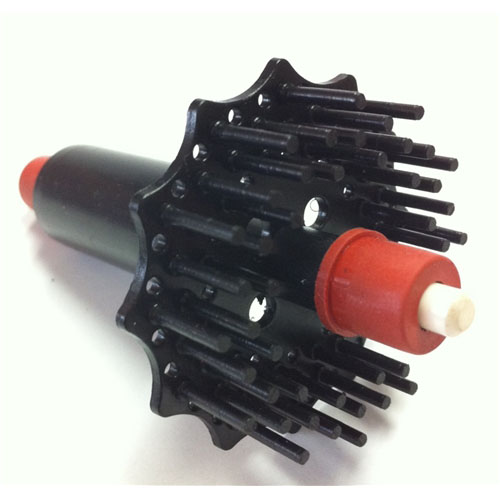 I have used and seen virtually every type of skimmer available over the years and they all have worked to some degree or another. In fact, I am confident in saying regardless of the type of skimmer you use, they all remove the same compounds. That is the brown gunk that I have cleaned from every skimmer is the same regardless of whether the skimmer was an air-driven one I built myself or state of the art expensive one purchased. This may sound controversial that all skimmers produce the same result but how could they not? They all do the same thing in that they expose tank water to tiny air bubbles. And while how they do it may be different, the end result is the same. Backing up my observations is a study done by Dr. Ken Feldman in Advanced Aquarist magazine in 2010 where to summarize he found that all skimmers he tested for the most part remove the same compounds.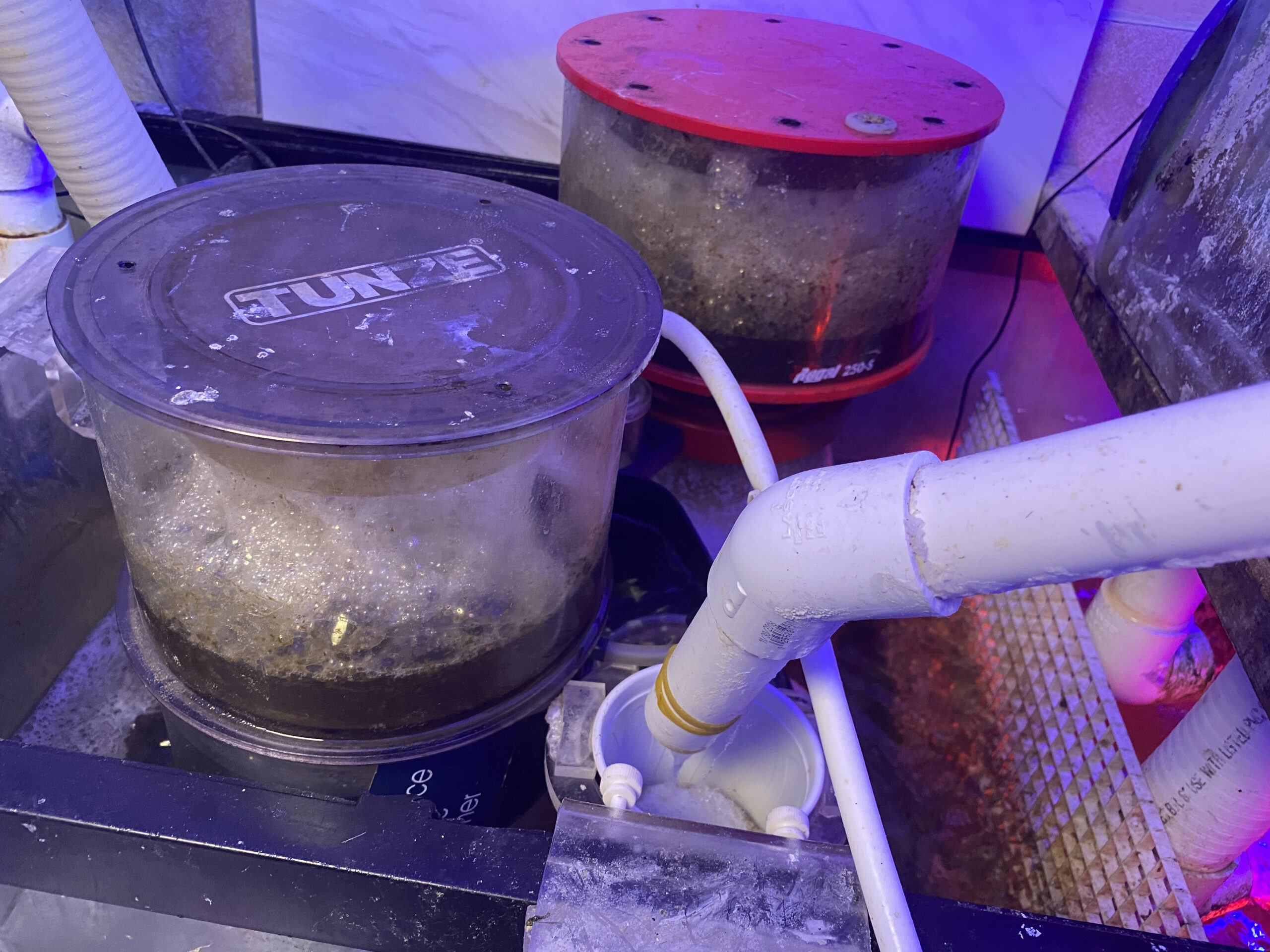 How to select a protein skimmer
Understanding that all skimmers remove the same compounds then how do you select a skimmer for your tank? I now look at three things when choosing a skimmer for my tanks. First, is reliability. How well does it skim, how easy is it to adjust and how long will it last are the factors that I first consider. Next is how easy is it to maintain. For this, I consider how easy is it to remove and clean the scum cup and the reaction chamber. I have experimented with cleaning the neck and scum cup from once a day to once a week and have found that cleaning both every other day significantly enhances the efficiency of the skimmer by allowing the foam to get in the scum cup more readily when the next is cleaned more often. I know some skimmers now offer self-cleaning heads that wash and rinse the necks and scum cups multiple times a day, but I did not find that to be more efficient or cost-effective than cleaning the necks and scum cups every other day. But these units did make life easier. Next is how often and how easy is it to take apart the pump and clean it and how often I need to do this. I have found that doing small maintenance on the pump and chamber every three months is far easier and less time-consuming than a major overhaul once or twice a year. Lastly, I look at the price, and how large of a tank is a skimmer rated for. I tend to get oversized skimmers, that is skimmers rated for tanks larger than what they are rated by the manufacturers for, as my tanks are always overstocked. As it is better to be able to turn a skimmer down than it is to have one that does not remove enough. And from all the studies I have read and my own experience, even the best skimmers only remove 60-80% of the desired compounds from a tank. Protein skimmers run the gamut in price and that is why all of the factors discussed should be considered before choosing one and not just price.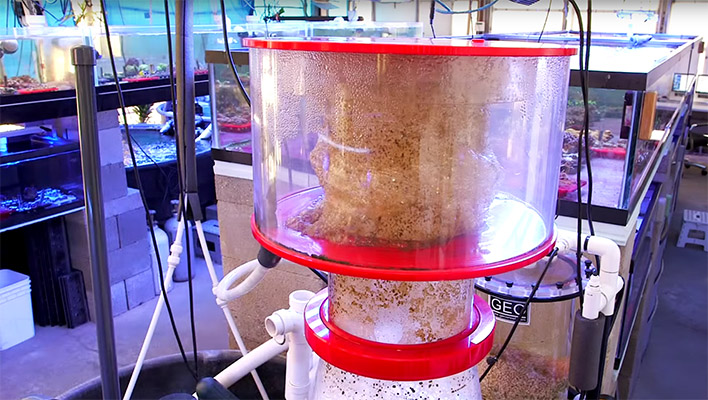 The use of protein skimmers has dramatically improved the success of everyone in the hobby. While I have seen tanks run successfully run without them, I have seen far more run with them and also believe there is a higher likelihood of success when one is used. While they are not inexpensive, units can be found to fit just about every budget and every size of tank and application and as with most things in this hobby, you do get what you pay for with this piece of equipment. Before selecting one check them out online, in a shop, and on a tank. Only by seeing them in action and getting an idea of how easy one is to maintain will you make the right choice. And you don't want to buy one only to find out that it is difficult to maintain or clean or needs to be quickly replaced. This kind of unnecessary expense is one factor that can drive you from the hobby.