The Biota Group has unveiled its newest offering, captive-bred Potters angelfish! We are so excited to see this new species come to market. Potter's angels unmistakable coloration and patterns never cease to amaze, coupled with their curious personalities, they'll bring a smile to anyone's face. Daring aquarists could even keep them in a reef tank with thoughtful planning. These captive-bred animals will be easier to condition and much easier to obtain compared to their wild counterparts nowadays, and wild Centropyge potteri are still affected by the Hawaii ban. Here's what Biota had to say about their latest breeding success.
"Potter's Angelfish are back and better than ever. The combined team of The Biota Group and Oceanic Institute of Hawaii Pacific University is proud to announce the commercial availability of captive-bred Hawaiian Potter's Angelfish. Potter's Angelfish have not been readily available in the pet trade for many years, until now. Thanks to the team's efforts, this popular and long-awaited dwarf angelfish has been reintroduced to the aquarium trade."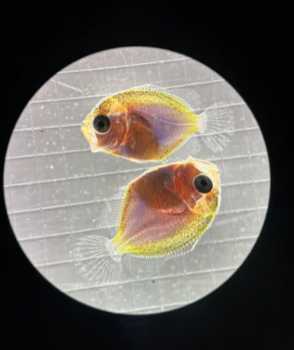 "Since this first batch is small while we improve on increasing production for this species, there is limited availability. For this reason, these captive-bred Potter's Angelfish will be initially only available through local aquarium stores. If you're interested in having your own captive-bred Potter's angelfish, ask your local store to order one (or two) for you."
Regular feeding
As with most captive-bred angelfish, these little ladies are being offered quite small, so be sure you're able to afford them many feedings per day while they grow. Feeding them small amounts ten to twelve times per day to keep them full is ideal. Their metabolisms are lightning fast at this size causing them to wither away without consistent food. I would personally love to keep these as a pair, once established they'll bring you many years of enjoyment and regular spawning shows in the future!
Massive shout-out and congratulations to everyone at Biota and the Oceanic Institute of Hawaii Pacific University on another amazing species brought to market.