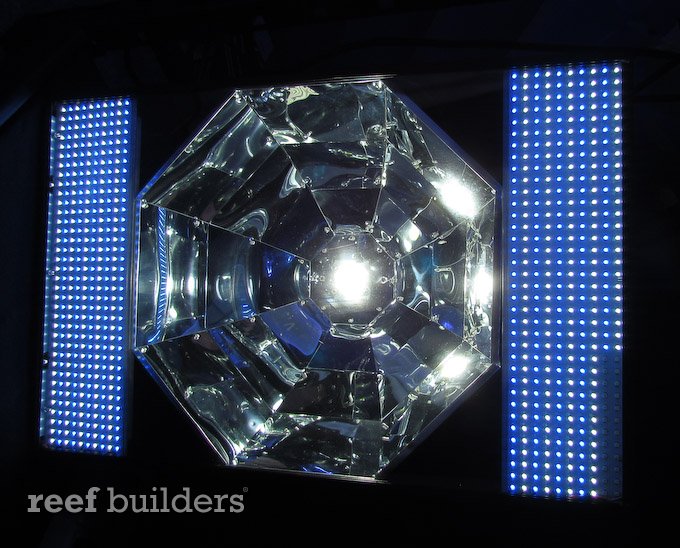 Coralvue may still be firmly entrenched in traditional lighting technologies, but it hasn't stopped them from seeing that the future of aquarium lighting is quickly going towards more and more LEDs. To that end Coralvue has started developing a few different hybrid LED combination lights which we spotted at MACNA last week. Although we'd be happy to see just one novel product, Coralvue flexed their creative muscle with a multichip hybrid, T5 hybrid and metal halide LED hybrid concept lights.
When the 100 watt multichip LED pictured above is on, it is hard to notice that it isn't a big glass lamp powering the standard issue reflector. Flanked on two sides with banks of blue and white LEDs, this white 100 watt LED multichip achieves a better spread with a good radialy symmetrical 8-sided metal reflector than it could with a single big dispersion lens. It may be a lot larger than some of the really compact spotlights a-la Ecoxotic Cannon but that is the price to be paid for a broader and more even spread.
Using the same banks of blue and white LEDs Coralvue also pieced together a metal halide pendant version of the 100 watt multichip light, using a metal halide lamp in a metal halide reflector. In this case we would rather see the LED "wings" become all blue or two shades of blue but a lot could change in the design before these lights come to market.
The other noteworthy product from Coralvue was this LED and T5 hybrid retrofit it which seems like it should have been on the market well before the full-fledged LED lights were. The LED and T5 fluorescent retrokit uses the same blue and white LED panels as the multichip and halide combination lights, and once again it would be more practical to see the LEDs go all blue and coupled with white and warm white T5 tubes.
The concept LED combination lights were clearly in early development phase and pricing and availability is far from being nailed down, but the hobby would definitely benefit from seeing more of these intermediate LED lighting products for the diehard fans of T5 and metal halide lighting.