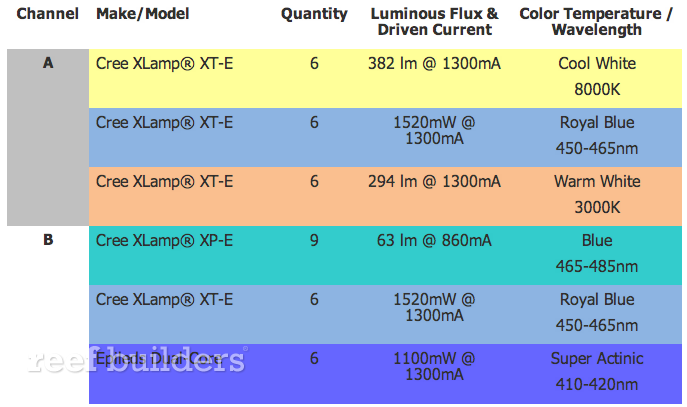 The newly announced Maxspect Razor is a hot and sexy little number that is getting a lot of attention from our tech rabid readers. Therefore we have gathered all the technical and LED details about the fixture to spill to help tide you over until we can get our grubby mitts on one in person. The full lowdown on the MaxSpect Razor LED is after the break.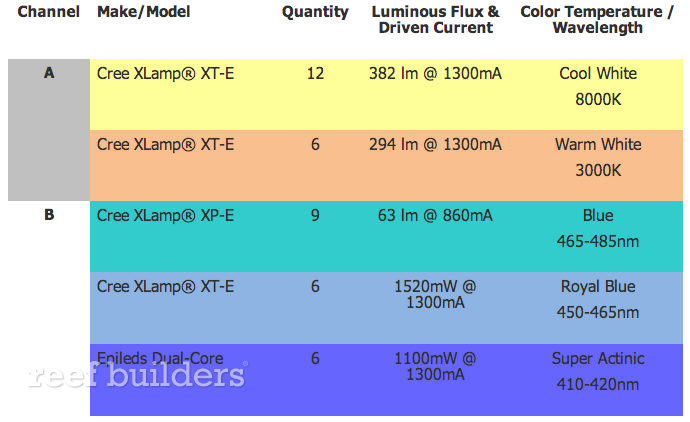 Most of the features of the Razor follow along with the Mazara X that came before it; a built-in controller, dual channel control, six time points per channel to set your lighting schedule, etc… That's where the similarities end though. As we touched on before in our first announcement of the Razor, gone is the ability to individually replace LEDs as the end user sees fit.
Instead, all the LEDs are mounted on a single MCPCB that gets changed out in a single shot. While that doesn't offer the same amount of flexibility as before, it does simplify the design, makes it a little more reliable and a whole lot more affordable. We expect that because the modules are being marketed as user replaceable, more options will become available to let you mix and match things to suit your needs.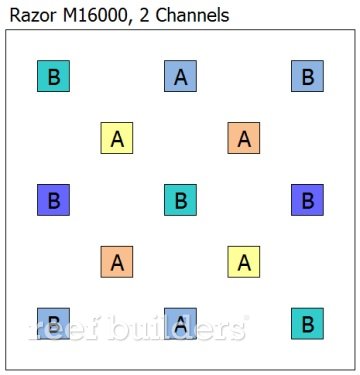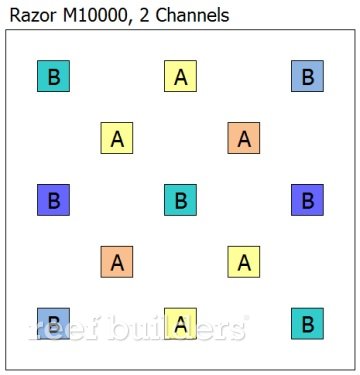 As of right now, two versions are being announced. The first being the Razor LED M10K, which is supposed to approximate a 10000K color temperature with all channels at 100%. Obviously, that color temperature can be manipulated to the end users preference. The second version is the Razor LED M16K which is designed to have a bluer color temperature closer to 16000K. This change in overall color temperature is done with a few changes in LED setup.
So what are you getting for the 150W of this fixture? To start with, on the Razor LED M10K, each module is using four 8000K cool white Cree XT-Es @ 1300mA and two 3000K warm white Cree XT-Es @ 1300mA on channel A. Channel B consists of three Cree XP-E blues @ 860mA, two Cree XT-E royal blues @ 1300mA, and two Epileds "dual core" 410-420nm violets at 1300mA. The Razor LED M16K changes things slightly by replacing two of the 8000K cool white XT-Es with another pair of Cree XT-E royal blues on channel A.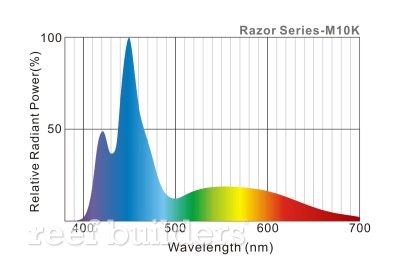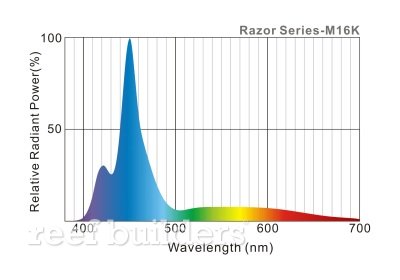 Maxspect is continuing to adopt new technology using the new XT-E whites for cost savings, as well as increasing output, similar to what they are doing with the new Mazara X, which is going to be using the new Cree XB-D. Both the XB-D and the XT-E white are using Cree's silicon carbide technology, which is dramatically reducing the cost of high output, high quality LEDs. Some may question why the use of warm white LEDs. These add some additional red spectrum in a way similar to other manufacturers are using discrete red LEDs, but in a way that will blend better and create less obvious color shadows.
The new Epileds "dual core" 410-420nm LED is interesting too though. While it's not clear at this time whether it's two identical chips at the same wavelength in the same package, or if they have a 410nm and a 420nm chip in the same package for a little wider spectral range, it is clear that it's great to see a high power, high output LED in this wavelength range.
There has been no mention yet if these fixtures have any form of daisy chaining, be it wired or wireless to control multiple fixtures from a single location, or whether there will be "dumb" versions like the Mazara X, but we're sure things like that will be cleared up shortly at Interzoo, where these fixtures will be officially announced.