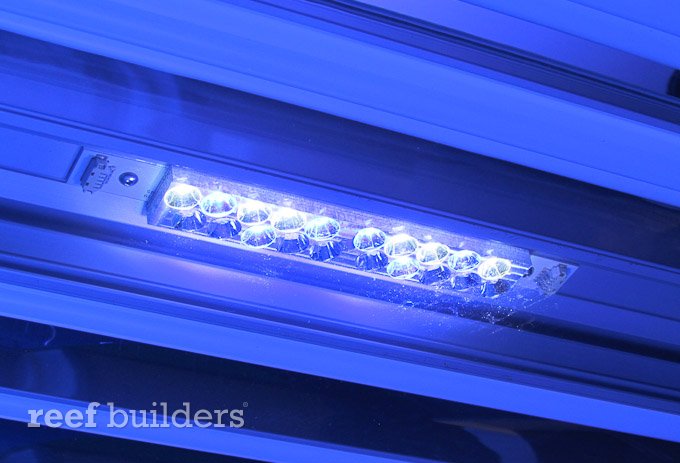 The ATI LED Powermodul reef aquarium light is one of the first packages to combine the best of high performance T5 lights with some of the newest generation of high output LEDs. ATI already has made a name for itself by releasing actively cooled T5 aquarium light fixtures, and now for the LED-Powermodul ATI has brought in a lot of firepower in LEDs. ATI claims to be one of only two companies using a new bleeding edge blue LED from Philips which outputs 60 lumens per watt at a current of 350mA and a wavelength peak of 470 nm, about 40% more than other 30-40lm/w blue LEDs. 
ATI's cluster for the LED-Powermodule includes 20 LEDs: six cool white, two reds, two greens, and five each of blue and royal blue colored LEDs. ATI's LEDs are backed up with a cluster of individual reflector which are coated in silver oxide, and up to 97% effective at reflecting light. Each color of LEDs are individually programmable and the LED clusters are modular and upgradable in the future. The four foot ATI LED Powermodul we saw at InterZoo had 75 watts of LED power sandwiched between two pairs of T5 lamps.
With the ATI LED-Powermodul combining the best of proven and familiar T5 fluorescent lamps we could see even more widespread adoption of LED technology by the stalwarts, the only restriction now being the prospective price ATI's hybrid creation. The LED Powermodul's combination of LED and T5 lighting will not be lacking in the PAR department, so this may not be the best choice if you just want to grow some Scolymia, Chalices and mushrooms. We can imagine there are some blue reef light addicts on the West Coast already thinking about using all blue T5 tubes inside the LED Powermodul to grow some insane looking corals.
Oh and it does thunderstorms too.