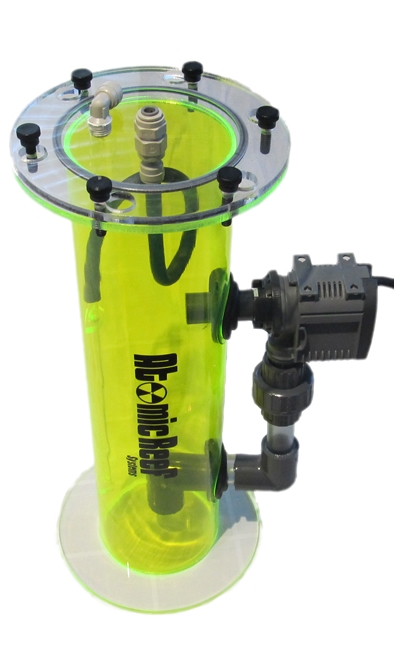 Atomic Reef Systems is taking a fun route to producing aquarium equipment leading with a macho take on the acrylic gear we use to keep our reefs thriving. Handcrafted in Murfreesboro, Tenn., Atomic Reef has great names for its products such as Toxic Media Reactors, Biohazard Bio-Pellet Reactors and Nuclear Calcium Reactors. On top of that, they seem to have a signature bright yellow translucent and solid black acrylic combination a refreshing break away from the standard clear acrylic.
We enjoy seeing some fun with acrylic and the different colors that can definitely add some interesting 'pop' under the tank or in the fish room. We also appreciate seeing other companies taking a unique approach on acrylic including the limited edition purple biopellet reactor we saw from Avast or the translucent blue in the NextReef SMR1. Throw a blacklight or some blue LEDs around the sump and you can have a eye catching reef life support system.
From perusing the product line, it looks like good, solid handmade acrylic equipment. Like other companies such as Avast Marine, Atomic Reef offers a DIY kit that included all the solvent and precut acrylic. This is a great way for the hobbyist looking to save a few dollars with some DIY skills but lacks the resources to do some custom acrylic-smithing at home.
The pricing is right in line with other acrylic vendors and the small but growing line of products is increasing the company's portfolio. We haven't seen these products in person to vouch for the quality of the materials and build but would love to see these in person at an upcoming show or in the wild. If you are interested in what Atomic Reef Systems offers along with the pricing and availability of its products, head on over to the website.
[nggallery id=688]