The Algae Mower Vac was released at this years MACNA, and this nifty hair algae removing tool is already gaining traction in the hobby. Although primarily designed for hair algae removal, the use of the Algae Mower Vac is not just limited to patches of dreaded hair algae. Also designed to remove other aquarium nuisances such as dinoflagellates, most other algae, and aiptasia along with a more standard gravel vacum integration the Algae Mower Vac is truly an all-in-one aquarium cleaning tool. Of course we got our hands on a Algae Mower Vac, so keep reading for the full rundown.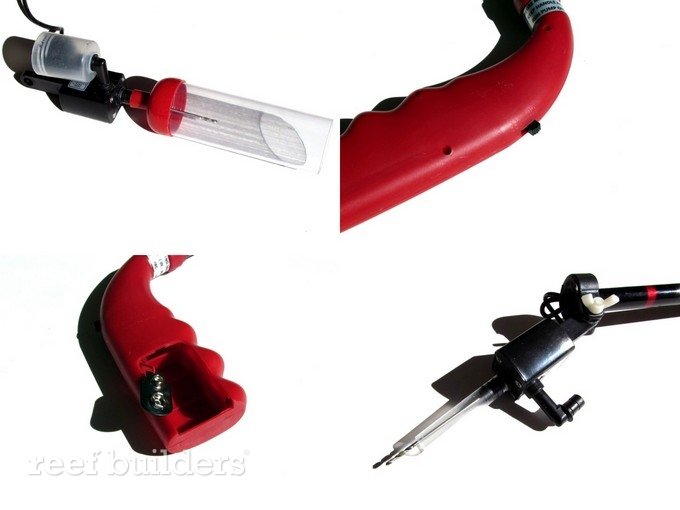 When handling the Algea Mower Vac, it is quite obvious the product is still in its initial phases. Assembled of seemingly random off the shelf products, the Algea Mower Vac just does not feel like a finished product yet but it is greater than the sum of its parts There is nothing wrong with small scale assembled products, and we applaud the creators of the Algae Mower Vac for their entrepreneurial spirit. Not to mention that the Algae Mower Vac works just fine, but if you are looking for a third generation product without any flaws this is something to keep in mind.
The workings of the Algae Mower Vac are quite simple. The main body consists of a handle, power supply, and a tiny powerhead with an attached drill bit on the rotor. What is not readily apparent, even to the trained eye is that this drill bit is cocked at a slight angle to better entwine hair algae threads The output of the the powerhead is fitted for an included siphon hose, and can also be used in conjunction with an included container with filter sponge. The input of the powerhead is fitted for a drill bit cover which can be switched out for a vacuum attachment if you intend on cleaning your sand or sucking up detritus. The powerhead is attached to an adjustable clamp and can be positioned between 180 and a 100 degrees. The cable feeding the powerhead is additionally quite long, and we'd imagine that you could attach a longer handle if needed.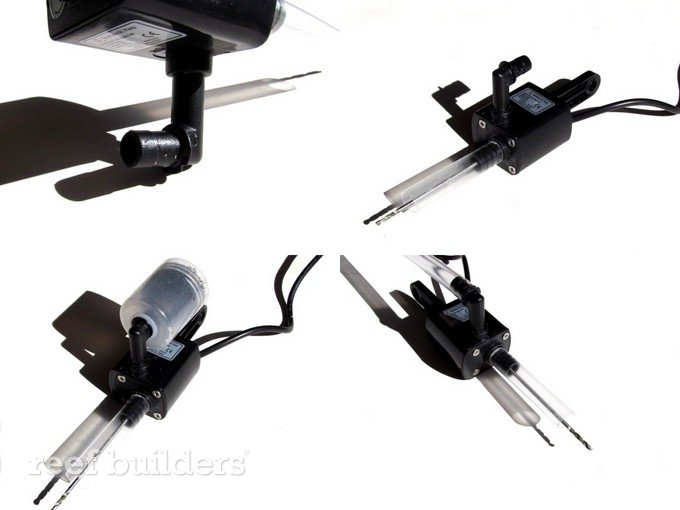 Turning on the Algae Mower Vac is done with a simple switch, which will turn on the powerhead. The power head will in turn will cause the drill bit to start spinning. In the case you wanted to do a water changes along with the algae removal, you can attach the hose to the output of the powerhead. In the case you would prefer to forgo a water change you can simply attach the container with sponge and start mowing away. For aiptasia we'd imagine that it would be best to use the hose because of the risk of tiny bits escaping the container, but you could probably just get a sponge with finer pores as well.
If you've got a lawn of hair algae plaguing your tank, the Algae Mower Vac is not going to magically help you mow it down. No matter how nice and clean the reef tank, every one has little patches of Derbesia, Enteromorpha, Bryopsis or even maiden's hair algae that no fish will touch. For touching up these persistently obnoxious spots of unwanted growth the Algae Mower Vac is light years ahead of using elbow grease and toothbrushes. [Algae Mower Vac]