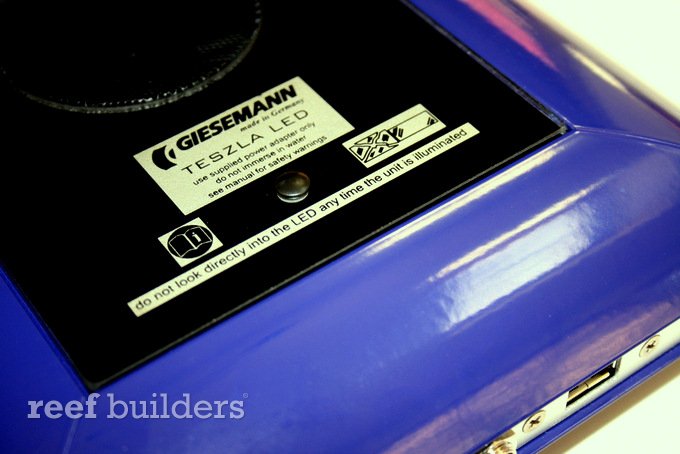 The Giesemann Teszla is the elementary fixture of the Giesemann LED line, and was the first full fledged LED announced by the German manufacturer. Sleek and beautiful the German craftmanship of the Tesla lives up to all and any expectations we had. Built out of aluminum with sharp curves the fixture is like a spaceship, and a good looking one at that. The stock Giesemann Teszla is only available in silver and white, but custom colors are an option for those wanting to go the extra mile. Of course we wouldn't be Reef Builders if we didn't request a unit in classic Reef Builders Blue.
The Giesemann Teszla form factor is very likable. It is definitely a little fatter than comparable fixtures and additionally slightly heavier, but the curved tapered edges that make the fixture seem a lot thinner makes up for that. All the seams of the fixture are extremely tight showing some serious craftsmanship and attention to details.
Unless you look very closely you won't even be able to tell there is a seam at all. The color coating is beautiful, although it did receive some tiny scuffs in shipping. That said scratching shouldn't be a concern if the fixture is handled properly. The fan cover was an interesting choice (it appears to be a speaker grill) but after looking at it for a while we actually like it quite a bit.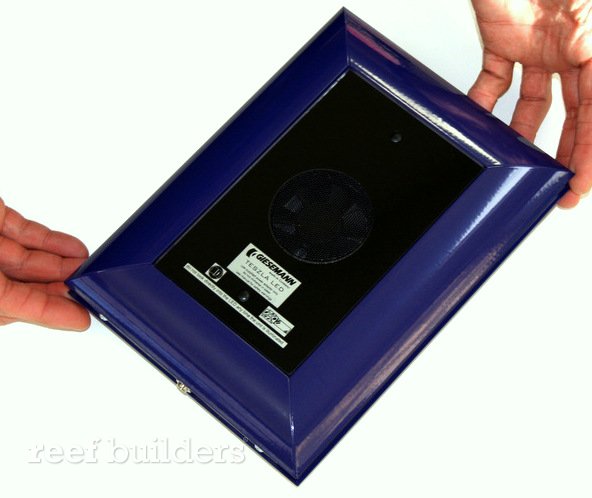 The fixture has a series of ports including the full sized USB port and the power supply connection. The other side contains the physical navigation menu through which the fixture is controlled.  The Giesemann Teszla fixture seem to have been optimized for use with controllers with built 0-10v controls, so functionality is unfortunately limited with the onboard menu. The same can be said for many comparable fixtures, so it definitely is not a deal breaker, but if you don't intend to hook the light up to a controller you are out of luck since there is not yet any computer software for more advanced programming of the Teszla. Only basic functionality such as intensities and the time cycle can be controlled through the menu.
The Giesemann Teszla contains four 465-485 nm blue LEDs, four 450-465 nm royal blue LEDs, ten white LEDs and, two white special LEDs. Each  color channel can be individually controlled, which puts the Giesemann Teszla at three channel control. The LEDs have 120 degree optics and lack secondary lenses, this means you'll have to mount the fixture close to the water surface for minimal light spillage, but it also means you'll get great color blending. The total wattage of the Giesemann comes in a at 66 watts, and the fixture will retail for $499.
[nggallery id=800]