Where LED spotlights dominated the frontier of aquarium lighting in 2009-2010, recently the LED striplight has taken over as the fastest growing segment of the lighting market. If you needed any evidence of this you need only turn to BuildMyLED and the level of sophistication that they are offering the aquarium LED light buyer.
BuildMyLED's striplights are chock full of thoughtful design tweaks and features that aren't readily distinguishable from other LEDs. The simple details that make us swoon include rugged brackets that grab your tank edge and allow the fixture to be angled for more useful light spread on the front of your aquarium display.
The construction of BuildMyLED striplights is easily described as heavy duty, sealed with a unique lens that also has a variable beam angle and once again, the control freaks will love the built in two channels of color control that is fully compatible with the Apex controllers out there. Of course the coup-de-grace is the fact that the BML strips are completely customizable.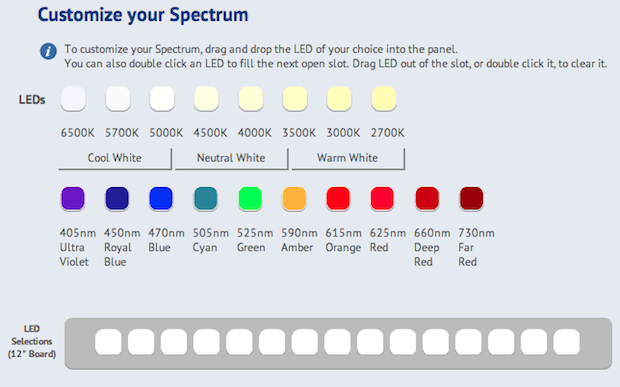 When you go to BuildMyLED's website you are greeted with a configurator that goes out of its way to give you a whole rainbow of color options. In addition to 10 solid LED colors, BML strips offer eight different shades of white so you can easily get every nuance of color shading from these striplights using 18 different LED colors. If this amount of choice is paralyzing to you, as it can be for the novice to the experts, BuildMyLED also offers preconfigured color selections for their striplights including the Fiji Purple equivalent that we covered yesterday.
The big news today is that BuildMyLED is offering the first five and six foot (1.5 & 1.8m) LED striplights on the market, and certainly the only ones with this level of customization and performance. The longer 5 & 6 ft BML striplights will only be limited by the beam angle of their common lens to 60, 75 and 90 degrees but all else is the same.
A single dual single-channel driver will push 75 high powered LEDs in the 60 inch fixture with a typical base price of $329 while the 72 inch version will run about $389 for 90 high quality LEDs. The inclusion of UV LEDs adds $1 per ultraviolet diode that you select for your BML striplight.
Although spotlighting is very nice and makes for a dramatic lighting effect, sometimes softer lighting is desired. As if BuildMyLED wasn't making enough of an impression with its earlier feature set, the availability of these longer LED striplights will open doors for larger tanks.
Even if you are not in teh market for an LED striplight right now you owe it to yourself to try out the configurator and see all the data it spits out. Hopefully, we will eventually be able to hold some finer LED reef lights to this level of LED customization which we hope will lead to a lot more common knowledge about the uses and interplay of LED light colors in a variety of different ratios. [BuildMyLED]