The Neptune Systems AFS has begun shipping  just in time for the holiday gadget buying season. Designed to work with aquariums controllers right out of the box the Neptune Systems Automatic Feeding System (AFS) couples the benefit of adding an auto feeder to your system with more integrated control and precision.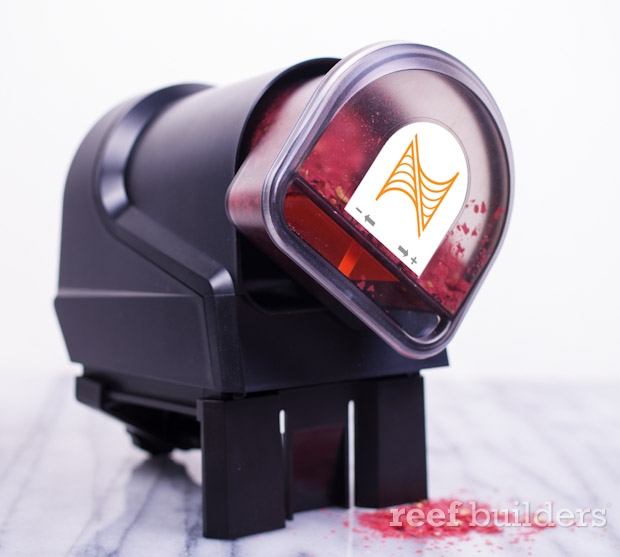 We were able to get our fins on this at MACNA this year and were impressed — not so much that it is similar to other aquarium auto feeders — but that Neptune helped bring the first one to market to work specifically with an aquarium controller. Sure you can buy a less expensive auto fish feeder that you can program, but the benefit of an automated system is having one central computer controlling, managing and alerting you to what's happening in your system — something you get with the Neptune AFS.
As we mentioned before, the Neptune Systems AFS is going to retail for $99 and should be at retailers this week. The full press release follows.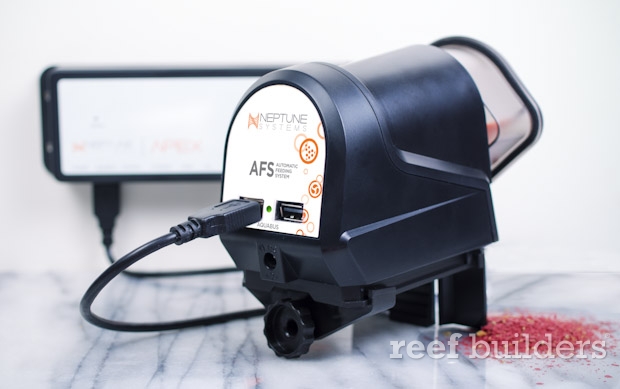 NEPTUNE SYSTEMS BEGINS SHIPPING AUTOMATIC FEEDING SYSTEMS TO RETAILERS
Morgan Hill, CA, November 18, 2013– Beginning tomorrow, November 19, 2013, Neptune Systems will begin shipping the much-awaited AFS – Automatic Feeding System to resellers worldwide.
First debuted at MACNA 2013 in Miami, FL, the AFS broke new ground in the aquarium industry by becoming the first automatic fish feeder specifically designed to be controlled by an aquarium controller.
With the AFS connected to the Neptune Systems Apex AquaController, a user can choose to feed their fish as many times as they choose during the day and in very small quantities. Feeding fish in this manner is ideal for an aquarium as most fish are healthier when fed throughout the day, and feeding controlled amounts limits unnecessary tank pollution. In addition to this, the Apex AquaController system will withhold feedings should there be any issue with the water quality in the Aquarium.
"For years we have been seeking a solution for this problem for our customers, now we have it, and we are happy to say the response to this product has been overwhelming. Within days our users will have these in their hands", Curt Pansegrau – President, Neptune Systems
The AFS can be purchased immediately from Neptune Systems resellers worldwide. Retail price in the United States is $99.95.
"I am chomping at the bit to get two of these. I want to use one for multiple fish feedings per day, and the other for nighttime coral feedings a few times per week. This device, coupled with the control capabilities will have to potential for vastly improving overall tank health and growth. I don't think very many people realize that.", BoxesOfTheSea – Anonymous Online Neptune Systems Apex Owner
Since 1996, Neptune Systems has been a world leader in Aquarium Monitoring and Control Systems. Our flagship product, the Apex AquaController system, enables customers to stay connected to their aquariums from anywhere in the world through a web computer interface or mobile device.
# # #