In a world abundant with coral reefs and geographical landscapes, no place captivates me quite like the amazing and wonderful West Papua. Isolated and disjunct from just about everywhere, the local flora and fauna both terrestrial and aquatic have evolved in harmony over the years into a collection of highly endemic species. As a fish geek, few places elicit such levels of excitement for me, especially since the area holds a big selection of highly specialised fish and mostly at shallow water depths.
To the northwest province of West Papua lies the Bird's Head Peninsular, so named because it is said to resemble the head of a bird. The Bird's Head Peninsular is the epicentre of three important reefs where many of the endemic species we're covering today come from. To it's west is the Raja Ampat island group which consists of Misool, Salawati, Waigeo and Batanta. To the east lies Cenderawasih bay, and just south of that, Triton Bay. These three geographical areas are triangulated in red in the map above. Throughout this article we will be jumping back and forth between the three island groups, as we show some of the endemic species.
Peppered within these island groups are highly endemic and specialised reef fishes in multiple genera that have evolved due to allopatric isolation over the years. Cirrhilabrus is represented in West Papua by C. cenderawasih, whose name was given based on its type locality of Cenderawasih bay. C. cenderawasih is very similar to C. walindi, and both are members of the "adornatus" complex. The males are typical of the complex, and are pinkish fading to white near the belly. A series of black spots line the dorsal flank and a yellow elongated blotch runs across the pink/white demarkation starting from the pectoral fin up to about two thirds the body length.
Like the other closely related species, the females are entirely pink with a single black caudal pedunclar spot, and otherwise nearly impossible to differentiate without contextual clues such as geographical location and presence of males.
C. cenderawasih inhabits waters of 20-60m, but is most commonly found below 35m. Like many others in its genus, it favours rubble slopes where they swim above the substrate to pick off floating zooplankton. All Cirrhilabrus are haremic, and C. cenderawasih is no exception. They are found in numbers ranging from 10-20, or more, and are mostly females. A few satellite males will be present, and the entire group is kept in control by a dominant terminal phased male.
Two species of Paracheilinus flasher wrasse are endemic to the Bird's Head. Paracheilinus walton is found in the Cenderawasih area, and bears close resemblance to other filamented species in the genus. The photo above taken by Dive Dream Indonesia, a tour company that organises diving trips to the Bird's Head Island groups, shows a terminal male in full display and its harem of females behind.
P. walton, named after the Walton Family Foundation, is a beautiful species which bears spectacular characteristic during nuptial display. Males develop a white dorsal fin and filaments when flashing, along with a bright crimson red flank on the lower back of its dorsal region. Like Cirrhilabrus cenderawasih, P. walton lives in a large group of mostly females dominated by a single or few terminal males. The two species mix in the wild and are abundant where they are found.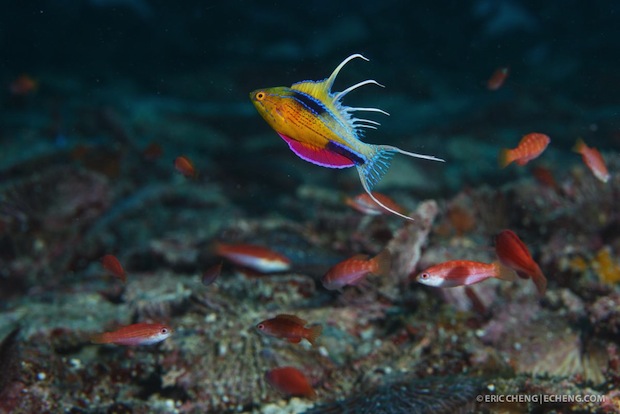 The other endemic Paracheilinus is found on the other side of the peninsular, in Raja Ampat. If you thought P. walton was beautiful, P. nursalim will give it a run for its money. We've already done a full article on this species before, but because it is such an iconic fish of Raja Ampat, we will feature it again.
P. nursalim features a white dorsal fin during nuptial display as well, just like P. walton. However it possesses two characteristic black saddles, one on the anterior dorsal region and the other on the posterior anal region just before the caudal peduncle. Just like many other Paracheilinus, the species lives in large groups over rubble and dead Fungia crops where the numerous females are dominated by a single or a few terminal phased males.
Now back again to Cenderawasih Bay. Chrysiptera pricei is an endemic damselfish from the area which belongs to the "parasema" complex. Like others in the same group, it is a small bluish species with the typical shape and markings. However the coloration differs most differently from others in the complex, such as C. parasema, C. springeri, C. arzanae and C. hemicyanea. C. pricei is more subdued in hue, and lacks the typical bright yellow that presents itself in each of the (except C. springeri) "parasema" complex. Instead, it has a dull yellowish-beige belly and a more subtle blue top.
There are numerous endemic dotty backs to the Bird's Head region, and Pictichromis caitlinae is one of them. P. caitlinae is found in Cenderawasih bay, and is common in the shallows. It bears a reverse coloration of P. diadema. It is most similar to P. aurifrons, which lives in Papua New Guinea.
Back to Raja Ampat again, and we have yet another endemic dotty back as well as an Eviota. The dotty back above is from the genus Manonichthys, and is one of the most unusual and curious species. M. jamali mimics the damselfish Chromis retrofasciata in coloration, and apart from the shape, is actually a very faithful mimic.
It is not very clear what the dotty back gains from this unusual mimesis. Chromis retrofasciata is found all over Indonesia and is very wide spread, yet M. jamali is found only in Raja Ampat. Manonichthys jamali is not the only member in this genus to mimic other fish. M. paranox is jet black in coloration with no markings, and it mimics the dwarf angelfish Centropyge nox down to its swimming pattern.
Pseudochromis ammeri as well as Eviota raja are two beautiful species also endemic to the area. We've covered P. ammeri in relative detail before, and we know that a striped as well as a non-striped form exists. However it's always nice to see new pictures of these fish, since they live so far away and not many photographs of them exist.
Eviota raja is a dainty red and yellow striped species that bears similar resemblance to many others in this genus. It is most closely related to the gorgeous Eviota pamae, which it bears superficially in colour and resemblance. However not much else is known about E. raja, or E. pamae for that matter.
A new endemic Forcipiger also calls Cenderawasih Bay home. F. wanai differs from the closely related F. longirostris by having a darker body coloration as well as meristics. Like F. longirostris, F. wanai also has a melanistic black phased form which is rare. All three Forcipiger overlap in range at Cenderawasih, where F. flavissimus is the rarest and least often encountered.
In this day and age it is fascinating and surprising that a shallow water big fish like a butterflyfish could still be found and described. There is still so much we do not know, have not seen, and that is the same to be said of West Papua. This post is just a tiny tiny sampling of the new endemic fishes that have been described in West Papua and the Bird's Head Peninsular.
If you have a copy of Allen and Erdmann's three part series on the fishes of the East Indies, you would be able to see and enjoy, at your fingertips, the plethora of endemics native to this area, and the surrounding. The book also includes description of some of the newer species, and wild photos of the Bird's Head Peninsular endemics.