Of all the specialized equipment we use on our reef tanks, we dare say none are as aquarium-specific as the needle wheel impellers that drive most of our protein skimmers. The design of the needle wheel impeller has been through so many incredible iterations over the years, and creative tinkerers are always coming up with new ways to re-create the concept.
Needle wheel impellers are a specialized modification of a centrifugal impeller that is designed to allow the rotor to spin freely through a mixture of air and water drawn into the pump's volute, chopping up the froth into a mixture of extremely fine air bubbles. There's been so much attention to the needle wheel impeller's function and design that we now enjoy a dizzying diversity of ways to create them and some of us are proficient enough to DIY them from everyday household items like bioballs, foam, mesh and even hot glue.
In celebration of how important needle wheel impellers have become to the marine aquarists and the protein skimmers we employ, we want to take a trip down the memory lane of various needle wheel impeller designs. This is by no means a comprehensive list, it does visit just about every broad type of needle wheel impeller but feel free to share your favorites, or some we may have missed in the comments below.
Thanks to Dirk Griffin for reminding us of one of the first needle wheel skimmers to be available as a mass produced product, the venerable Turboflotor from Aqua-Medic. AquaMedic employed two different designs for their needle wheels and apparently one of them had a little mesh-wheel action to it that we had not noticed in the past.
This impeller made for Sedra pumps was many people's first needle wheel protein skimmer – The Euro-Reef, now Reef Dynamics, and ASM protein skimmers are some of the most popular ever sold on a mass scale in the North American marine aquarium market.
Although not exactly a typical needle wheel impeller, this version was quite ubiquitously used on Rio 600 & Rio 800 pumps. The "needles" to chop up the air and water are replaced by flappy paddle blades and this pump & impeller design was also extremely widely distributed on thousands of hang on protein skimmers like CPR BakPaks and the like.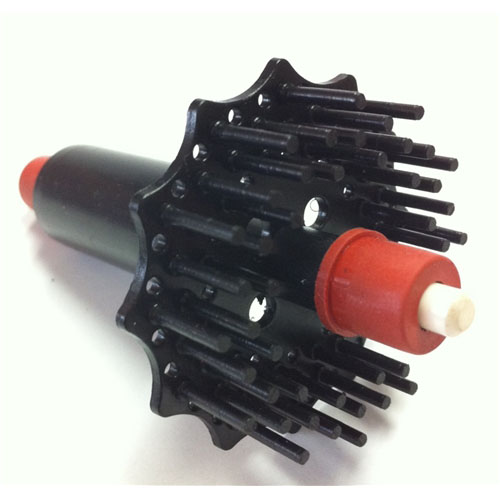 Rounding out the top three most widely used needle wheel impeller design is this version above used for Sicce PSK-2500 series pumps which are very popular with a wide range of protein skimmer manufacturers.
Above we have a specially designed needle wheel impeller for the Sicce PSK series that was created by ATB.
This is an interesting design that was put forward by Warner Marine – a pattern of pins to the needle wheel arranged in a spiral fashion especially for use with unidirectional motor pumps.
Here you can see how a modest design tweak of the needle wheel increased the performance. Old impeller on the left, newer one on the right with a slightly larger diameter and slightly longer pins.
This basic needle wheel design is commonly employed on smaller and lower powered protein skimmer pumps.
This large needle wheel by MRC was milled from a solid billet of plastic for use with heavy duty Blueline and external pumps.
Here you can see the difference between a needle wheel and a regular impeller which is employed on controllable Waveline DC pumps.
This newer design of a needle wheel is made on a flower-like arrangement of blades and it appears like it could really chop up the air water mixture.
The closed needle wheel design above by H&S, and below by Eden, are an interesting take on the concept of needle wheel impellers although they have yet to gain any significant traction.
The idea of using a mesh within the needle wheel impeller was hatched by aquarium DIYers and has since spread to be widely used in many different protein skimmers.
In a similar vein as the mesh needle wheel is this concept used by Xenoxon skimmers that uses a kind of hardened foam material.
Likewise, this aluminum alloy mesh concept from Euro Reef, now Reef Dynamics, is used on their smaller protein skimmers designed for nano reef tanks.
This metal mesh wheel design was once teased by Royal Exclusiv and while it looks really impressive we don't think it ever left the skunkworks lab.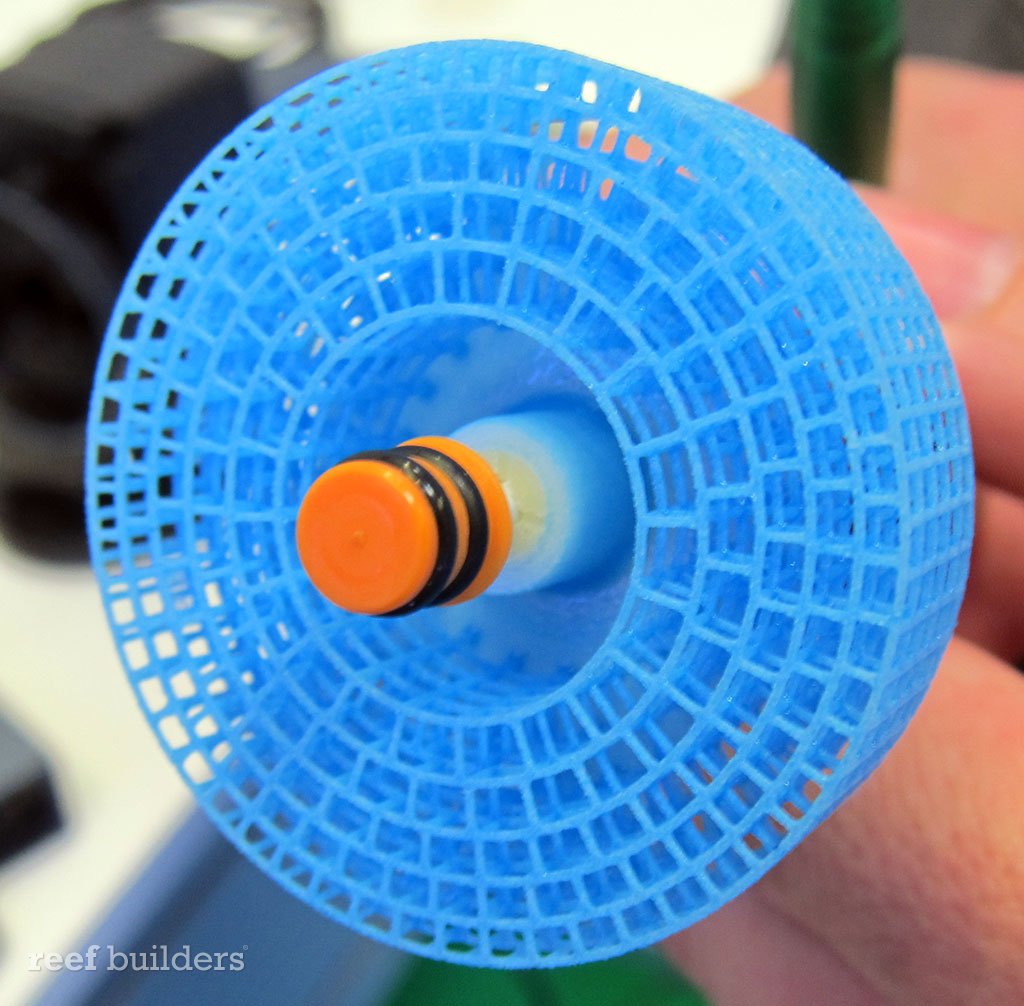 The last major new needle wheel concept to be put forward is this gridwheel design by ATI. We've used it before on the ATI Powercone and it really does produce some extremely fine bubbles.
This list of needle wheel designs is nowhere near comprehensive but please do let us know if we missed any major versions of the unmistakable needle wheel invention.