Salties who have been following our updates on the Toledo Zoo Aquarium renovation these last few years will be excited to hear that the ambitious, $25.5 million project will soon be coming to fruition. Read on for the very latest from our friends at the Toledo Zoo.
The Zoo's innovative new Aquarium experience is slated to open on March 27 with incredible aquatic experiences like nothing else in the region.

The Aquarium closed in October, 2012, for major renovations. Now that renovation of this historic Works Progress Administration (WPA)-era structure is complete, animals are starting to arrive, with key arrivals in the touch tanks and the Pacific Coral Reef exhibit.

Epaulette sharks and southern stingrays are adjusting to the new quarters of their spacious touch tank, a dynamic encounter that brings visitors close to these amazing animals.

Nearby, the first tropical reef fish have been introduced to the Pacific Coral Reef exhibit, a huge 90,000-gallon exhibit that will feature sleek sharks and Zoo divers who interact directly with visitors. This is the largest exhibit in the new Aquarium.

Other animals will continue to arrive at the Aquarium and "graduate" to new exhibits after completing their quarantine requirements. This quarantine period is standard for every animal that comes to the Zoo, ensuring that new arrivals are healthy before being introduced to the rest of the animal population.

Animals aren't the only ones in the Aquarium; the humans are busy at work, too. From the hand-painted corals in the Pacific Coral Reef exhibit to the kelp fronds flowing through the California Kelp Forest area, the Zoo's graphic and exhibit design team is creating an incredible experience for visitors."
So there you have it, the doors will reopen soon on a completely revitalized Toledo Zoo Aquarium. As always, stay tuned for more updates!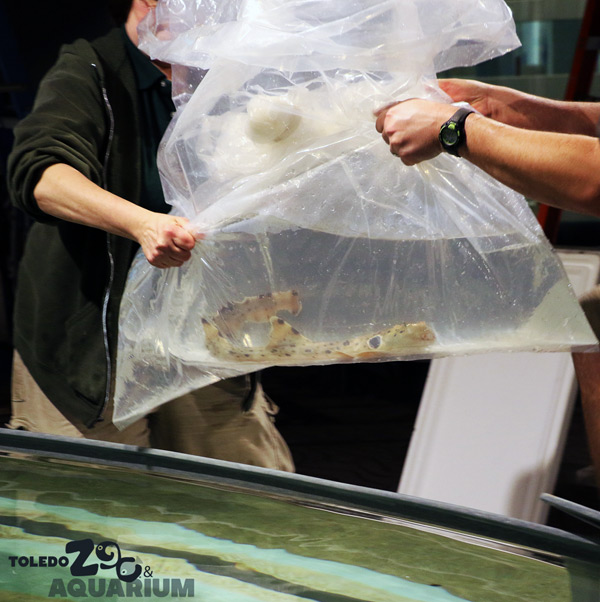 Photo credits: Toledo Zoo/Andi Norman