We're so used to thinking of corals as precious and delicate, it's hard to imagine some of them are invasive species in our aquariums. Invasive corals in the wild are a real problem, with sun coral Tubastrea having two established species in the Caribbean, Snowflake coral, Carijoa, introduced in Hawaii, and non-native Xenia well entrenched in Venezuela.
We've spent so much time and effort learning how to keep and grow all different types of coral that the reef aquarium has become a very comfortable place for different Cnidarians to grow. Without any kind of predators or natural disturbances, aquarium corals are free to grow, checked only by the aquarist. If corals can be 'undesirable' in the wild, there's definitely a host of coral species that can border on being invasive in a reef tank.
There are some corals that we would love to have growing out of control, because they are valuable, beautiful, or both. But then there are other corals that look great as a little patch, but then they grow out of control and start upsetting the balance by stinging their neighbors, growing right over them or building up potentially toxic situations.
We could list dozens of corals that have a propensity for growing uncontrollably, but the different between an invasive coral species and one that simply grows inconveniently fast is the damage they cause, and how hard they are to remove from the aquarium. For this reason, the fast growing Montipora capricornis and Echinopora lamellosa are not considered 'invasive' but the following five corals are species that you want to re-consider putting in your tank lest their growth should get away from you.
Yellow Polyps are an ubiquitous staple of the marine aquarium and they are a great starter coral for large and small tanks alike. Reefers love their bright yellow coloration, as well as their swaying polyps, but buyer beware. If this coral really likes your tank it can grow so much that you might start to see it as 'yellow Aiptasia'. It can cover large patches of rock and the tentacles of yellow polyp pack a sting that can damage any nearby corals.
Macro photographs of Blue 'Anthelia', a Sarcothelia sp., look great in pictures, but we wouldn't recommend this coral for many aquariums. The light lustrous blue polyps of Sarcothelia are beautiful when viewed close up, especially as a frag, but the beauty is lost when this species becomes a nondescript blue mat. Like the other offenders on this list, blue Sarcothelia can cover a lot of surface area and it also sting nearby corals, but these polyps are even harder to individually remove than yellow polyps.
Millepora Fire coral in the aquarium used to be much more of an issue when American reefers used a lot more live rock from the Caribbean, but now we use more dry, man-made and indo-pacific rock. Fire coral looks just like a healthy golden spot of tissue that can still come in on live rock and on the bases of corals.
Fire coral is on this list because although rare these days, when it gets establishes it encrusts over anything and being a stony coral with a potent sting, it's incredibly hard to remove and nothing can sting it back. That being said there are some rarely seen species that we'd love to keep in our home tanks.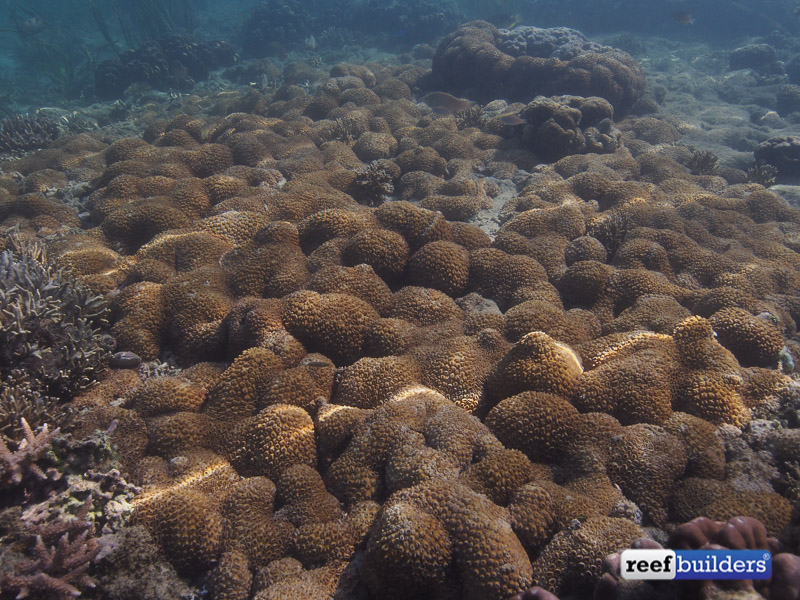 Encrusting species of Palythoa are probably the biggest offender on this list of invasive coral species. It is not uncommon to see huge mats of Palythoa growing over and suffocating everything in its path in the wild, and this coral can do the same in the home aquarium. The somewhat grey, greenish or brown large zoanthid polyps that is just a little patch today will eventually become an unmanageable mess that proves tricky to remove.
The thick tissue of encrusting zoanthids is not only hard to remove, but loaded with Palytoxin, the second most toxic known to humans. You practically have to don a hazmat suit to handle this group of corals, and should this species stress out in the aquarium, it can potentially poison your aquarium killing everything, except itself.
The surprise candidate on this list of invasive coral species is Pocillopora damicornis. We absolutely love and respect this species of coral, for its myriad of shapes and colors, its widespread distribution, and its fast growth rate. This is one tough coral which everyone should grow at some time in their reefing career, just to appreciate it.
But coral gardener beware, because damn Pdam has a special breeding trick up its coral polyp sleeve, and that is its ability to send out coral larvae directly in the water, without sexual reproduction. Polyp bail-outs of Pocillopora damicornis are cute at first, but a particularly prolific colony can start to send P. damicornis growing all over the aquarium, making more than enough daughter colonies so that some of them may land close to, and sting, your prized frag of course.
This species is really low on the invasive ability index because it grows slower than the encrusting soft corals on this list. and because chipping out the undesired mini colonies is pretty straightforward. The invasive coral issue arises when you have a particularly large reef tank and a population of this coral becomes established in places you can't reach, and then you've got a persistent problem.
The bonus entry on this list is a coral we have nothing but contempt for, and that is encrusting gorgonian, Paraerythropodium caribaeorum. This species of 'coral' is less then scum, it looks totally nasty brown when the polyps are out, and it looks like a piece of shiny brown snot when the polyps are retracted.
A little patch of Paraerythropodium is not cute at all, and be sure to inspect all live rock and gorgonian bases for this living coral doodoo. This species was more of a problem when Caribbean live rock was much more prevalent, but thankfully, infections of this sub-coral have definitely decreased in the last decade.