One of the more interesting developments in the reefkeeping hobby, in my opinion, has nothing to do with the latest, greatest gadget or advance in water-quality-management methodology. Rather, it's an evolving aesthetic in aquascaping.
Bored with the traditional monolithic stack of rocks propped up against the back pane and consuming much of the tank's volume, modern reef hobbyists are starting to appreciate and experiment with the use of negative space—the open areas around the rockwork—when planning their aquascapes.
The towering, uniform "wall of rock" has given way to lower-profile aquascaping with irregular, broken topography, allowing open channels and swim-throughs, caves and overhangs, islands, etc.
And this trend makes perfect sense. Artists have long known the value of striking the right balance between positive and negative space in their compositions. With our reef systems essentially being living works of art, it stands to reason that the aesthetic principles guiding the works of painters and sculptors can only make our aquascapes all the more visually appealing.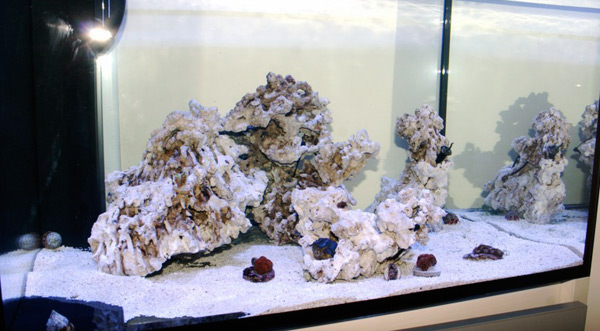 What's different about exploiting negative space in reefkeeping versus artwork is that it has both practical and aesthetic value.
Practical benefits
Practically speaking, creating more negative space in a reef system's aquascaping offers several benefits. Among them:
Enhanced water flow through and around the rockwork
More options for creative coral placement
More swimming space for fish in the system
Reduced aggression among squabbling fish because they can more easily escape one another and evade each other's line of sight
Aesthetic benefits
From the standpoint of aesthetics, negative space in reef aquascaping has a profound impact. Whereas a system aquascaped with the traditional wall of rock imparts the sense that you're viewing a very small section of reef very close up, opening up the aquascaping with more negative space essentially allows you to create the impression of a larger tract of reef, only in miniature.
Negative space achieves this by providing:
Depth and dimension
An open rockwork configuration draws the eye through, around, and beyond the aquascape, creating a much greater sense of depth and dimension. You know you're looking at an aquarium, but your mind perceives that something—the vast ocean, perhaps—lies beyond the structure you've created. The greater the front-to-back dimension of the tank, the more pronounced this effect is. In contrast, the traditional wall of rock tends to create a flat, two-dimensional impression even when bristling with colorful corals.
Interest from multiple angles
While traditional reef-tank aquascaping is generally best viewed head-on from the front of the tank, systems that make good use of negative space offer visual interest from virtually any angle or vantage point because the livestock is growing and swimming in all directions. If the tank is situated away from a wall, for example when used as a room divider, you can view and enjoy the system from front, back, and potentially one or both sides.

What's your impression?
So, fellow salties, what's your take on the current trend in aquascaping? What have I forgotten? What appeals to your eye? Please let us know in the comment section below.