Another year has come and gone and we've seen a slew of new and interesting products introduced to the aquarium hobby. Like so many tech gadgets these days, some of these new productshave been incremental improvements to what we've enjoyed for many years, but many of them have shed the paradigm of old and introduced us to some fresh new ideas.
One thing that's really changed since we started doing our selection of Best New Products of the year is that we're seeing less emphasis on sheer performance, and more creative thinking about what our aquarium equipment should be able to do for us. We see hundreds of new products every year and 2015 by far was one of the most inspiring across the board.
If you don't think the hobby is still growing at an incredible pace, just take a look at last year's best new products and let's keep our fingers crossed that 2016 is just as bountiful. It's always hard to narrow down the list to just the top 10, sure there were tons of deserving products but these are the ones we think made the biggest splash. Do you agree or disagree with our selection? Let us know in the comments.
Exotic Tropical Fishes poster – As the digital age has obsoleted most of our physical media, real books and posters have almost disappeared from sale in our local fish stores. Lemon TYK's new poster series brings back some of that long lost appeal of physical posters with fantastic photography that introduces many fun and exciting fish to a new generation of aquarium keepers. Even if other posters had been released and produced by other entities, there is no doubt that the Exotic Tropical Fishes poster would still command prime real estate on our fish room walls.
The new DB6i and DB81 protein skimmers from RLSS are a natural convergence of a lot of different features. Having a small footprint, 'pipeless' design and controllable DC needle wheel pump all makes these new protein skimmers quite appealing, but even more attractive is the very reasonable pricing for such a concentration of convenience and performance.
Eshopps Cube Sump – There's been a LOT of new sumps and designs introduced into the aquarium hobby over the past two years. But arguably none of them are quite as innovative as the new Eshopps Cube sumps featuring the creative channel design. Eshopps' vision for how sumps should perform is upended by their new approach to directing water through the different chambers and we think that the currently available models are just a glimpse of what this concept will allow sumps to do in the future.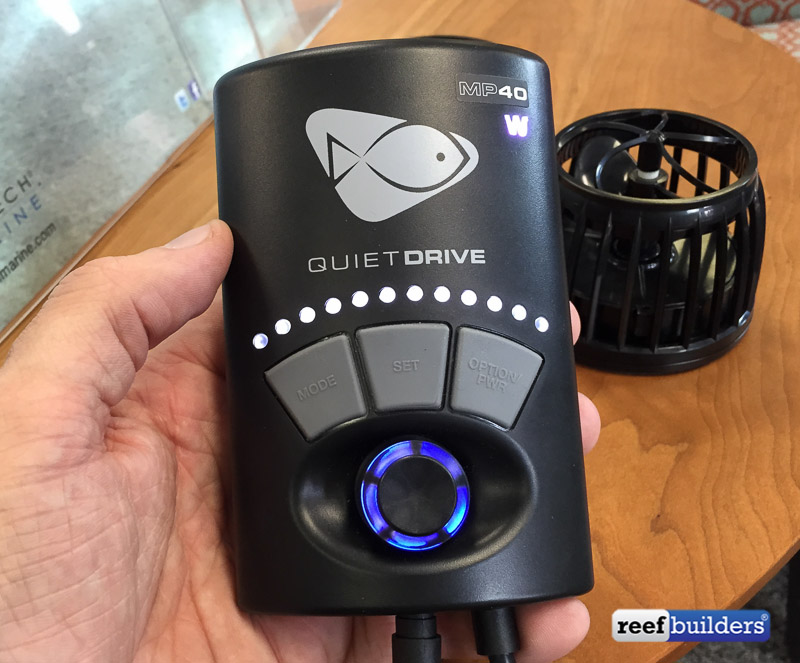 Ecotech Marine QuietDrive – We knew that QuietDrive would be a big deal for Ecotech as soon as we wrapped out head around how this driving technology works. Going beyond the Vortech pump, QuietDrive gives unparalleled performance for all manner of DC-operated motors, as we saw in the Vectra pump which also features QuietDrive controllers. In addition to bringing smart technology to previously simple devices, the performance and efficiency boost that QuietDrive imparts on Ecotech propeller and centrifugal pumps is unparalleled, and we can't wait to see what other QuietDrive products might be released in the future.
Red Sea Reefer Tanks – The new Reefer tanks from Red Sea are another one of those really smart ideas that was always hiding in plain sight. Red Sea has dominated the high end all-in-one market, but if you wanted to tinker even a little bit, you had to start from scratch with all the products you desire. The Reefer tanks combine the best aquarium, stand, sump, and technology as a well-polished kit that lets reefers fine tune more of the products and aquarium system design, on top of the best foundation for a reef aquarium possible.
Hydor Koralia Gen 3 – The Korallia is more evolution than revolution, but with at least three generations of building affordable propeller pumps, Hydor has put together a real winner. The refinement of intake cage, improved performance and efficiency, an incredibly novel mounting system and overall premium finish of the 3rd generation Koralia makes these pump top shelf options for creating water flow inside a reef aquarium.
Innovative Marine Hydrofill Titanium pump and controller – Automatic top off of our aquariums can be one of the most tedious day-to-day tasks of keeping an aquarium, especially for saltwater tanks. While so many companies are busy trying to build the smallest all-in-one ATO system, Innovative really concentrated on building the best. This 'Titanium' edition of the Hydrofill pump and controller brings with it four sensing points, increased precision in water level sensing, and one of the best gosh-darned diaphragm filling pumps in the aquarium market. The greatly reduced pricing of the Titanium Hydrofills also makes them one of the best values in automatic management in sump and aquarium water levels.
DaStaCo Calcium Reactor – The calcium reactor is one of those classic aquarium devices that has been around for a really long time, but in that period has only enjoyed modest improvements in performance. The pH probe has always been the weakest link of a calcium reactor, so by doing away with it DaStaCo has transformed the experience of owning and using a calcium reactor. DaStaCo has been making high quality calcium reactors for several years but to date, these have been available mainly in Europe. With the Xtrema series of Calcium Reactors, DaStaCo has made a bigger push into the global aquarium scene, bringing their novel method of maintaining mineral balance of aquarium water to even more reefers around the world.
Elos Quietdrain Overflow – The Elos QuietDrain overflow is another one of those really innovative devices that completely transforms one critical component of having a high performance reef tank; draining the water from the tank to the sump. The novel design of the QuietDrain allows an incredible volume of water to pass through a tiny little box, all while being silent and protecting against the possibility of flooding. The added side effect of the QuietDrain is that since you can feed so much water through the return piping, you can also reduce or eliminate the need for internal powerheads, further adding to the clean aquarium aesthetic. QuietDrain Overflows are only available on select lines of Elos aquariums but perhaps this is one really niche reef aquarium device that Elos could consider making as a standalone product.
AquaIllumination Hydra HyperDrive – Much like Ecotech's QuietDrive technology for pumps, the HyperDrive brings the performance and versatility of LED lighting to a whole new level. This is one of those breakthrough ideas that solves the long-standing issue of paying for a light with a given power rating, but then losing some of that power when any adjustments of the LED color channels are made. With HyperDrive AI pulls well ahead of the pack with their Hydra 52 and 25 HD LED lights, which makes it completely unsurprising that Red Sea selected these lights to go with the new MAX-E series of AIO reef tanks.