Permuteran Bay is located on the Northern coast of Bali Indonesia. The reefs here, once heavily damaged by fishing are on the rebound thanks to the creative Bio-Rock reef. Indonesian is a pioneer in reef restoration and Bio-Rock reef in Permuteran Bay is one of the countries first.
The Bio-Rock project in Permuteran Bay started in 2000 and since then over sixty Bio-Rock structures have been installed. What sets the Bio-Rock project apart from other restoration reefs, is the use of Electrolytic Mineral Accretion Technology.
Bio-Rock technology uses a low voltage current produced by solar panels, which travels in cables from the surface and is then hooked up to the metal frames of the Bio-Rock structures. By passing the current through seawater, this causes dissolved minerals to crystallize forming structures similar to limestone where coral larvae can more easily settle and grow.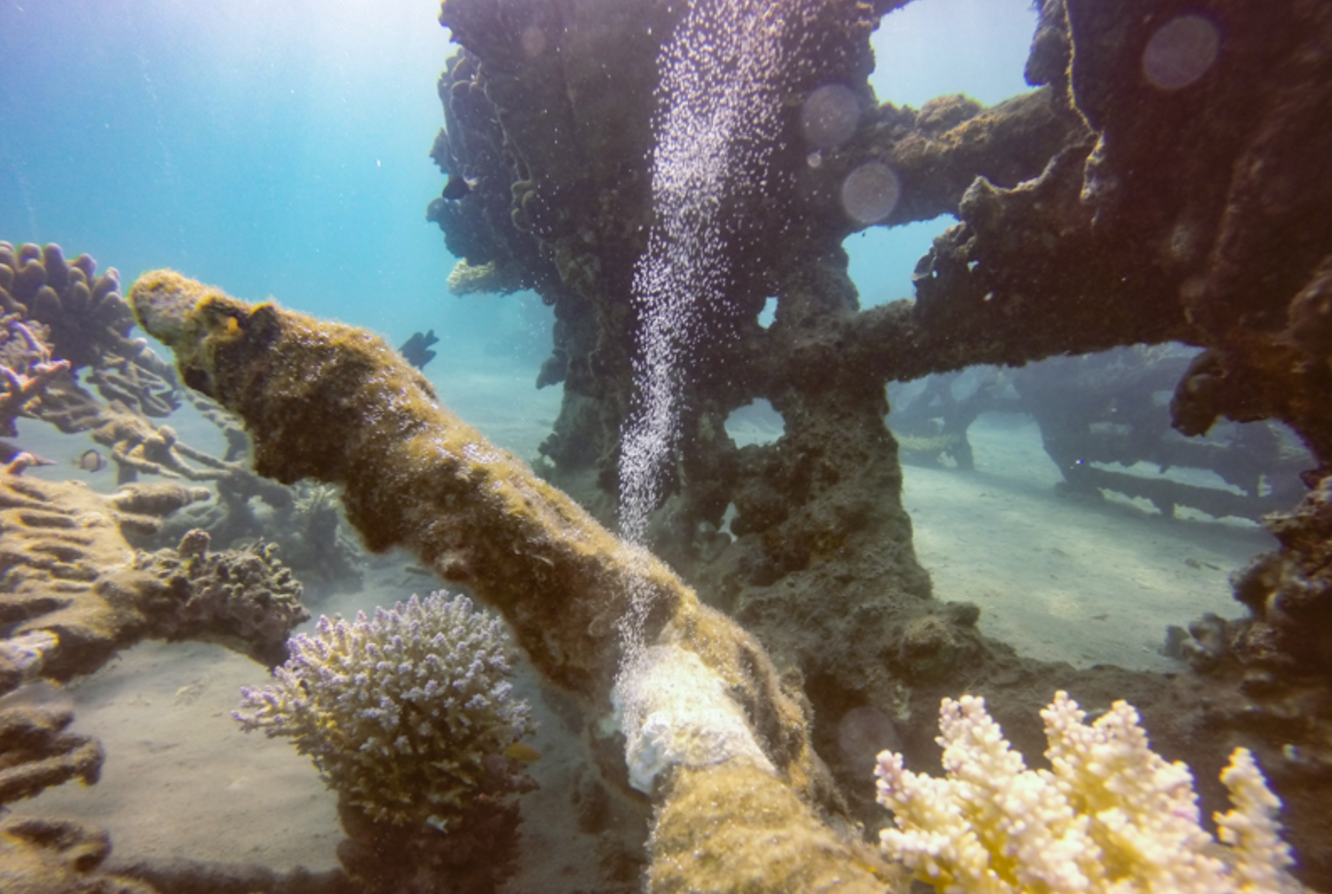 Bio-Rock attracts tourist and artist who can both contribute to the reef. Artist have created beautiful sculptures like the famous coral goddess or sunken bikes. Tourists have the opportunity to donate to the project where they can sponsor a coral or their own coral frame. While you are diving in Permuteran you can see people names adorning the sculptures, a part of the living reef.
Permuteran Bay and the Bio-Rock reef is easily accessible from the beach. Many of the structures are within a few meters of the surface and are at a perfect depth for snorkeling. New divers will find this an easy first dive and more experienced divers will get lost looks at all the interesting critters taking refuge in the reef.
We were impressed with the diversity of Acropora corals at Permuteran and the big schools of fish. However, we didn't like the cables hanging from the solar platform to the frames below. We found this could be a slight hazard for new divers.