Last week we wrote about edible cutlery, this week we bring you disposable leaf bowls. It's no secret that plastic and styrofoam entering the oceans is quickly become a global environmental concern and researched in Thailand have come up with a back to basics solution to counteract the rising use of styrofoam containers
A team lecturers from the engineering department at Naresuan University have developed a process to make watertight, degradable food bowls from leaves. The team spent more than a year developing the process, finally producing firm, usable bowls from leaves to replace foam containers.
Through trial and error, they found that leaves of the thong kwao (bastard teak), sak (teak) and sai (banyan) trees are the best to use for the containers. The bowls can hold hot water without leaking and it will degrade naturally after being discarded. The bowls are a natural solution for everyday disposable containers.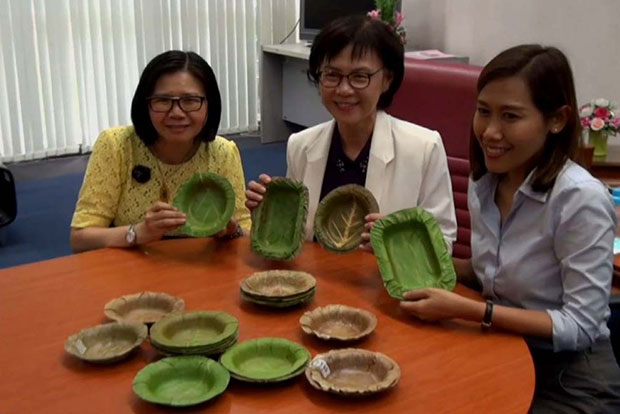 Samorn Hiranpraditsakul, a lecturer in industrial engineering, said the inspiration to develop these environmentally friendly containers was from a visit to a temple in the North, where she saw the huge piles of polluting styrofoam food containers.
Sirintip Tantanee, the faculty's dean, said the faculty will coordinate with the municipality to promote the use of these patent-pending bowls at the provincial annual food festivals organized during Sonkran and the New Years. The team used starch to add a gloss to the leaf plates, which will be launched to the public during the Songkran festival in April. They come in a range of shapes.
Styrofoam is especially harmful when it enters the water as the small particles break apart into tiny styrofoam beads. These little floating particles attracts chemicals and toxins like a sponge and passing fish consume the styrofoam mistaking it as food, becoming contaminated with any chemicals absorbed by the styrofoam. As with edible cutlery we hope to see these leaf bowls coming to North America soon. [Bangkok Post]