Fragments of Hope, is a coral reef restoration project in Belize and is one of the Caribbean's most successful reef restoration projects with over 60,000 coral fragments planted to date on three different reefs sites/cayes. The project focuses on restoring reefs with endangered Staghorn and Elkhorn Acropora corals, and re-seeding the reef with corals more resistant and/or resilient to bleaching and disease.
Coral reefs are made up of hundreds to thousands of tiny animals called polyps and each of these polyps secretes a hard skeleton made of calcium carbonate around their bodies. New coral polyps continue to grow and colonizing the old polyps skeleton building up the reef as they go. Since it is only the polyp (and symbiotic algae) which are alive in the coral, the calcium carbonate skeleton can be broken into fragments which will heal and continue to grow into larger coral colonies.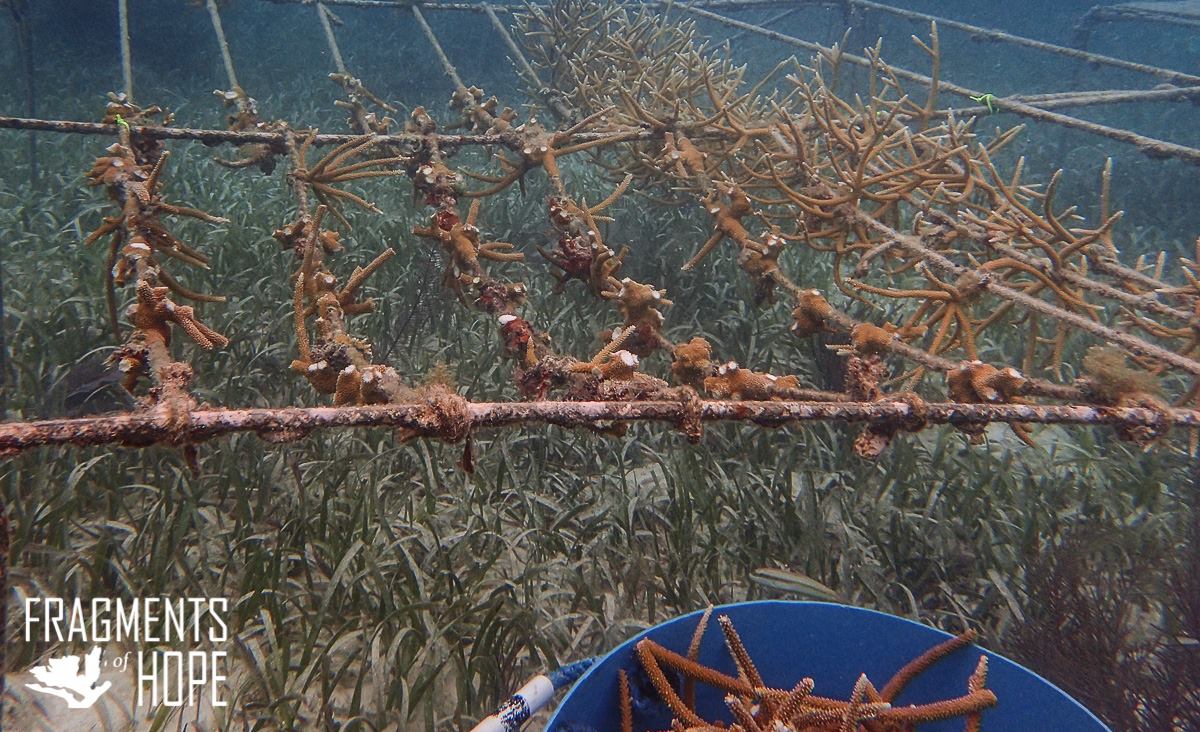 Fragments of Hope uses a rope and table nursery technique, adopted from Austin Bowden-Kerby's Ph.D, at Corals for Conservation to grow their corals. Coral fragments are made from taking branches off a larger mother colonies and the fragments are then secured between the rope by simply twisting it apart and inserting the fragment between the strands.
One benefit of the rope nursery technique is that once the corals are large enough, the entire coral encrusted rope, or smaller cut sections of the rope can be removed from the nursery and attached directly to the reef. Individual coral frags can also be trimmed from the ropes and attached to the reef using a cement mixture or cable ties while the coral nubbins in the rope nursery can continue to grow.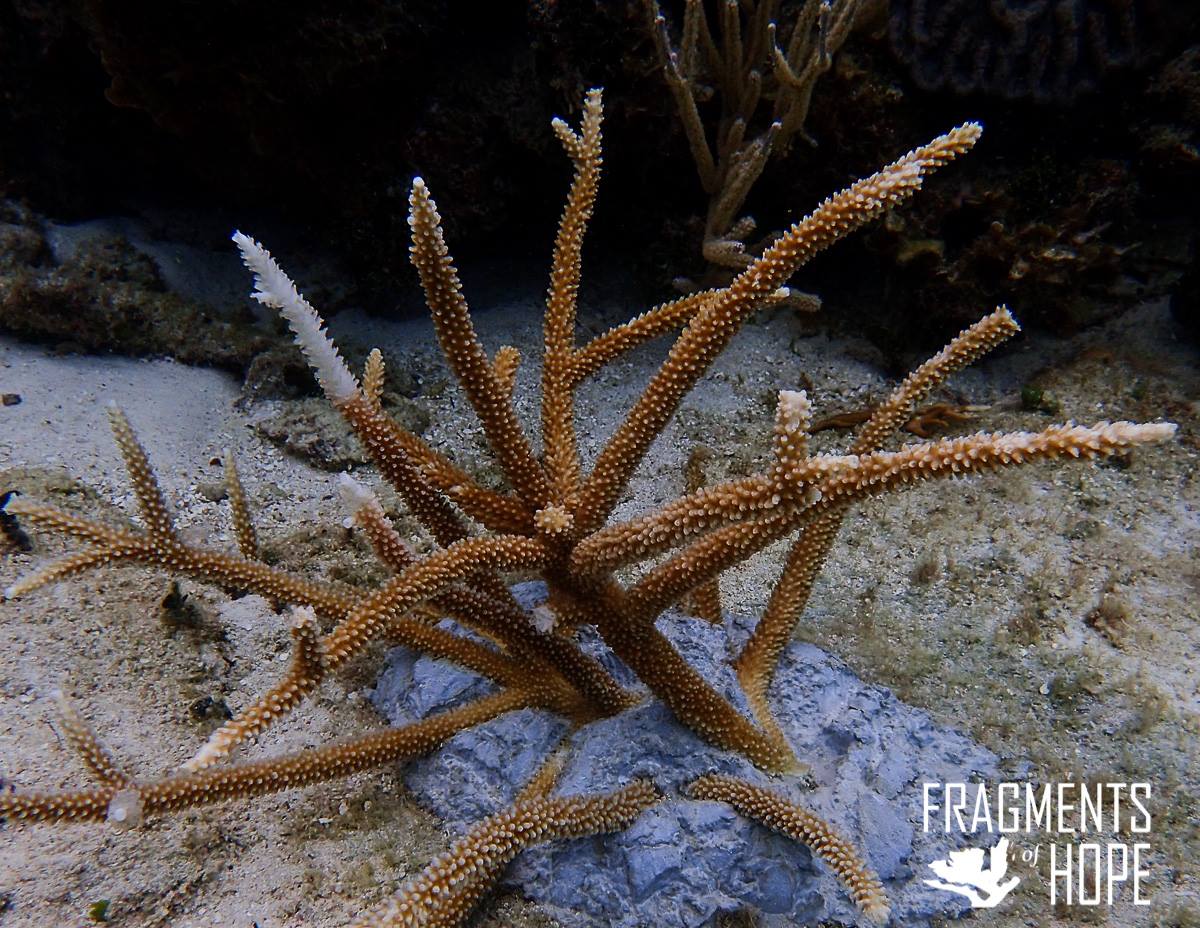 Once planted on the reef the new coral frags continue to grow into large coral colonies. Since 2009 Fragments of Hope has been successful in raising and transplanting corals in Belize and has documented over 6 years of survivorship on some of their transplanted nursery-grown corals in Laughing Bird Caye National Park.
In an effort to understand why some corals are more resistant and/or resilient to bleaching and disease, both the coral host and their tiny symbiotic algae have been genetically characterized. "Genetics play a key role in out-planting nursery-reared corals back onto the reef," says Lisa Carne Marine Biologist and Director of Fragments of Hope.
"Corals are animals and can sexually reproduce so it is important to re-seed the reef with diverse genotypes so that they may spawn and begin to recover their former abundance through sexual reproduction and local adaptation as well as with asexually propagated, nursery-reared corals."


If you are planing a trip to Belize you can visit the Fragments of Hope nurseries and out-plant sites in Laughing Bird Caye, Moho and South Silk Caye. All of the local tour operators can organize a day trip to these sites, no diving required as they are shallow enough to see while snorkeling.
Fragments of Hope does an excellent job of documenting their progress and posts lots of great pictures and regular updates on their Facebook page. You can also visit their website for information about coral nurseries and technicals documents about coral restoration. If you would like to support Fragments of Hope you can find membership information here.