Recently, the folks in my area got enamored with the topic of "nano?bubbles" for the reef tank. Being a curious engineer and avid tinkerer of tanks, I jumped right in to test it for myself.
So what are nano?bubbles and what is the concept being prescribed? Well, there are many sources online that talk about the benefits of nano?bubbles in various applications, from water and food processing to cleaning applications such as wastewater treatment. But with respect to our hobby, one site, Elegant Corals LLC, had been promoting the benefits of running "micro?scrubbing bubbles" in the reef tank for some time. You can check out their Facebook page for the claimed benefits.
Process
The basic process, in short, is to produce the smallest bubbles possible and inject them into the main tank via the return pump. Wooden airstones are placed just before the inlet of the sump return pump, and the amount of bubbles is controlled by adjusting the distance from the airstone to the inlet. The key to gauge the correct distance and amount of air bubbles is to have no water splashing from bubbles at the surface. For the first week, you turn on the air pump, ideally placed close to a source of fresh air, for 8 hours every night. After week one, it reduces to just 4 hours per night.
Just to name a few of the claimed benefits that I could see for myself:
Higher oxygen content to help increase pH
Helps corals clean themselves by shedding the slime layer, which results in better polyp extension
Increased aerobic bacteria bio activity
Clearer water
The funny thing is, I was already getting many of these benefits in my system prior to introducing this method. I already plumbed a fresh air line to my main skimmer input, so I already stabilized my pH as much as I could from that. My Acropora already had decent polyp extension and color from maintaining my water parameters and providing the proper nutrients.
Finally, I already had an ozone generator on my system and had been monitoring ORP, which I know, from reading Randy Holmes?Farley's "ORP and the Reef Aquarium," is the measure and balance between oxidizers and reducers in the water.
So, as an engineer, I like numbers. Many of the above benefits are still subjective and anecdotal for the most part. I recorded data readings via my controller and the permanent probes I can monitor 24 hours per day (conductivity, pH, and ORP).
Preliminary observations
After running this method for a couple of weeks, the only noticeable measurable outcome I can relate is that when the air pump for the airstone went on at midnight each night, the ORP levels rose. The first few nights, my Acropora colonies did slime up a bit from the bubbles but have reduced ever since as a visual improvement.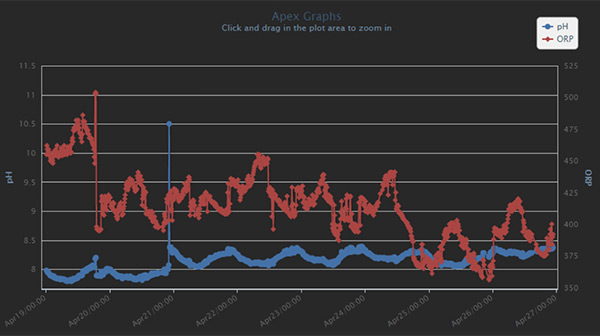 My data below confirms Randy's findings with the inverse relationship between ORP and pH.
The only quantifiable measure is that nano?bubbles act as a "poor man's ozone generator." Since oxygen (O2) is also a fairly high oxidizer, it does the same as ozone (O3), which is listed as an even higher-level oxidizer. So I would equate the benefits of this process to those of injecting ozone into the reef system.
These benefits I clearly witnessed when I ran the ozone generator into my skimmer for the first time a few summers ago. I did this since I heard it would address the cyanobacteria issue I had on my sand. The change was literally a night-and-day difference. My water was clearer, even though I did not run any carbon overnight, and my cyanobacteria patch dissipated. As the days went by, my ORP level rose from a low of 200 mV to around 375 mV. These days, it barely turns on anymore. I also don't notice as much dark detritus in my substrate anymore. This may be related to increased bacterial activity helping to break it down.
Test conclusion
Overall, I conclude that nano?bubbles provide benefits similar to those of an ozone generator. The process is simple and cheap with no downsides that I've seen in my system thus far. Maybe the next big trend is monitoring oxygen levels in the water.