Like many of you, I had a dream of swimming with manta rays. I traveled the world and logged hundreds of dives, yet I never caught sight of a single manta. I had come across different species of Mobula rays which are sometimes called mantas, but I was looking for the reef manta (Manta alfredi).
In 2014 while living and working in Mozambique Africa, my manta luck was about to change. Never in my wildest dreams did I think my first manta ray encounter would be side by side with the Queen of Mantas herself, Dr. Andrea Marshall.
I was on my second trip to Tofo, a Mozambican diving mecca known for manta ray and whale shark sightings. Tofo beach is 250km (150 miles) south of Bazaruto Island where I was living, and Tofo made for the perfect escape from island life.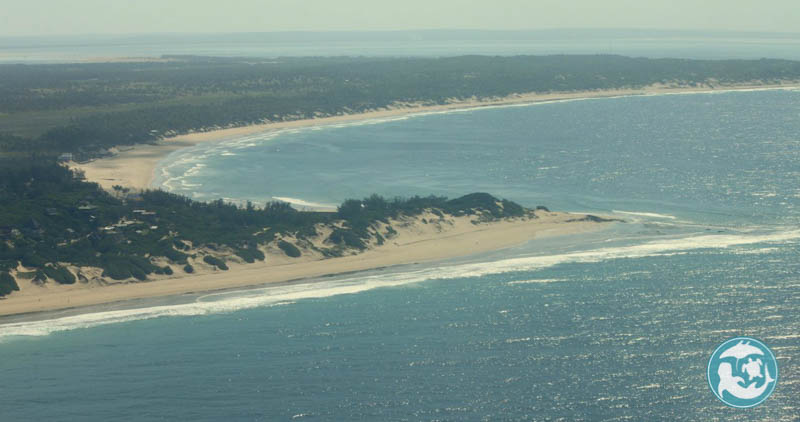 Scuba diving in Tofo is fantastic and in a few days I saw huge schools of reef fish, discovered a potato grouper cleaning station, and snorkeled with hammerhead sharks, although I never saw a single manta or whale shark! Call me unlucky, as the one day I decided to sit out the dive, our group saw a school of mantas and several whale sharks feeding at the surface…
Discouraged by my lack of Tofo mantas, I wandered over to the Marine Megafauna Foundation headquarters and found Andrea. The Marine Megafauna Foundation (MMF) was originally formed in 2003 to research, protect and conserve the large populations of marine megafauna found along the Mozambican coastline, and has since expanded their efforts to protect marine megafauna worldwide.
We chatted for a while about my manta misfortunes and Andrea gave me the details of a smaller population she found in the Bazaruto Archipelago, not far from where I lived. The Foundation has a satellite research station on Bazaruto Island, where they work with the Bazaruto National Park surveying the coast by air.

Bazaruto
The Bazaruto National Park covers an area of 1400 square kilometers or (550 sq mi) and includes four of the five islands and surrounding waters. The Bazaruto Park is the oldest marine park in Mozambique and was created to protect the vulnerable population of dugongs which make the shallow seagrass meadows their home.


The Bazaruto Archipelago is rich in marine megafauna and common sightings include humpback whales (in season), sea turtles, dolphins, sharks and mobula rays, while reef mantas and whale sharks are more uncommon. Dugong sightings are also rare, although I did spot a few dugongs before encountering a manta.
To survey the Park MMF Pilot Janneman Conradie takes to the skies in a microlight aircraft. The objective of these surveys is to count individual animals and searches for and illegal fishing or abandoned nets in the Park. This data is then used to gain a better understand of current population sizes and develop conservation strategies for the Park.
It was their last day of surveying in Bazaruto and Andrea agreed to join me for an adventure. Janneman flew above sending down GPS coordinates of animal sightings and it didn't take long before he located a group of reef mantas! Andrea and I programmed the coordinates and took off. We found ten juvenile reef mantas feeding at the surface and Andrea told me the group reached up to 80 individuals just days before.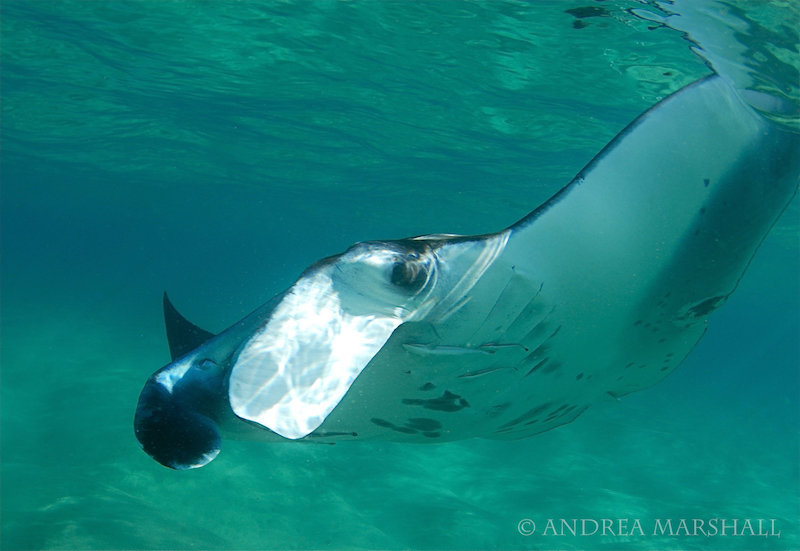 We swam with the mantas, or tried to keep up with the swift swimmers by having our skipper drop us ahead of their trajectory. Some of the animals were more curious than others and Andrea was able to get these beautiful photos of a little manta.
Dr. Andrea Marshall is a world renowned manta ray expert who has been instrumental in the conservation of this iconic species. From her extensive research in Tofo, she was able to describe a new giant manta species in 2008 and continues to fight for their conservation on a global scale. Finding my first manta with Andrea was truly an unforgettable experience.
A few months later I returned to Tofo, and at the very end of my last dive, a manta graced our presence. My manta curse had been broken thanks to the Queen of Mantas.


To learn more about the Marine Megafauna Foundation, or to adopt a Manta, please visit the MMF website marinemegafauna.org