Apogee released their newest PAR light meter, the MQ-500 earlier this year with a brand new and improved light sensor. The improvements to the sensor of the Apogee MQ-500 increased the accuracy of this PAR meter across across the visible wavelengths of light, especially its sensitivity in the blue end of the spectrum.
With our reef tanks being dominated by blue-LED lighting we expected the new Apogee MQ-500 PAR meter to register much higher light levels than the previous MQ-200 meter. Contrary to our expectation, our real world experience comparing the new and old PAR meters from Apogee showed higher overall readings by the MQ-200 for nearly all wavelengths of light.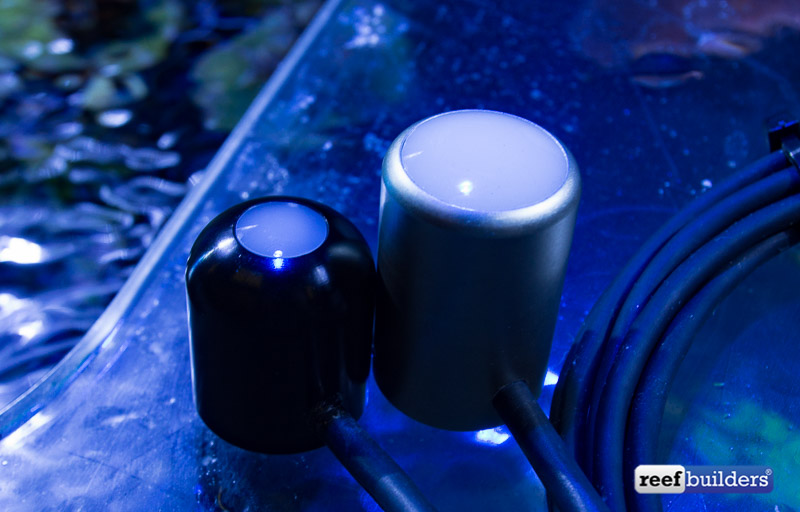 We discussed this discrepancy with engineers at Apogee who at first couldn't pinpoint what could be causing these unexpected readings. We have nothing but faith that Apogee had done all the necessary research and testing before developing their new MQ-500 PAR Meter but for some reason, our testing in underwater PAR measurements were not lining up.
We kind of put the issue aside for the time being but yesterday Apogee reached out to us with an explanation and a solution to the problem of measuring PAR underwater. Chief Scientist at Apogee Mark Blonquist explained that the different measurements is an 'Immersion Effect' which affects their different sensors differently. Apparently, measuring light intensity underwater is a field all its own because of the interplay between diffusing material, translucence, refraction and light scattering and this passage from "Measurements of Spectral Irradiance Underwater" by Tyler & Smith:
'When a translucent, diffusing material is submerged in water the change in index of refraction at the boundary of the diffusing material results in a larger percentage of the incident radiant flux being back scattered into the water than would be back scattered into air. This immersion effect is the result of changes in interface reflections, both internal and external, combined with multiple scattering within the diffusing material.'
Apogee's PAR meters are designed for use in open air, even if some models have waterproof sensors. But with the aquarium hobby becoming a growing part of their customer base, Apogee took these underwater immersion factors in mind and has come up with a correction factor which seems to rectify our expected PAR values quite a bit.
When measuring PAR with the old MQ-200 or similar sensors, a correction factor of 1.07 should be added to all light readings. Meanwhile if you have the new Apogee MQ-500, the correction factor is much higher at 1.32, basically increasing the underwater light measurements by 32%.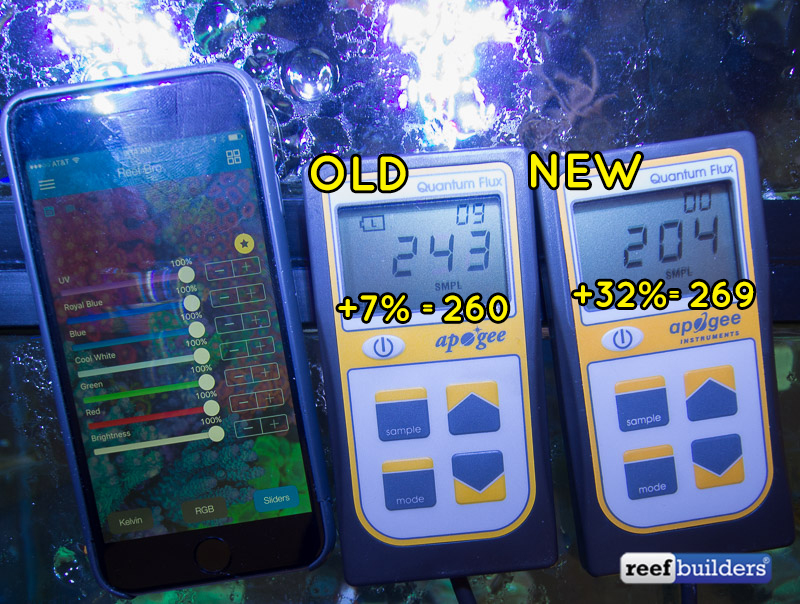 This new correction factor gives us much more accurate measurements of PAR value underwater, and it brings the MQ-500 meter to read light at about 3% higher than the old PAR meter. Measuring light intensity is a tricky task, and it gets even more complicated when the interplay of light and refraction is brought into consideration.
This just goes to show that you should never blindly trust the readings of ANY parameter  for your aquarium, simply because you believe your electronic sensors or meters are more 'advanced' than some other method of measurement – this goes for refractometers, pH probes, ORP, temperature and especially Photosynthetically Active Radiation.
Big thanks to Apogee for working on to make their meters as accurate as possible, and we look forward to a forthcoming whitepaper from the company which more formally explains the immersion effect and how to correct for it.