With its brilliant yellow, black and white striping, there is no angelfish that looks quite like the regal angelfish. There's only species fish in the genus Pygoplites and a rare case of subspecies which are slightly different from each other, but every once in a while, we get to see something wildly different from this fish.
This 'scribbled' regal angelfish was recently collected by Cairns Marine and it's exceedingly aberrant pattern is truly a sight to behold. We've been impressed with scribbled regal angelfish with just a hint of misbarring but this Australian Pygoplites is on a whole different level.
What makes Cairns Marine's scribbled angelfish particularly exceptional is how extreme the bars are misshapen, but mostly that both sides of the fish are affected. If one side of a regal angelfish is misbarred it is considered unique, but when both sides are this dramatically misshapen, it is a very special fish indeed.
Outside of its appearance, this speciemn is an otherwise normal fish which was found living in a turbid, shallow coastal reef environment. This habitat is also called home by queensland yellowtail angelfish, Coradion butterflyfish and Choat's red leopard wrasse, all typical East Australian reef fish species.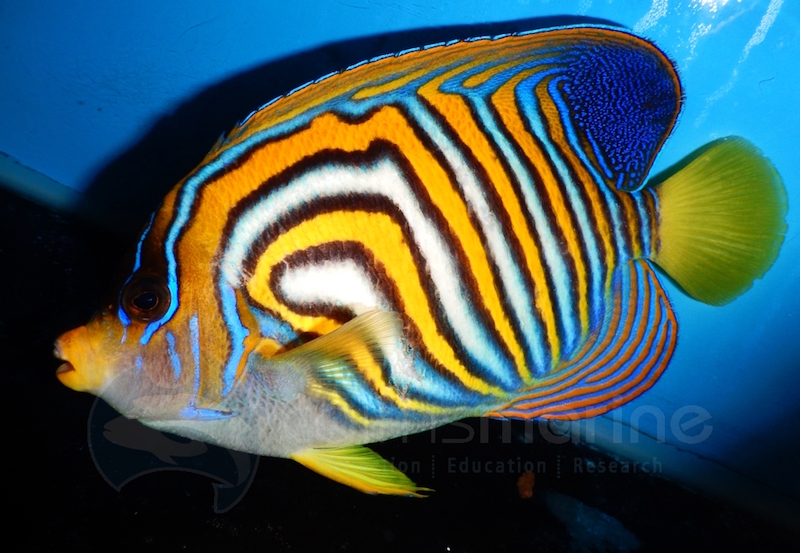 Regal angelfish are the only species in their genus so they don't have congeners to hybridize with. Since Pygoplites diacanthus is a pretty common fish across its range, it therefore it rests on the very rare xanthic, misbarred and scribbled regal angelfish specimen to put this species on the rare fish radar, and this specimen is definitely one of the most memorable in years.